A: 18 Hedditch Street, South Hedland (opposite Wanangkura Stadium) WA
P: 08 9172 1699
E: mail@spinifexhillstudio.com.au
W: spinifexhillstudio.com.au
I: @spinifexhillartists
Spinifex Hill Studios is the newest Art Centre in the Pilbara. More 100 artists from eight language groups access these studios. The studios are also home to the award-winning Spinifex Hill Artists, Hedland's only Indigenous art collective.
With a focus on acrylic painting, the studios offer professional support to artists in the preparation, creation and documentation of artwork. Artists are also offered transport to and from the studios, lunch, and work with studio staff to refine their work for markets and opportunities. The studios recognise the diversity of Indigenous experience and support the creation of an eclectic array of artwork from many language groups.
In 2020 Spinifex Hill Studios will focus its attention on the east coast of Australia, lining up a string of solo and group exhibitions. To keep up-to-date with all the happenings, follow Spinifex Hill Artists on your preferred social media channels.
https://artcollector.net.au/wp-content/uploads/2019/05/George-Nona-Bu-a-Warup-au-Wakai-2018-copy.jpg
1000
1000
Camilla Wagstaff
/wp-content/uploads/2019/02/Art-Collector-Magazine-Online.jpg
Camilla Wagstaff
2019-05-16 16:52:56
2019-05-16 16:53:42
Gab Titui Cultural Centre
https://artcollector.net.au/wp-content/uploads/2019/05/Spinifex-Hill-Studios-1.jpg
1000
1000
Camilla Wagstaff
/wp-content/uploads/2019/02/Art-Collector-Magazine-Online.jpg
Camilla Wagstaff
2019-05-13 17:34:52
2019-05-13 17:34:52
Spinifex Hill Studios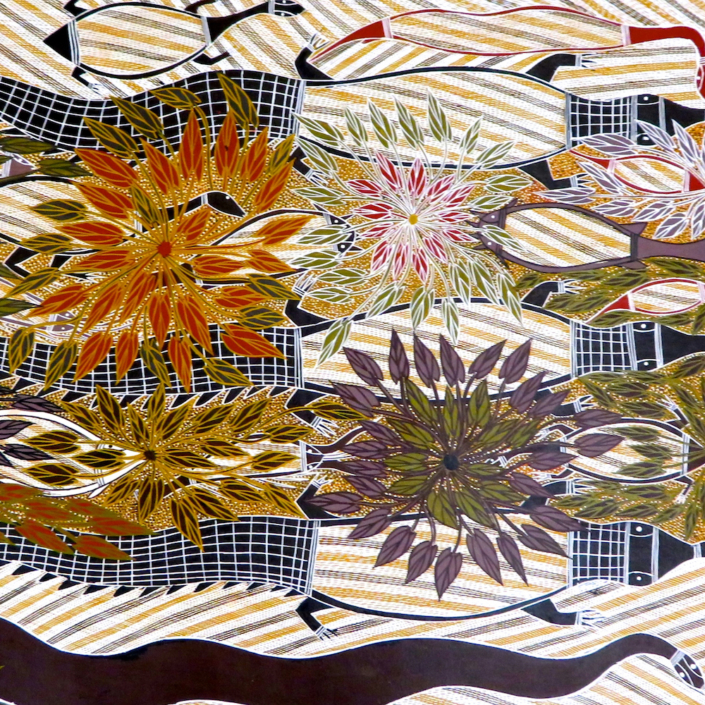 https://artcollector.net.au/wp-content/uploads/2019/05/Bula'Bula-Arts-square.jpg
1000
1000
Camilla Wagstaff
/wp-content/uploads/2019/02/Art-Collector-Magazine-Online.jpg
Camilla Wagstaff
2019-05-09 11:22:44
2019-05-09 11:22:44
Bula'Bula Arts
https://artcollector.net.au/wp-content/uploads/2019/04/Kaylene-Whiskey_2018-copy.jpg
1000
1000
Camilla Wagstaff
/wp-content/uploads/2019/02/Art-Collector-Magazine-Online.jpg
Camilla Wagstaff
2019-04-03 18:56:17
2019-04-03 18:56:17
Iwantja Arts