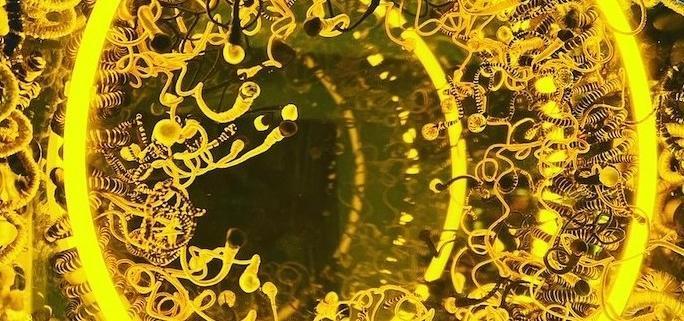 After two years of postponements due to the pandemic and floods organisers of Art Byron will forge ahead with the four day celebration of creativity, culture and diversity starting on September 30 at venues across Byron Shire.
Asking the question do we choose Love or Fear?, the inaugural Art Byron will gather local and nationally celebrated artists for a feast of events including exhibitions, gallery talks, music, film, a multi-media installation and an art dinner.
Art Byron founder Lisa Cowan said the gathering would bring the local arts community together and provide a dynamic platform for contemporary art.
Art Byron will include three main exhibitions all curated by Karla Dickens. All galleries will be open to the public with a gold coin donation.
Groundwork for Art Byron 'Love or Fear' was envisioned by renowned First Nation woman artist Karla Dickens who lived through the devastating March flood events that swept across Bundjalung country around Lismore, the place she has called home for the last 20 years. Dickens, standing knee deep and defiant in the flood waters, was the subject of 2022's Archibald prize winning portrait by fellow Aboriginal artist, Blak Douglas. Reflecting on events over the past two year's tumult Ms Dickens said that now in a time when "uncertainty was our new personal and collective ground," she would be choosing love over fear.
Byron School of Art (BSA) in Mullumbimby will host an exhibition featuring neon and sculptural works by Hiromi Tango together with works by Lismore based artist Michael Donnelly who has created a series looking at effects of the recent flood events in Lismore.
During the exhibition the BSA building will be transformed into a multi-media installation at night featuring video projections by John Mundine, Justine Muller and Ryan Andrew Lee along with large collage works by Laith McGregor.
The inaugural Art Byron gathering is supported through philanthropy and a major partnership with Gold Coast SKODA, the Restart investment to Sustain and Expand (RISE) fund – an Australian Government initiative and by the NSW Government through Create NSW and Destination NSW.
Event details:
The BSA exhibition will open from September 29 and will also host a series of talks curated by Ashley Ralph from Lismore Art Gallery.
Down at the Byron arts industrial estate, THOM Gallery will host an exhibition by the Tennant Creek Brio opening at 4pm on Friday September 30 at the gallery's Fern Place space.
First Nation artists and Indigenous cultural experiences are integral to the vision of Art Byron with the 'Sand and Water' exhibition, featuring local Bundjalung artists, Michael Philp and Garth Lena opening and contemporary landscape artist, Beki Davies at 2pm on Saturday October 1 at Yeah, Nice gallery's warehouse space in Byron Bay's St Agni precinct. Later that same evening Tones Cafe and Braer Studio will play host to the fifth Byron Arts Magazine Art Series Dinner.
Another unique feature of Art Byron will be the Sunseeker Artist Hub which will be the central meeting place for artists throughout the four-day event. The Sunseeker will host events for Art Byron's three artists in residence – The Tennant Creek Brio, Laith McGregor and Polly Borland as well as a BBQ and Arts Market. To top it off, artist Ozzy Wright and artistic upholsterer Paige Miller are joining forces to transform a room in the Sunseeker motel, into an interactive art installation.
ART BYRON acknowledges the traditional owners of this land, the Arakwal people, the Minjungbal people and Widjabul people of the Bundjalung Nation, and pay our respects to elders past and present.
For more information head to art-byron.com.au  for the gallery location and talk schedule.