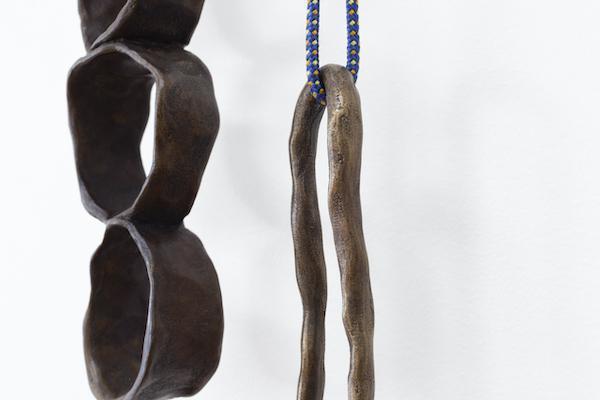 Hannah Valentine's practice is pervaded by the artist's interest in the corporeal and our own tactile sensibilities, emphasising the importance of touch and physical experience in interacting with the world and each other. Taking form primarily in sculptural object and installation, her work is permeated by the human body and its various appendages and gestures. The artist brings together hand-moulded aspects with sourced materials including utilitarian climbing rope, the lyrical precision of her careful compositions resulting in a palpable tension.
This exhibition borrows its title from a quote from American artist, musician, and film director Laurie Anderson—whose own work has long examined our bodies, movements, and rituals—and brings together works from Valentine's established series Anytime alongside a newer series of cast bronze works entitled Bodyform.. "I like the idea that the works contain body and space," says Valentine. "Viewers can fill the space around them, but for all that the freestanding works are made of bronze, they are still fragile. They are thin, light, and a touch sends them into a quiver."
Valentine (b.1989) lives and works across Auckland Tāmaki Makaurau and Tauranga. She has a Master Fine Arts from Elam School of Fine Arts, University of Auckland. She has exhibited widely and received a number of residencies and awards, most recently selected as the Supreme Award Winner of the Miles Art Awards 2022. Her work is held in a number of private and public collections.
This exhibition is accompanied by a text from writer Chloe Lane, commissioned in partnership with The Art Paper.