IN BED WITH… Amanda Rowell
We curl up with Amanda Rowell, the fiercely independent director Sydney Gallery The Commercial, to find out how she's been keeping busy in isolation.
What you are reading?
Pictured reading exhibition catalogue for Agatha Gothe-Snape's recent solo survey exhibition at Monash University Museum of Art on the sofa in the library at the gallery. It's not easy to photograph yourself reading, which is why this photograph is a little blurry – having to jump onto the sofa and under the blanket and not pick the book up upside-down after setting the timer on the camera. That's an Oscar Perry painting on the wall behind me.
I am an obsessive Googler and read a lot of news online. At the moment I am mostly reading New York Times, CNN, The Guardian, The Saturday Paper as well as anything to do with growing food, permaculture, nutrient cycling and fermentation.
What you are watching?
More than a delicate sufficiency of Stan when I probably should be sleeping. The Late Show with Stephen Colbert on 10 Play and, to be fully transparent, on Stan, Season 5 of Billions, even though I find having to wait from week-to-week for the next episode frustrating. So I am also working my way through seven seasons of The West Wing. Clearly I'm interested in US power.
What social you're following?
On Instagram the stories feed of @a_r_c_h_i_e__ for current affairs, the video collages of @contemporaryary for, um, current affairs and a bunch of local food providers doing excellent things: @cornersmith @featherandboneprovidore – who I try and give my money to. Food gardeners for guidance @milkwood_permaculture @moraggamble @my_urban_edible_garden @thebeeskneesofinnerwest.
And I watch a lot of YouTube Photoshop tutorials for self-improvement.
What else are you doing?
Spending early mornings in the garden. Growing food from seed. Trying to encourage bees into the garden but manually pollinating pumpkin flowers just in case. Worrying how much rain interferes with the pollination process. Tending my citrus trees. Berkley Method composting. Trying to eliminate waste from our lives. Turning bones and prawn heads into garden fertiliser after eating the other bits. Soil improvement generally which goes hand-in-hand with waste elimination and nutrient cycling.
I do a lot of cooking. I regularly make yoghurt and ice-cream. For mains, I'm habitually adding new Marcella Hazan recipes to my repertoire. She's one of the great thinkers of the 20th century.
Drinking a little more wine than usual which is saying a lot. Oh, and selling art and working on public art projects. Those things haven't stopped, and I am fairly sure are more efficiently done from bed at home.
Image: Amanda Rowell in her gallery library in Marrickville, Sydney.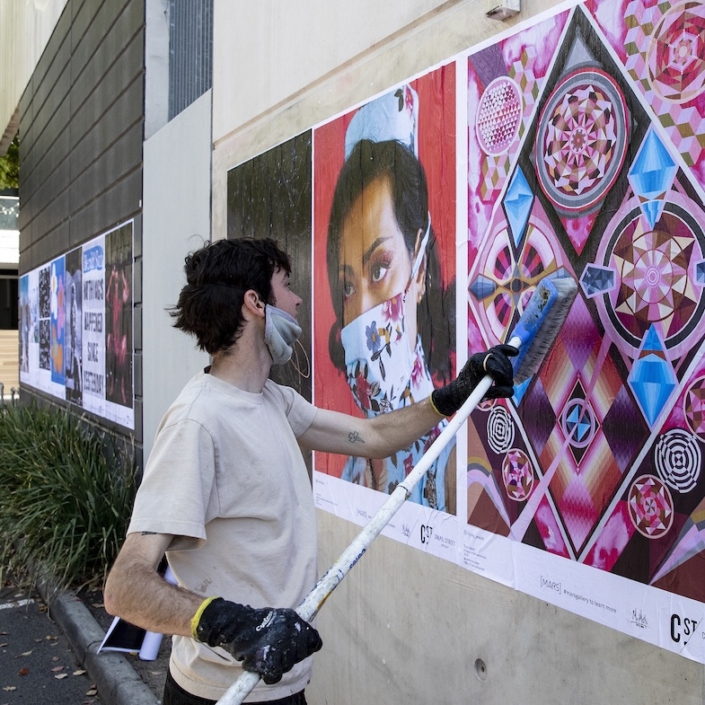 Artists unite in effort to bring vibrancy to locked down city.
https://artcollector.net.au/wp-content/uploads/2021/09/image001-copy-1.jpg
785
785
Charlotte Middleton
https://artcollector.net.au/wp-content/uploads/2021/04/AC_logo_2.png
Charlotte Middleton
2021-09-28 16:34:14
2021-09-28 22:34:13
Public art restores life to Melbourne's Chapel Street Precinct