IN BED WITH… Ralph and Sophie Hobbs
We curl up with Chippendale dealer darlings Ralph and Sophie Hobbs of Nanda\Hobbs, to find out how they're keeping themselves entertained in isolation.
What you are reading?
RH: I read lots of things at once – this approach works for my ADHD brain! At the moment we are doing a lot of educational content for our collectors and subscribers – so I'm reading different things about looking at art, the history of art and history generally, which I have had a life-long interest. I love the writing style of Robert Hughes, Sebastian Smee, and Simon Schama. I also read a lot of books about cooking… the spirit of it as much as "how too" – Elizabeth David, Anthony Bourdain, anything that is robust and not fussy! And of course, Art Collector mag – I look forward to every new edition.
SH: I'm reading a wonderfully visceral French crime novel by Fiona McGregor, The Godmother, translated by Stephanie Smee. Like Ralph, I dip in and out of great non-fiction too: art, history and cooking and garden books. I also love a mag. If it's not Art Collector, it's Belle, Vogue Living and Inside Out – snooping inside people's houses and the seeing the art they collect.
What you are watching?
Currently we're watching The Bridge (the Danish version) – yes, I know late adopters! The latest series of Mystery Road and two terrific films: The Gentlemen and 1917.
Also dusted off the DVD of Monarchy, a pretty dry history of British Kings and Queens narrated by David Starkey. Anything directed by Taika Waititi, he's so good we might have to make him Australian. We're both massive fans of Australian cinema, films like Breaker Morant, Sunday too Far away, Welcome to Woop Woop. Films that have generationally defined our sense of place and humour will always get a start.
What you are listening to?
RH: My music is all over the place! I listen to a lot of alternative singers I suppose with a county vibe, without the twang! I also like full-on rock and roll and classical… the vinyls are getting a good workout at the moment. It's so good to get back to the habit of how music was intended to be listened to by the artists.
SH: Luckily, we have similar tastes in music, probably less hardcore rock and roll for me though! I'm a tragic Bruce Springsteen fan and Nick Cave is an all-time favourite. Classic FM keeps me company when I'm working from home. I've been listening to quite a few art related podcasts lately particularly business/marketing related, to help with ideas to navigate the current situation. I always enjoy Maria Stoljar's Talking with Painters – her style is refreshing and light-hearted. We need more of that in art!
What else are you doing?
Working!!! We have been very busy keeping the gallery vibrant these last weeks, finding the positives in the situation the world has found itself in.
RH: I've been doing a fair bit of drawing and painting along with writing. That and trying to organise my photo library! I have actually managed to get quite a bit of exercise in too, on the pushbike and a long-neglected rowing machine has been getting some quality one-on-one time lately.
SH: We've rehung the art collection in the house twice so far this year. With more art than wall space, it's the best way to enjoy everything we have. Gardening is my ultimate down-time pleasure. I grew up in rural Tasmania with a mother and grandmother as passionate green thumbs – it's in my genes!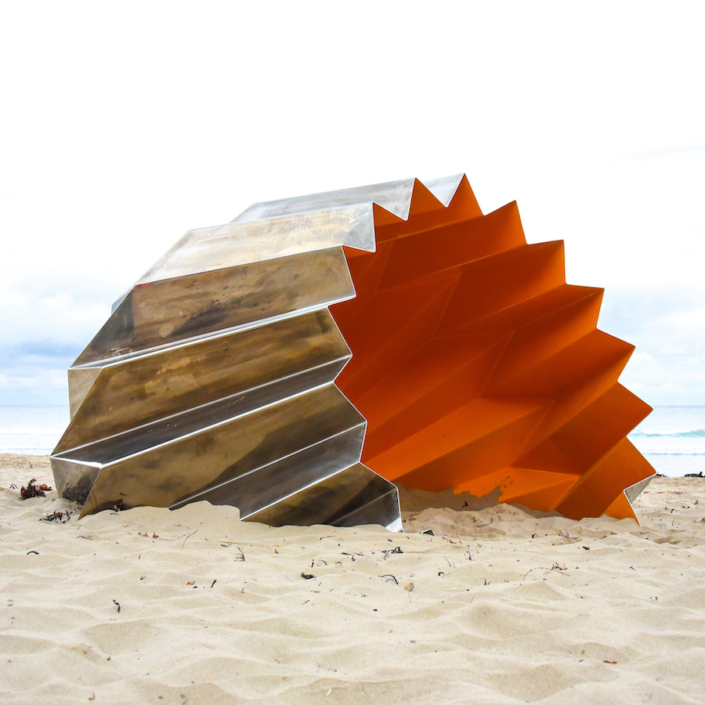 For a period of three weeks, the foreshore will be transformed through sculpture, with artworks responding to the theme of 'Spirit of Place'.
https://artcollector.net.au/wp-content/uploads/2022/01/Karl-Meyer-–-Tidal-2-copy.jpg
900
900
Charlotte Middleton
https://artcollector.net.au/wp-content/uploads/2021/11/Art-Collector-logos-transparency-WHITE-1080x1080px-2.png
Charlotte Middleton
2022-01-21 16:31:24
2022-01-24 16:16:44
Lorne Sculpture Biennale puts regional Victorian town front and centre