IOTA21 gears up for exciting first iteration
Launching this week, the first ever Indian Ocean Craft Triennial will take place at Western Australian venues from September to November 2021.
Words: Charlotte Middleton
The Indian Ocean Craft Triennial 2021 (IOTA21) will be inaugurated this week, presenting a rich festival program of more than 30 exhibitions and events in Western Australia showcasing the work of over 200 artists working in craft mediums.
Selected from countries around the Indian Ocean Rim (IOR), the works in IOTA21 are based on the theme of 'Curiosity and Rituals of the Everyday', with exhibitions running until November this year.
For millennia and across cultures, mankind has crafted objects for the purposes of utility, adornment, ritual, worship or special occasions, using materials such as clay, glass, fibre, wood and metal.
As modern societies continue to experience rapid and far-reaching transformations influenced by technology, innovation, and mass communication, the value of craft and the hand-made is witnessing renewed appreciation. Lockdowns induced by the Covid-19 pandemic have seen a further surge in the uptake of home craft, providing comfort and connection.
IOTA21 will spark stories around our innate curiosity and the rituals and contemporary preoccupations captured through craft and handmade mediums, both at home and across the ocean.
As exhibition partners, John Curtin Gallery, Perth and Fremantle Arts Centre, Fremantle will stage the central exhibitions, showcasing the exemplary and ambitious works of the 37 lead international and Australian artists.
Additional festival exhibitions and events will be presented by partners across Perth and Western Australia, from major institutions to small artist-run collectives, regional galleries, local government arts facilities, and craft-specific workshops and studios.
Jude van der Merwe, the lead curator of the voluntary team of curators, arts managers and academics who founded the craft triennial, explained: "The original plan was to stage just one major exhibition to showcase examples of contemporary craft from around the Indian Ocean Rim. Both John Curtin Gallery and Fremantle Arts Centre were quick to respond enthusiastically. And once word escaped to the wider art and craft community in WA, we were inundated with requests from galleries and craft groups who wanted to join in. The result is that we now have a large complementing festival supporting the major international exhibition, a conference, a fashion event and public program."
The festival kicks off on 9 September with a VIP preview exhibition at John Curtin Gallery, with other highlights including the Futuring Craft Conference and IOTA21 fashion event Curiosity and the Cloth.
To view the full program, participating artists and venues, visit the IOTA website here.
KEY DATES (subject to Covid-19 restrictions and government health advice):
Thursday 9 September: VIP preview, IOTA21 exhibition at John Curtin Gallery, Perth
Friday 17 September: IOTA21 Opening Celebration, Fremantle Arts Centre, Fremantle
17-18 September: Futuring Craft Conference, WA Maritime Museum & Curtin University
Sunday 19 September: IOTA21 Curiosity and the Cloth (fashion event), WA Museum Boola Bardip, Perth
IOTA21: Indian Ocean Craft Triennial is supported by Lotterywest; and assisted by the State Government of Western Australia through the Department of Local Government, Sport and Cultural Industries; the Australian Government through the Office for the Arts, Australian Cultural Diplomacy Grants Program, the Australia Council for the Arts, the Australian ASEAN Council; exhibition partners John Curtin Gallery and Fremantle Arts Centre; and festival partner Mundaring Arts Centre.
This article was originally published 6 September 2021.
Image: Anniketyni Madian, Betunggang Lupung, 2021. Mixed hardwood, ecopoxy resin and oil paint, dimensions variable; 15 pieces each approximately 80 x 80 x 12cm. Courtesy the artist and IOTA.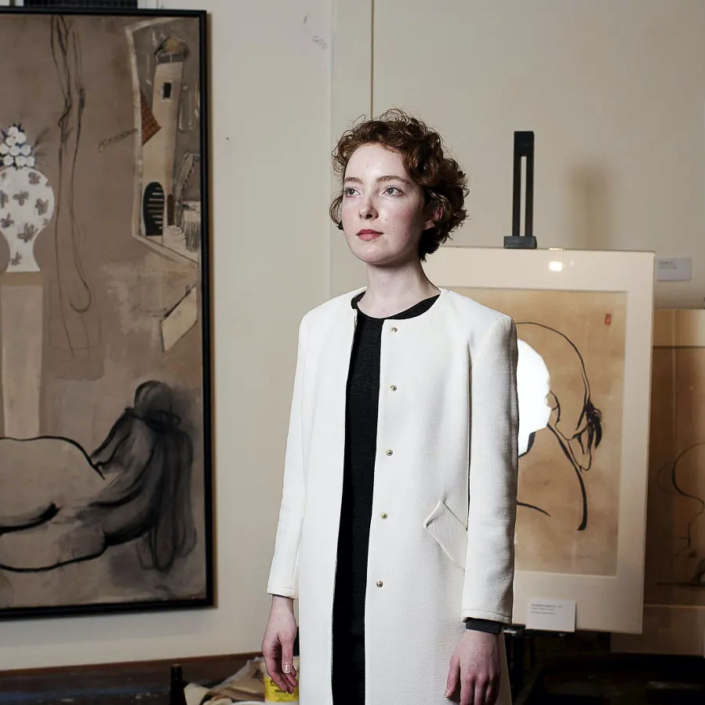 Sydney gallery announces addition of local artist Natasha Walsh to its stable.
https://artcollector.net.au/wp-content/uploads/2021/09/Natasha-Walsh-in-the-Brett-Whiteley-Studio.-Image-courtesy-Sydney-Morning-Herald-taken-by-Christopher-Pearce.-copy.jpg
899
899
Charlotte Middleton
https://artcollector.net.au/wp-content/uploads/2021/04/AC_logo_2.png
Charlotte Middleton
2021-09-24 15:35:09
2021-09-24 15:35:09
Natasha Walsh joins N.Smith Gallery