Jhana Millers adds Claudia Kogachi to its stable
The Wellington-based gallery announces representation of the young artist
Words: Rose of Sharon Leake
Wellington's Jhana Millers gallery announced its latest representation: mixed media artist Claudia Kogachi. At just 25 Kogachi has made a mark on the New Zealand art scene with her painting and textile works which lean into the personal dynamics of family and relationships. "Claudia's works exude humour and personality," says Jhana Millers. "Through her paintings and rugs she invites us into her private life: she depicts her hobbies, her relationships, her anxieties – she is not afraid to share her vulnerabilities with us. The cartoon nature of the works and flat surfaces convey exactly the right amount of information, not too little and not too much. I believe she is a young artist with a long and successful future ahead of her."
Jhana Miller kicks off the partnership with a solo show of Kogachi's work. It Is What It Is includes seven paintings from 2021 that depict the artist and her partner being impeded by a variety of creatures as they go about their daily activities. The one with the flies shows Kogachi riding a bicycle while being attacked by a swarm of flies, while The one with the mosquitoes sees her partner and her attempting to sleep while being harassed by mosquitoes. The works are zany and amusing yet nod to the deeper frustrations at play within her personal relationships and wider community.
"However," writes critic Francis McWhannell on Kogachi's show, "as has long been the case with Kogachi's work, there is also an air of stability. In part this comes from the pictorial strength of the paintings, which are marked by balanced compositions and melodic patterns."
Kogachi was born in Awaji-shima, Japan, in 1995 and currently lives and works in Tāmaki Makaurau Auckland. She holds a Bachelor of Fine Arts from the University of Auckland's Elam School of Fine Arts. In 2019, she won the New Zealand Painting and Printmaking Award. Recent exhibitions include: New Artists Show 2020, Artspace Aotearoa, Tāmaki Makaurau Auckland; Obaachan during the lockdown, Wahiawā, Hawai'i, Te Tuhi, Tāmaki Makaurau; Uncle Gagi, play_station, Te Whanganui-a-Tara Wellington; and Everyone Has a Horse Phase, Sanderson Contemporary, Tāmaki Makaurau (all 2020).
Claudia Kogachi's solo exhibition It Is What It Is shows at Jhana Millers, Wellington from 26 March to 10 April 2021.
Image: Claudia Kogachi, The one with the cockroaches (diptych), 2021. Acrylic on canvas, framed, 65 x 130cm. Courtesy: the artist and Jhana Millers, Wellington.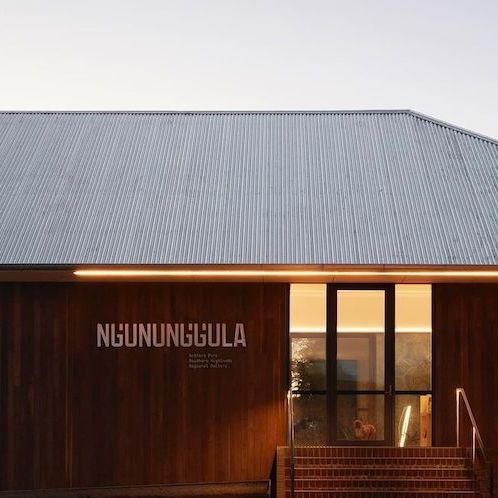 Five years in the making, the long-awaited gallery brings art and culture to the fore.
https://artcollector.net.au/wp-content/uploads/2021/10/244770673_1022960061886814_7683471891284890968_n1.jpg
498
498
MaddyMatheson
https://artcollector.net.au/wp-content/uploads/2021/04/AC_logo_2.png
MaddyMatheson
2021-10-14 15:04:51
2021-10-14 15:04:51
Ngununggula, the Southern Highlands' first regional art gallery, opens with a bang