Survey: How will the art world will change after Covid-19?
I keep returning to the root of the word "curator", that being, "to care", not only for the artworks but for the artists, the arts community, and our audiences. It has taken a global pandemic to remind us of our humanness, we are creatures made for proximity, interdependence and care. I see this carrying over into the way that art is presented and communicated, with a focus on socially engaged works, works that foster kinship and an interconnectivity between practice and voice. And, as budget cuts, job losses, and closures ripple through the sector, we need to consider how we might be more confident and resilient, with the recognition this can only be achieved if we also support each other.
JOANNA KITTO, ASSOCIATE CURATOR, SAMSTAG MUSEUM OF ART
We are now all so acutely aware of lines of contact and connection; so alert to the domino effect of infection. That which strikes the individual also bleeds into the community. This is as true of financial precarity as it is of a pathogen. None of us exist or operate independently of each other. The art world needs to remember that; we are all connected, and we are only as healthy as the herd. But to talk of health in relation to the art world, one must address the most important vital sign. The art world is only ever as healthy as its artists. We need robust, expansive and stable avenues to support them.
ISOBEL PARKER PHILIP, SENIOR CURATOR OF CONTEMPORARY AUSTRALIAN ART, AGNSW
Having all this time at home with their collections, I believe will help collectors think about the artists they love. Think about who and why they collect. Most great collections have a theme, and I hope collectors will come out of isolation more focused.
SANDRA POWELL, COLLECTOR
I would love to think we will all become empathetic and artists will bring us a sense of a recovering world. I can't wait to reengage with culture, which I have missed hugely.
SIMON MORDANT AM, PHILANTHROPIST
In the wake of this major global pandemic, as restrictions start to ease, we'll slowly begin to see the reopening of galleries, museums and other art institutions; however, the question remains: will people go? Will the fear and stigma attached to COVID-19 linger indefinitely? We instinctively crave the tangible physical experience of viewing art in the real, yet crowds and queues for exhibitions may be a thing of the past. Engaging with art will now be achieved on a much smaller scale, as a far more intimate experience. Private appointments and smaller viewings will allow galleries and clients to really engage and have conversations.
BEVERLY KNIGHT, DIRECTOR, ALCASTON GALLERY, MELBOURNE
A lot has happened in the art world during the COVID-19 pandemic. The cancellation of most major art events and fairs, combined with the closing of galleries all over the globe, has thrown the best laid plans of artists, their advocates and support services out the window. Given that the preparation by all parties to be exhibition-ready is immense and that calendars are compiled at least 3 years out, shows are unwieldy things to be "agile" about. Some genres of art fare reasonably well in the online format, others, unless the artist is particularly well known, do not. Careers in the arts are generally considered optimistic (read brave) and the onset of COVID-19 has only added to this instability. Perhaps if there is a silver lining it is that art lovers are looking at art online, they are spending increased time in their homes and as such considering how art enhances their lives. Personally, I am looking forward to seeing the artists' response to this weird time; I think it will help – as art always does – with our unpacking of this time of fear and introspection.
HELEN MCKENZIE, ARTS WRITER AND ART ADVISOR
Firstly we may be living with COVID-19 for some time to come. Sustainability will be foremost: of audiences, exhibitions, programs, philanthropic support and precious resources. Travel, and especially international travel, will be scarce for some time while the digital – recently expanded through necessity – will remain a major force for connecting people to art and each other, and as an avenue for wellbeing, pleasure, stimulation and meaning. Agility and thoughtfulness are paramount.
RHANA DEVENPORT, DIRECTOR, ART GALLERY OF SOUTH AUSTRALIA​
The world will be a better place: there will be a merit-based system of art awards, grants and residencies; art schools will enforce compulsory nudism; and there will be free dinner offered with every artwork purchased.
ANDREW FROST, CRITIC
I hope the arts sector can come closer together. We have to deal with the revelation that our politicians do not see the arts as an important contributor to our community or our economy. Art is a virus, it survives no matter what, but like all viruses, the survival of some comes at a cost to many others.
CHRIS HODGES, ARTIST AND DIRECTOR, UTOPIA ART SYDNEY
I don't think there will be an after-COVID for a very long time. Instead, we will all need to think about what with-COVID looks like, and how we adapt. There's going to be the mother of all recessions, and this will continue to impact art markets, jobs, and ways we work. There will no doubt be silver linings, and artists and arts organisations have always been resilient, resourceful, and ever adaptable. Many of our much-loved and frequented institutions may not continue. Without active support for the arts and cultural sector in a meaningful and ongoing way, many will have to find other jobs, or simply shut up shop. Artists, who have for years, made work on a shoestring, will be even harder up. Regional may become more important in a world that crowded spaces are less attractive. And the answers have never all come from the city. Look to your regional centres for ways to be agile, understand your community, and do a lot with little.
REBECCA COATES, DIRECTOR, SHEPPARTON ART MUSEUM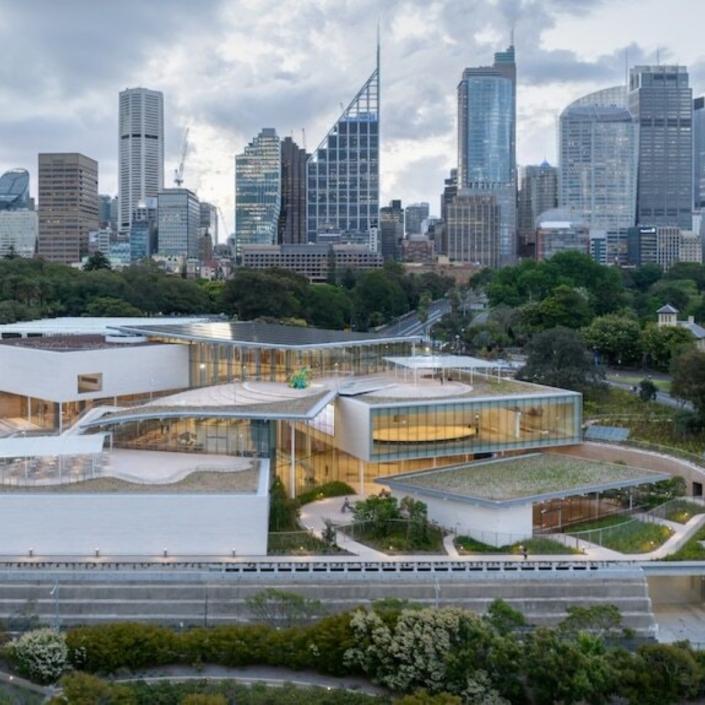 The Art Gallery of New South Wales unveils its expanded exhibitions spaces, and Art Collector gets an inside view with deputy director Maud Page.
https://artcollector.net.au/wp-content/uploads/2022/12/Sydney-Modern-Project-Featured-Image.jpeg
1200
1200
Erin Irwin
https://artcollector.net.au/wp-content/uploads/2021/11/Art-Collector-logos-transparency-WHITE-1080x1080px-2.png
Erin Irwin
2022-12-03 03:05:15
2022-12-05 12:03:02
The Sydney Modern Project opens new doors