Victoria Reichelt: Endangered
Victoria Reichelt's highly finessed mark-making evokes the changes encroaching on both contemporary art and modern life.
Words: Louise Martin-Chew
Photography: Damien O'Mara
Victoria Reichelt is a realist painter who has focused on the rapid change that is transforming human and natural existence, painstakingly documenting objects that are, like her own status as a painter perhaps, endangered. Wild animals, which are foreign representations of nature, appear in an unnatural setting among the shelves of a library. They are strange and exotic within the territory of human knowledge evoked in these rows of books (also increasingly redundant). In these works she acknowledges the endangered status of both, a direct result of technological and environmental change.
For her exhibition at This Is No Fantasy + Dianne Tanzer in Melbourne this year, Reichelt extends her reach into offices, with a new range of objects, sumptuous in their pristine condition and highly coloured, but also threatened by the digital revolution. Pencils, concertina folders, rubbers and scrolls of coloured dots, lovingly reproduced in paint become analogies for nature, named suggestively for their material sources – a pile of wooden pencils is Forest (2016), a precariously balanced and colourful array of concertina files becomes Precipice (2017), and an empty white plinth Alpine.
Reichelt says that "The objects take on almost organic and sculptural forms as they rest on plinths, symbols of business artefacts fast disappearing from the work landscape… Piles of papers and folders sitting in mountains on desks that used to speak to their creator's diligence, are now replaced with invisible information that follows us around wherever we go, calling to be addressed at all hours."
However the pressures of being an artist, and its changing demands, are also evoked, with the scrolls of red dots describing the changes in consumption of art. Reichelt suggests, "As our lives morph into burgeoning hubs of new media, these paintings also consider the gallery space as another site of change, with the rise of the pop-up, the art fair and the digital as ways of displaying visual art."
New modes of artistic operation create additional pressure within the sector, with less grant monies, a more competitive marketplace and, for Reichelt personally, the time consumptive nature of her practice coinciding with a young and growing family. Marketplace support has been strong for Reichelt since her graduation in 2005, and like most, the demands of visibility and technological facilitation mean that she works constantly. A mountainous pile of Post-it notes in The Write to be Forgotten (first seen in The John Leslie Art Prize in 2016) is poignant and, together with Knot (2017), a hill of red dots that have unravelled from an original tidy roll, is descriptive of the maelstrom of activity and complexity that life has become mired within during recent years. With social media and the increasingly blurry digital territory that may linger after death, the 'right to be forgotten' is also threatened.
Yet, as always in Reichelt's work, we are intrigued by the tension between what may be real, and what is not. The final works in the show see nature creeping back into the picture, with the red dots that signal an art sale located on lush thick grass titled Thicket. The fundamental conflict between the increasing fiction that is our digital construction and the reality of the earth and its environment is signaled here. Reichelt may be proposing that it is the earthy reality that arrests humanity's lemming-like rush toward Armageddon. "Painting itself," she says, "has so often faced down impending threats and in drawing connections between objects of seeming redundancy, failure and impending irrelevance, these works offer an opportunity to speculate about the fate of materiality as we think about our digital future."
SIMON GREGG 
Curator, Gippsland Art Gallery, Gippsland.
Simon Gregg first worked with Victoria Reichelt in 2012. Catalogue, at Gippsland Art Gallery, surveyed three years of the artist's paintings of prosaic objects. It revealed to him just how impressive the practitioner's handling of the paint could be, "The exhibition attracted huge audiences, I suspect be- cause of the ways the work produces from a painting/ photography perspective. Reichelt's work is, in a sense, abstract painting that looks like something and that is part of its intrigue."
That attraction to her paintings, whether it be to a nostalgia for the subject matter or a connection to its intimacy of depiction, has earned Reichelt a number of significant accolades including the People's Choice Prize, 2009 at both the Metro Art Award and the RBS Emerging Art Award for starters and Winner of the Sir John Sulman Prize in 2013. From a curatorial perspective, "Victoria works knowingly within a trajectory of art history. It's fresh and original. The journey of looking appears commonplace by its subject matter but beneath it lies a playful negotiation about the rules around painting." It is this cultural referencing, the interrogation of the problems facing painting in a century awash with digital media, that endorses the veracity of her practice.
As to where Reichelt is heading… "She'll always be considered a painter. I can't imagine her moving into photography because of the ways she enjoys the process of painting. Who knows? Certainly for the moment she offers us a wonderful labyrinthine history of ideas.
DIANNE TANZER 
Director, This Is No Fantasy + Dianne Tanzer, Melbourne.
'Wow, this girl can paint,' thought Dianne Tanzer upon her first encounter with Victoria Reichelt's work in Brisbane in 2005. 12 years later, the artist is slated to exhibit at Tanzer's gallery for the 16th time in a show entitled Precipice. "I'm a history buff and Victoria is intensely interested in objects so the relationship grew," comments Tanzer, "Victoria is as much an archivist as she is a painter."
Precipice comprises photo-realist paintings, mostly of expanding files and of coloured pencils. Pedestrian? No. It has the hallmarks of the artist's signature – highly finessed mark-making.
The artist has achieved commercial success both on the ground and abroad. "We took Reichelt's works to the Korean International Art Fair in 2011 and all the works sold. Two years later we brought more works to Art Stage Singa- pore. There, all nine of her canvases sold – 35 by 35cm for $7,000 and 25.5 by 25.5cm for $6,000. The collectors there loved it, I think because it shows the technical prowess that they particularly connect with."
Prices for forthcoming works such as Knot, (2017), a tangle of red "for sale" dots at a miniature 42 by 42cm will be priced at approximately $7,000 while larger works such as Precipice (2017) which depicts a collapse of expanding files, at 70 by 95cm will be priced at around $12,000.
"I usually work on a price increase per exhibition of 10 per cent. Reichelt sells really well off at exhibition and off the catalogue to clients who can't get to the show but I'm conscious that the artist has their whole life ahead of them."
Victoria Reichelt's exhibition entitled PRECIPICE will show from 30 May until 29 June, 2017 at This Is No Fantasy + Dianne Tanzer in Melbourne.
This article was originally published in Art Collector issue 80, APR-JUN, 2017.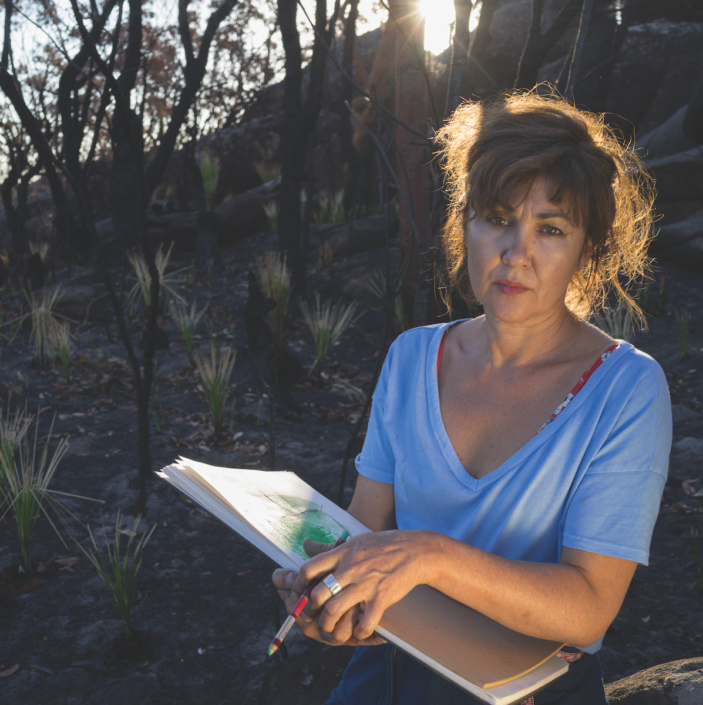 2018 brought a new process and media for abstractionist Ildiko Kovacs.
https://artcollector.net.au/wp-content/uploads/2019/03/DSC8032.jpg
1200
1197
Rosy Leake
/wp-content/uploads/2019/02/Art-Collector-Magazine-Online.jpg
Rosy Leake
2019-03-20 11:10:10
2019-04-04 10:27:09
Ildiko Kovacs: New Directions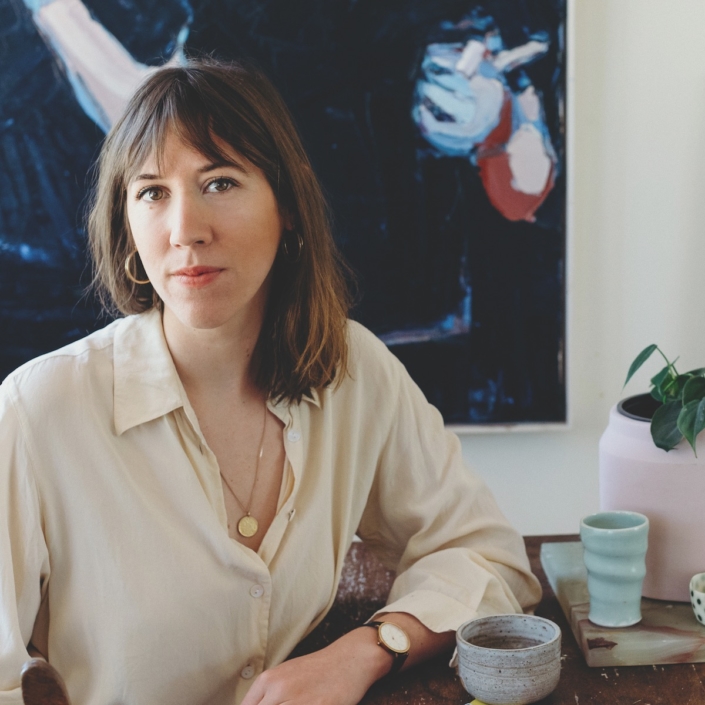 Clara Adolphs often bases her paintings on old photographs and images from the newspaper but recently, it was holiday snaps.
https://artcollector.net.au/wp-content/uploads/2019/03/ArtCollector_ClaraAdolphs_Nov2018_Credit_JacquieManning-3.jpg
1200
1200
Rosy Leake
/wp-content/uploads/2019/02/Art-Collector-Magazine-Online.jpg
Rosy Leake
2019-03-20 10:58:33
2019-04-04 10:27:04
Clara Adolphs: Collectors Love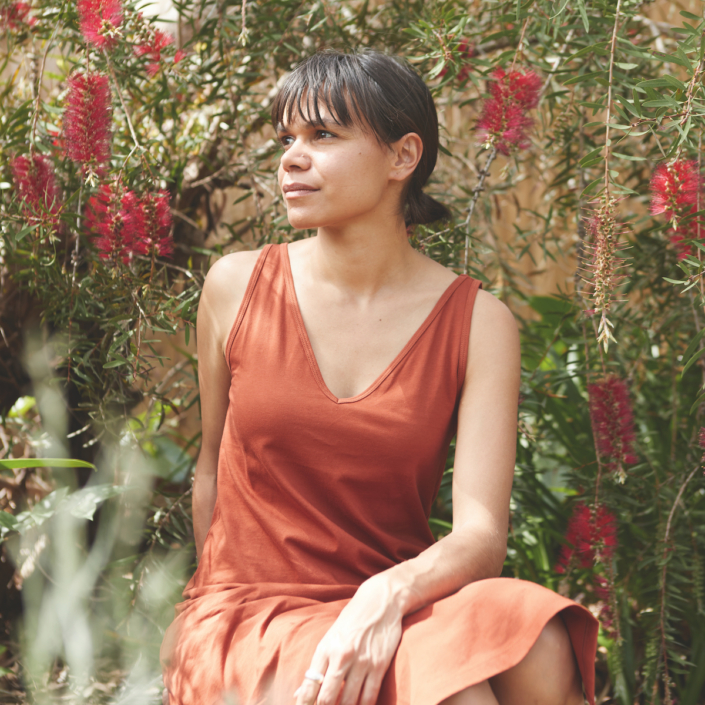 Katie West's work unfolds across a time and space much larger than a single work or exhibition.
https://artcollector.net.au/wp-content/uploads/2019/03/ArtCollectorKatieWest-0002.jpg
1200
1200
Rosy Leake
/wp-content/uploads/2019/02/Art-Collector-Magazine-Online.jpg
Rosy Leake
2019-03-20 10:50:07
2019-04-04 10:26:23
Katie West: Debutantes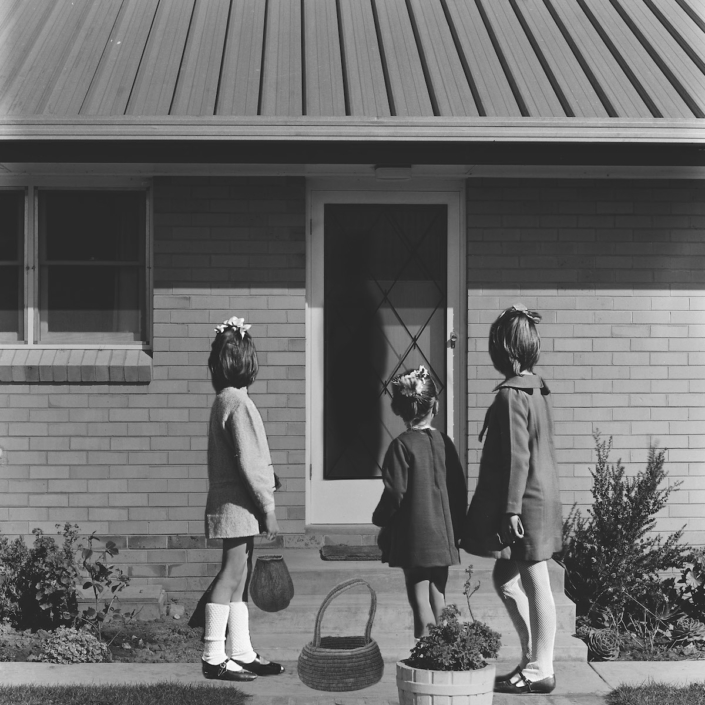 Hayley Millar-Baker's visually arresting mise en scenes are quick to draw us in.
https://artcollector.net.au/wp-content/uploads/2019/03/Untitled-8.jpg
1200
1200
Rosy Leake
/wp-content/uploads/2019/02/Art-Collector-Magazine-Online.jpg
Rosy Leake
2019-03-19 12:46:28
2019-04-04 13:34:15
Hayley Millar-Baker: Cool Hunter Predictions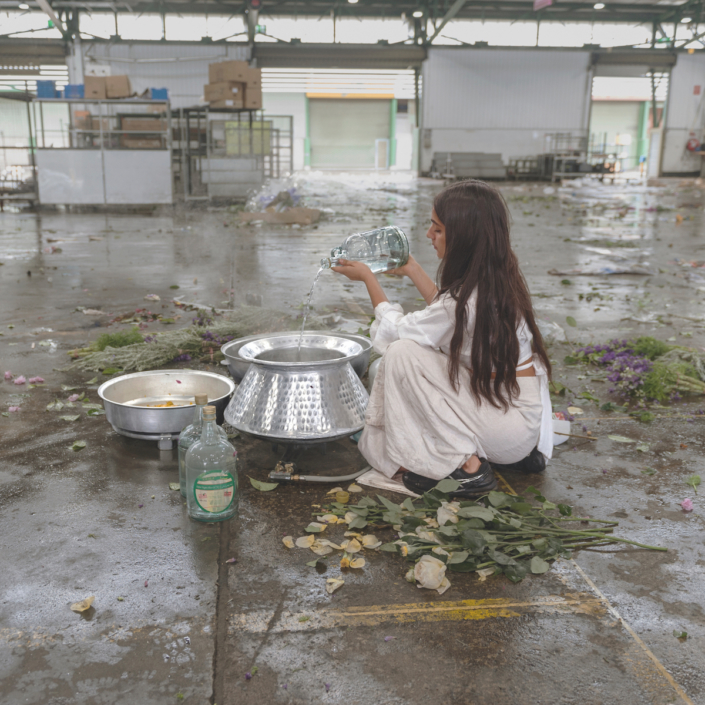 Through performance, video and installation, Justine Youssef uncovers links between family ritual, ecology, Indigenous culture and colonial history.
https://artcollector.net.au/wp-content/uploads/2019/03/Justine-Youssef-an-others-Wurud-2018-2-2.jpg
1200
1200
Rosy Leake
/wp-content/uploads/2019/02/Art-Collector-Magazine-Online.jpg
Rosy Leake
2019-03-19 12:26:52
2019-04-04 13:52:31
Justine Youssef: Cool Hunter Predictions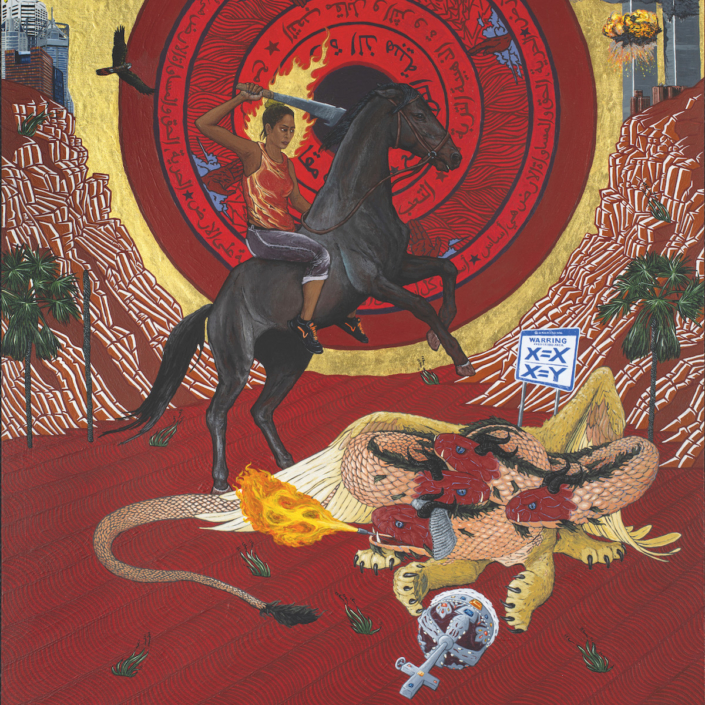 Ryan Presley is a rising star, and 2018 has been a particularly stellar year as he extends his interests in media and subjects ranging from Christianity to Operation Sovereign Borders.
https://artcollector.net.au/wp-content/uploads/2019/03/Presley_2016_Crown-Land_to-the-ends-of-the-earth-2.jpg
1200
1200
Rosy Leake
/wp-content/uploads/2019/02/Art-Collector-Magazine-Online.jpg
Rosy Leake
2019-03-19 12:13:06
2019-04-04 13:52:40
Ryan Presley: Cool Hunter Predictions