Winner of the Vincent Lingiari Art Award announced
Grace Kemarre Robinya named 2021 winner.
Words: Rose of Sharon Leake
"It's always raining, summertime, when stockmen mustering. Makes those hills look blue in the north. Raining, raining, all the time raining. Clouds are coming." This is how Grace Kemarre Robinya describes Raining at Laramba, her winning work in the $10,000 Vincent Lingiari Art Award (VLAA).
Chosen by this year's judge Hetti Perkins, Robinya's painting was one of 26 finalists responding to this year's theme Ngawa, Ngapa, Kapi, Kwatja, Water, which asked artists from across Central Australia to reflect on the significance of water for their collective survival on their country.
Robinya works out of Tangentyere Artists and her work depicts the Country around Napperby Station where her she her husband raised their family. Now living in Alice Springs, Robinya reflects on her time in the Laramba community, near Napperby, where residents are still forced to drink water that contains three times the level of uranium considered safe.
"[The work] stood out as an unequivocal, elegant and profound statement about kwatye," said Perkins of the winning work. "It captures the dramatic vistas of rain in desert country and conveys the transformative and life-giving power of water."
"The water underground and overhead, in soaks, rockholes and creeks is our lifeblood, an essential part of the ancient ecology that we are part of," she continued.
"This delicate balance cannot be tampered with and the NT and Australian governments need to sit up and take notice of the truth our people are telling them, and nowhere more clearly than in our art."
The VLAA is currently in its third iteration, and is a collaboration between Desart, the Central Land Council and Tangentyere Artists.
Desart CEO Philip Watkins says, "Grace's work is evocative of all that brings joy with rain, its life-giving force, and its cultural significance. Safe, clean water is a fundamental right, yet many communities continue to struggle for this."
This winning work is not only beautifully rendered, but is a powerful reminder of the harsh realities faced by communities across Central Australia.
The exhibition runs until 13 October and features a walk-through virtual gallery developed with Agency Projects. View by clicking here.
The VLAA commences a festival of Aboriginal art and culture this week in Alice Springs, including Desart's Photography Prize which opens Thursday 9 September for its 10th iteration.
This article was originally published 9 September 2021.
Image: Grace Kemarre Robinya of Tangentyere Artists, 2021 Vincent Lingiari Art Award winner with her winning work Raining at Laramba, 91.5 x 111.5cm, acrylic on linen. Photo by Oliver Eclipse, Desart. Courtesy: the artist and the Vincent Lingiari Art Award.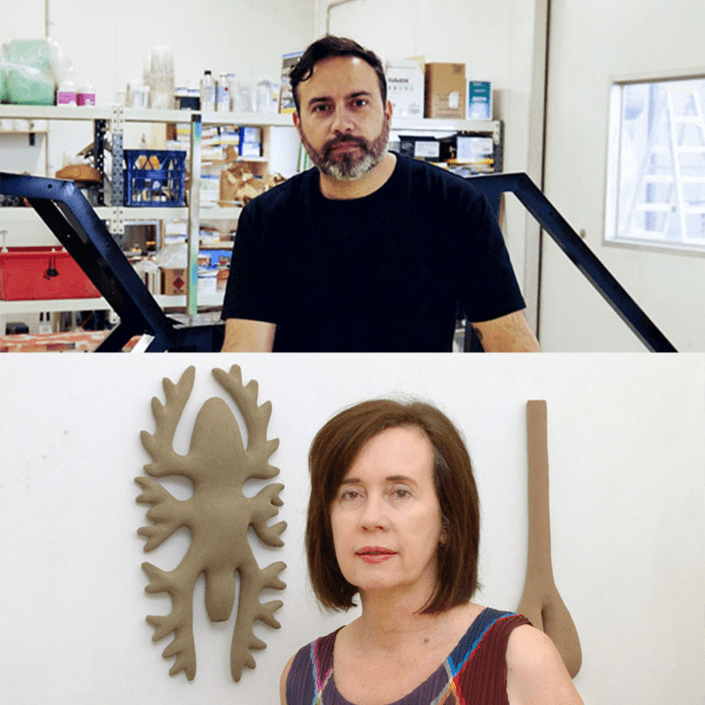 Two celebrated Australian artists receive Mordant Family/Australia Council Affiliated Fellowship at American Academy, Rome.
https://artcollector.net.au/wp-content/uploads/2022/09/news.png
1080
1080
Charlotte Middleton
https://artcollector.net.au/wp-content/uploads/2021/11/Art-Collector-logos-transparency-WHITE-1080x1080px-2.png
Charlotte Middleton
2022-09-14 14:20:05
2022-09-14 14:20:05
Reko Rennie and Angela Valamanesh honoured with international fellowship