Australian female photographic artists take over the NGV
Two concurrent survey shows from Petrina Hicks and Polixeni Papapetrou at the NGV this September celebrate contemporary Australian photographic practice.
This September, the National Gallery of Victoria (NGV) presents two major survey exhibitions by two renowned Australian female photographic artists: Petrina Hicks and Polixeni Papapetrou. The shows highlight the beauty and complexity of female experience through quietly playful and ambiguous aesthetics.
Olympia: Photographs by Polixeni Papapetrou, is the first major museum retrospective of the artist's work, surveying 20 years of her diverse photographic practice. Following Papapetrou's passing in early 2018, the NGV has worked closely with her family to present an exhibition that celebrates her distinctly mystical and at times melancholy portraits. The show has been titled to reflect the extensive influence Papapetrou's daughter Olympia had on her practice, acting as model, muse, collaborator and champion of her work.
Exploring historical and contemporary representations of childhood and the complex role society plays in shaping their development, Papapetrou's photographs are an ode to a world of play, imagination and storytelling. Olympia: Photographs by Polixeni Papapetrou narrates the artist's diverse influences – from her PhD on the work of 19th century author Lewis Carroll, to her struggled feelings of grief and gratitude following her terminal cancer diagnosis.
This first major survey of Polixeni Papapetrou's practice is an overdue and necessary celebration of a highly influential and playfully enigmatic photographic practice.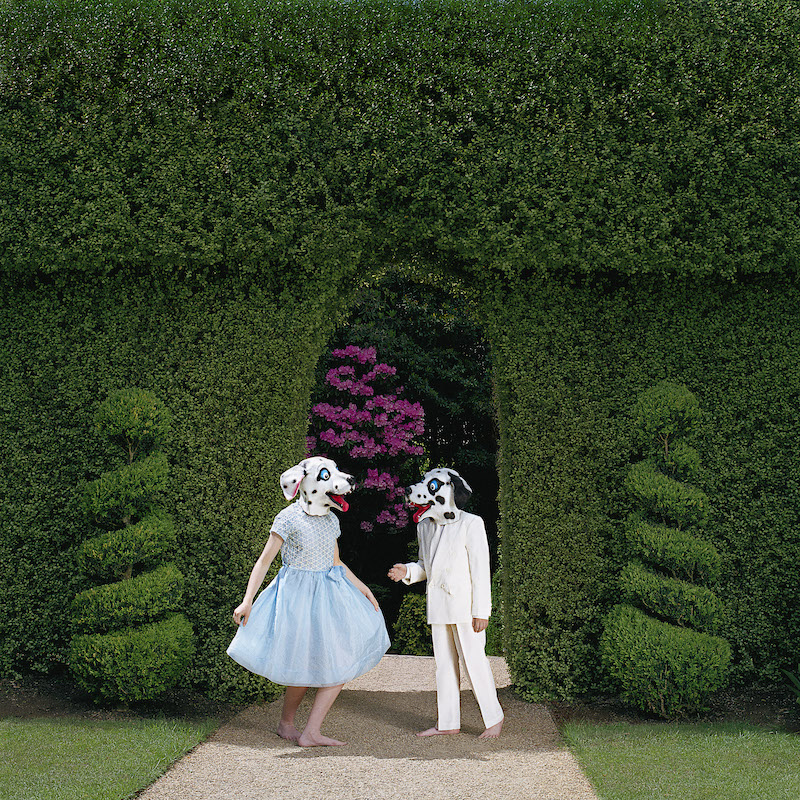 Image: Polixeni Papapetrou, The debutants, 2009 (from the Between Worlds series 2009). Inkjet print, 105 x 105cm, Private collection. Courtesy: The estate of Polixeni Papapetrou, Michael Reid Gallery, Sydney and Jarvis Dooney, Berlin.
Concurrently the NGV presents Petrina Hicks: Bleached Gothic. Hicks' distinctly feminine photographic and video works are a hyperreal and highly stylised depiction of feminine identity that is both beautiful and unsettling. Presenting more than 40 works spanning 2003 to 2019, the show hones in on the enigmatic nature of Hicks' practice, which often shines light on the complexity of female experience.
Hicks' background in commercial photography has resulted in a vast series of work that is at once surreal and familiar. While she often repeats subject matter and style, the artist's controlled use of studio light and colour palette has allowed her to create images free of time and place. There is something uniquely feminine about her images that extends beyond their recurring female and animal subjects. White coiling snakes and aged ceramic vessels reference classical Greek motifs of female seduction and power, while slick stylisation takes us beyond the norm into a world of distant strangeness and danger.
Alongside Hick's images, some of which will be displayed floor-to-ceiling, will be five video works – an extension of her photographic practice. Time is slowed down as a single moment is stretched out in an act of durational photography, moving Hick's work just beyond the realm of two-dimensionality. Presenting beauty and female identity in a very singular and quiet way, this survey exhibition is a distinctly contemporary translation of identity emptied of information and extraneous noise. (Read more about Hick's practice in the current issue of Art Collector on sale now.)
The NGV's presentation of two concurrent surveys from two acclaimed Australian female photographic artists is a deliberate and important move to place Hicks and Papapetrou well within the ranks of Australian and international contemporary photography.
Petrina Hicks: Bleached Gothic exhibits at the National Gallery of Victoria, Melbourne from 27 Septmeber 2019 to 29 March 2020. Olympia: Photographs by Polixeni Papapetrou exhibits at the National Gallery of Victoria, Melbourne from 27 Septmeber 2019 to 15 March 2020. Entry to both exhibitions is free.
Header Image: Petrina Hicks, Serpentina II, 2015. Pigment print, 115 x 115cm, edition of 4 + AP. Courtesy: the artist and This is No Fantasy, Melborne.