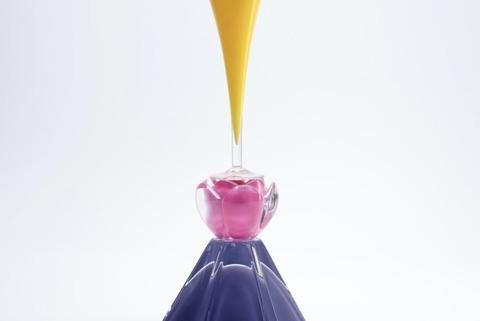 Edward Waring's practice centres around discussions of memory. Striving to prompt a shift in how we perceive particular objects, Waring repurposes abandoned, albeit ornamental and once treasured objects, and breathes new life into them.
His work recalls the crystal pieces of his mother and her friends, that were reserved for special occasions and mostly kept secret and often never used. Working with vintage crystal and glass, he creates colourful assemblages that surprise with their dynamism and playfulness. In doing so, Waring creates a tribute to the strong women who raised his generation, celebrating their secret and fabulous histories that are now, if ever, rarely narrated or acknowledged.
Through a complex engagement with how we employ objects and how their associated meanings shift over time, Waring creates a radical transformation of the function and appearance of crystal pieces. By bringing something from the past and placing it sharply in the contemporary world, he invites us to defy our expectations of existing things, but also people, and encourages us to seek out the hidden beauty and excitement in what we now consider mundane or prosaic.
Waring's work can be found in important private collections both nationally and internationally, as well as exhibited in public collections such as The Powerhouse Museum and The Art Gallery of New South Wales. Waring has also been a finalist in prize exhibitions including Reimagine Art Prize and Woollahra Small Sculpture Art Prize.
Follow this artist
Sign up to receive the latest updates on this artist including exhibitions, VIP previews, landmark events, news and milestones.