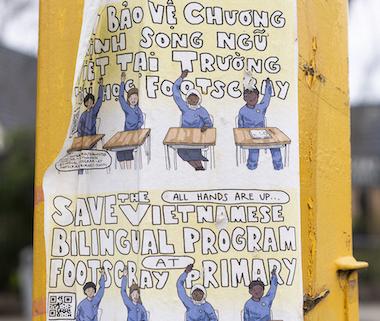 For his major solo commission, co-presented by Footscray Community Arts (FCA) and West Space, artist Hoang Tran Nguyen addresses colonial legacies of monolingualism, gentrification and their impact on minority power and subjectivity. The artist presents his work across two exhibition spaces – at West Space in Collingwood, and at Footscray Community Arts in Footscray. Hoang was heavily involved in the local campaign to save the Vietnamese Bilingual Program at Footscray Primary School before its axing in 2020. By contextualising this contemporary event within the steadily gentrifying areas of Footscray (where both FCA and West Space originate from) and Collingwood (where West Space is now based) he locates it within a larger colonial history aimed at maintaining white sovereignty in Australia through assimilation and dispersion.
Opening Event: 29 October, 2022, 3-5pm.
Follow this artist
Sign up to receive the latest updates on this artist including exhibitions, VIP previews, landmark events, news and milestones.