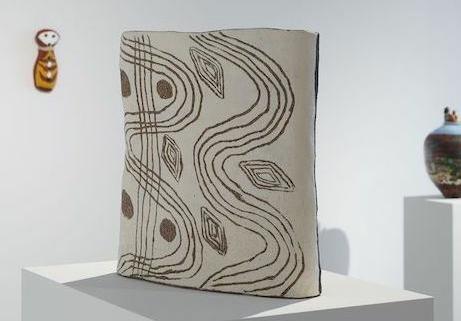 Now in its seventh iteration, the 2022 ICA embarked on a nation-wide callout, inviting Aboriginal and Torres Strait Islander artists and collectives from all over Australia to submit their entries to the prize. From within the strong contention, 19 finalists were shortlisted.
Presented on Yorta Yorta Country, the award provides a national platform to share personal, historical and deep cultural learnings from artists and Country. It celebrates and supports the rich and diverse use of the ceramic medium by Indigenous artists and acknowledges the special industry of ceramic art. There are three major prizes for finalists to secure: The Major Acquisitive Prize of $20,000, South-East Australian Aboriginal Artist Prize of $5,000 and the People's Choice Award of $1,500.
Artist recipients: Alfred Lowe, Arrernte (NT)  Alison Milyika Carroll, Pitjantjatjara (SA)   Anne Thompson, Pitjantjatjara (SA)   Bankstown Koori Elders Group (NSW)  Lorna Morgan Waka-Waka, Darumbal (QLD), Lillian Johnson Waka-Waka, Gubbi Gubbi (QLD), Gloria Peronchik Waka-Waka, Gangulu (QLD), Beverley Gilmartin Wiradjuri (NSW), Victoria Woods Wiradjuri (NSW), Margaret Foat, Buandik (SA), Lola Simmons Wailwan (NSW), John Simmons Beth Inkamala Mbitjana, Western Aranda (NT) Billy Bain, Darug (NSW)  Carlene Thompson, Pitjantjatjara (SA)   Debbie Taylor – Worley, Gamilaraay/Gomeroi (NSW)   Elisa Jane Carmichael, Ngugi (QLD)  Elizabeth Dunn, Pitjantjatjara (SA)  Hayley Coulthard Panangka, Western Aranda (NT)   Jock Puautjimi, Tiwi (NT)  Megan Croydon, Kuku Yalanji (QLD)  Philip Denham, Girramay (QLD)  Philomena Yeatman, Gunggandji (QLD)  Rupert Jack, Pitjantjatjara (SA)  Sean Miller, Gamilaroi (NSW)  Tjunkaya Tapaya OAM, Pitjantjatjara (SA)   Vivian Pingkayi Thompson, Pitjantjatjara (SA).
The formal opening and award ceremony for ICA will be held at SAM on Saturday 8 October 2022.