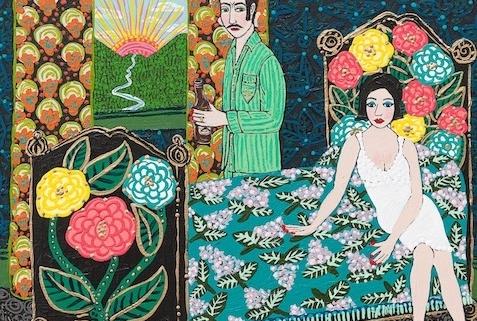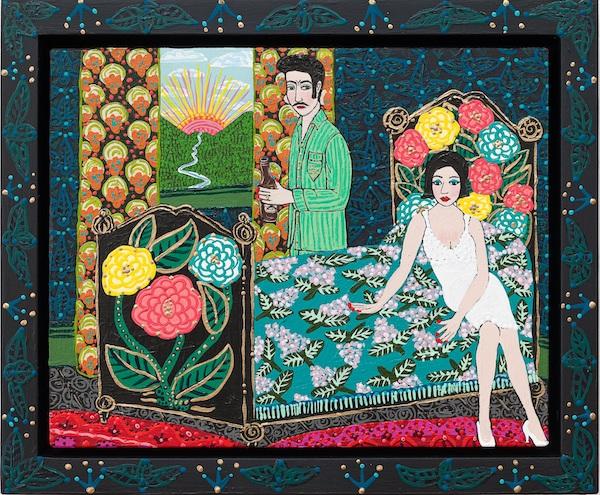 ⁠
When viewing Laura Williams' paintings one has the sensation of wandering around inside the artist's head. The interiors that make up Thinly Veiled are reminiscent of Vincent van Gogh's Bedroom paintings, having undergone a kind of makeover á la Virginia Woolf, with van Gogh's modest interiors replaced by a series of abundantly decorated spaces.⁠
Williams' acknowledges these works are 'thinly veiled' visual autobiographies, in that they present a kind of "stream of consciousness depicting a fragmented journey through relinquishment, estrangement, grief and comprehension." Made up of Williams' own lexicon of images, pattern, and meaning, they are intensely personal, but so generous and familiar are they in their visual references that they welcome the viewer to share in these interior spaces and luxuriate in their surroundings. ⁠
⁠
Wallpapers and soft furnishings feature vintage inspired prints, floors are covered in densely patterned rugs, and on the walls are hung all manner of works by artists including Van Gogh, David Hockney, Francis Bacon, Henri Rosseau, Rene Magritte, Suzanne Valadon, and Artemisia Gentileschi. Alongside these hang crucifixes and paintings of various saints, reflecting Williams' upbringing in a strongly patriarchal and Catholic household where she attended convent school. ⁠
⁠
Williams artfully critiques religion, sexual repression and gender inequality, and the representation of women and men throughout the history of both art and literature in a way Virginia Woolf would no doubt approve, whose extended essay A Room of One's Own (1929) explored gendered social injustices and women's lack of free and artistic expression.⁠
Opening night: Thursday 11 August, 5 – 7pm