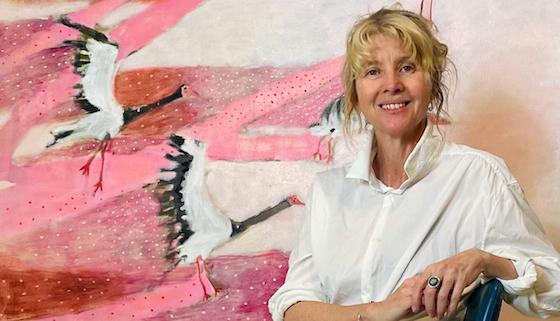 In light of Innocence, a Conversation with Nature is an accumulation of the works produced in Mandy Francis's studio on the Central Coast of NSW over the last year. Each painting explores scenarios where birds are in their element, on their primordial journeys from mudflats to the other side of the world, in their places of solitude, surrounded by water, or interacting with each other and the natural world around them. There is also a moment in each painting where Mandy gives way to her intentions and lets the paint, colour, texture, composition dictate the narrative. Sometimes a sheer gestural line can sum up the character of the bird or mountain or tapestry like patterns describe an ocean. Mandy isn't concerned with creating a style or a scheme, for her it's about a conversation between the art process and the natural world. Mandy is fascinated with the aspects of nature that hold innocence. The untainted quality of birds, animals and plants for her is quite irresistible. Birds are entirely unbridled, with individual characters and personalities. Plants pop up out of the ground with grand purpose in vibrant colours and patterns, moving, leaning and posturing in a way that says and does so many things. Mandy sees it as pure magic and sets out to capture that feeling in her work. In a way, by trying to embody this unique symphony Mandy is making a statement about embracing oneself, and accepting your own unique strangeness, trying your best to shut out lifes expectations and to simply flow as you. Each painting or sculpture that Mandy initiates draws deeply from a moment where magic resides, something unadulterated, unpolluted and utterly free. Whether it be tiny birds mucking about on the path or Cockatoos squawking in search of the right tree to sleep in for the night, crazy rain in the distance or stretched out shadows, the artist is deeply invested in the feelings such theatre evokes. Through trial and error, experimenting with paint, colour, exaggerating movement, oscillating between figurative, abstraction, fantasy and naive mark making, Mandy composes a work that captures the play of art making and the play of nature.
Opening Event: 24th November 2022, 6-8pm.
Follow this artist
Sign up to receive the latest updates on this artist including exhibitions, VIP previews, landmark events, news and milestones.