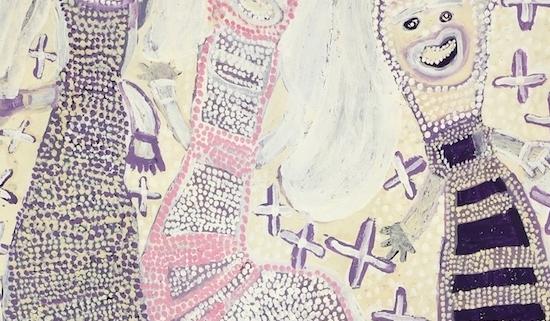 Alcaston gallery is honoured to present a collection of works by the late Ms. D. Yunupingu, a highly respected Yolngu elder and artist based in Yirrkala in the Northern Territory to respectfully pay tribute to an artist of great joy and significance.
Discovering her passion for painting late in life, Ms Yunupingu created extraordinary paintings using a unique combination of natural earth pigments with reclaimed toner ink from discarded printer cartridges, which resulted in a beautiful, subdued yet vibrant palette distinctive to her work. Her deeply personal paintings portray the story of her conception as the spiritual mermaid, a depiction transposed by the artist into a highly distinctive and contemporary aesthetic.
By request of the artist's family and community, and in honour of her artistic legacy we respectfully present this exhibition of paintings by Ms. D. Yunupigu at the Alcaston Gallery Exhibition Space – 84 William Street Melbourne from 26 October-18 November 2022.
© The Artist, Buku-Larrnggay Mulka and Alcaston Gallery, Melbourne 2022
Opening Event: 29 October, 2-4 pm