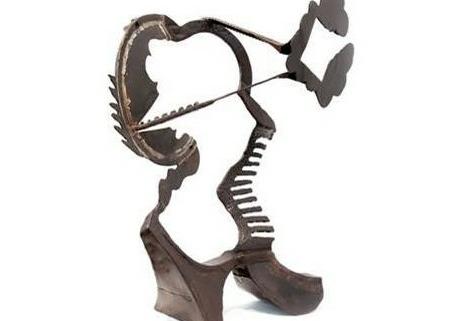 The Drill Hall launches its 2023 exhibition program with a dynamic pairing of vivid bark paintings and lyrical metal sculpture. The two artists in this exhibition, Noŋgirrŋa Marawili and Leo Loomans, intrigue us with their feats of linear invention. There is a comparable vivacity in their handling of line, in their concern for composition and clarity of statement.
Yolŋu artist Noŋgirrŋa is a revered elder of the Madarrpa Clan, associated with Buku-Larrŋgay Mulka Centre in Yirrkala, far northeast Arnhem Land; Loomans is New Zealand-born, of Dutch parentage, and Sydney educated. He is a Canberra-based sculptor who works in Strathnairn. Both artists were oblivious to one another's existence when they produced the works in this exhibition, and their rationale and the circumstances of production of their art could not be more different.
Noŋgirrŋa's bark paintings have become internationally renowned in recent years, in part for the dynamism of their compositional structures, which seem to expand and re-imagine the traditional grid and diamond patterns of her clan. From her interlocutors we learn that the diamond-patterned skeins in her paintings may depict fire, water, woven dillybags, fish traps, sheet-lightning, waving seagrass and the Yirritja clan design. It is from ciphers of these themes that she extracts the basic elements of her graphic vocabulary. In effect, their lines, shapes and rhythms become the wherewithal of her visual language.  Abstracted from their subjects, these graphic elements seem to attain a degree of self-sufficiency and self-determination – perhaps the reason why Noŋgirrŋa's works seem to interact so effectively with Loomans'.
Loomans is an exponent of "drawing in space". His welded assemblages have parts and junctures that are plain to see, so it is clear that they are constituted like (or as) a language, and how they compose a kind of writing. As with spoken or written utterances where words and syllables link up into statements, Loomans' assemblages are fusional: they develop complex sentence-structures that have an identifiable personal style, favouring succinctness and a certain musicality – with a bit of roughness thrown in to banish any hint of slickness.
Could the result of this pairing be a face-off between antithetical sensibilities set in a deadlock of clashing cultures, or will it be a welcome and liberating opportunity for these works to engage in an impromptu, unforeseeable pas de deux? We have taken the inclusive option, while at the same time trying to heed Howard Morphy's recommendation, which is: "to acknowledge similarities that shade into common realities, and simultaneously allow for differences."
FLUENT: Nonggirrnga Marawili & Leo Loomans is curated by Terence Maloon.