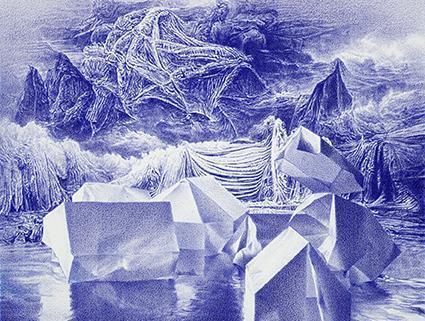 Sanderson  presents the exhibition Unfolding by Stephen Ellis. The exhibition will feature a suite of six drawings by the artist, which are part of his ongoing project exploring themes of environmental degradation and climate change.
Each of the drawings will be coloured pencil on paper, 30cm square.
'Ellis' meticulously rendered drawings poetically engage the materialisation of climate change, once considered a "theory" yet now demonstrably manifesting in volatile physical forms both felt and lived.
Ellis positions his imagery in the shifting, uncertain terrain between our imaginings of climate change and our representations of it. He depicts the Earth overwhelmed by the resulting natural forces: stormy seas and brooding skies feature prominently, also connecting Ellis to aesthetic traditions of the Sublime. His complex iconography adds an anthropogenic overlay, given our knowledge that these extreme phenomena are, in part, of our own making.' – Emil McAvoy
This recent body of work shows an exciting shift in the artist's process where he has now begun using a text-to-image AI collaborator as part of his modelling process. The result is a group of dreamlike surreal landscapes that present a provocative discourse around our future and the future of our natural world.
Opening Event: 6 August, 11am – 1pm