New directions at the DAAF Foundation
The Darwin Aboriginal Art Fair embarks on a journey into a new decade in 2017, celebrating its 11th year.
The Darwin Aboriginal Art Fair is still riding the wave of the tenth anniversary celebrations of 2016, which were simply spectacular. The Indigenous arts industry came together and reflected on the artists who paved pathways into artistic legend, and recognised the emerging talents that will shape the next decade!
This year, the Darwin Aboriginal Art Fair Foundation (DAAFF) has prepared a public program of traditional dance performance, artist workshops, children's activities, film, fashion and music. DAAFF is also proud to announce that it will be representing a record 66 art centres at this year's fair. There are new participants from Queensland (Pormpuraaw Arts and Cultural Centre and Hopevale Arts and Cultural Centre), Western Australia (Yinjaa-Barni Art) and Victoria (Kaiela Arts). DAAFF is also delighted that the APY Art Centre Collective is returning this year, supporting the incredible art centres from the Anangu Pitjantjatjara Yankunytjatjara Lands, located in the far northern tip of South Australia.
Three huge exhibition halls at the Darwin Convention Centre will be brought to life with the vibrant and diverse artwork of over 2,000 artists. DAAFF will also be piloting its Indigneous Curators Program which has been made possible by the Tim Fairfax Family Foundation, with additional support from the Australia Council for the Arts to host an Indigenous Curators Symposium. These new programs will provide a platform for discussions, and map the future direction of Aboriginal Torres Strait Islander art and how it is exhibited. Powerful connections and networks will be discovered and celebrated between art centres (arts workers, artists and staff), and Australia's senior and emerging Indigenous curators, as they work together to curate the fair's exhibition booths.
"From Country to Couture – the DAAFF 2017 Fashion Show" is back after it's 2016 premier, due to popular demand. 12 art centres will be presenting their collections in a lively and cutting-edge runway show. The funky and fabulous Indigneous hip-hop performer, Jimblah, will DJ the show, and creative director, Grace Lillian Lee, will capture the artists' relationship to Country and culture by bringing to life the exquisite textile and fashion designs that are being produced by the remote community art centres. Many of these collections are the result of more than 12 months of preparation and trips across the continent so that artists can work directly with designers, exciting screen-printing workshops as well as tireless sewing training and development.
Audiences should not be deceived by the ease that the models wear these superb garments. Creating a fashion collection involves tremendous planning and preparation. In doing so, however, artists and arts workers are offered new skills development and are inspired by the opportunity. After seeing the DAAFF Fashion Show in 2016, artist Bernadette Watt from Anindilyakwa Art & Culture exclaimed "I just didn't know fabric could be so beautiful!"
Film, like fashion, reaches and captures audiences in different ways. DAAFF's 2017 program will culminate with the gala film evening at Darwin's iconic Deckchair Cinema. DAAFF is screening the Northern Territory launch of the "Namatjira Project Documentary". This multifaceted event will offer audiences a deeper level of engagement with the rich themes that are presented in the film including; copyright, reconciliation, justice, citizenship, intercultural partnership, exploitation, and the power of friendship. The screening of the documentary will be the key component of the gala evening, which will also include a panel discussion after the film, a masterclass watercolour workshop with members of the Namatjira family, and a music performance from Mandy Garland.
DAAFF acknowledges that 2017 marks the 50th anniversary of the 1967 Referendum (granting Indigenous peoples the right to be counted as Australians for the first time) and the 25th anniversary of the 1992 Mabo High Court judgement – two 'watershed moments' in Indigenous-Australian life and history. To commemorate these two significant anniversaries the DAAFF panel discussion interrogates the complex question: "What impact have these two defining moments had, on contemporary Aboriginal and Torres Strait Islander art" The discussion will illuminate the ongoing resistance, resilience, creativity and boldness of contemporary Indigenous art across Australia.
The discussion will be moderated by Franchesca Cubillo (DAAFF chair and the senior curator of Aboriginal and Torres Strait Islander Art for the National Gallery of Australia). DAAFF is honoured to welcome panellists including Gail Mabo (a dancer, actor and visual artist, and the third daughter of celebrated land rights activist Eddie Mabo), Djon Mundine OAM (member of the Bandjalung people of northern New South Wales, a celebrated curator, writer, artist and activist) and anthropologist and geographer Marcia Langton AM PhD Macq U, BA (Hons) ANU, FASSA who has made significant contributions to government and non-government policy as well as to Indigenous studies at three universities. The discussions are expected to be both intense and thought provoking, and offer insight into how art has played a role in shaping Australia's Indigenous political history.
When the foundation is asked why new events and activities are introduced to the program, the answer is always a simple one: to ensure that everyone has an opportunity to engage with Aboriginal and Torres Strait Islander artists, their communities, and their culture. Whether it be visual art, textile and fashion design, public discourses, film, dance or music – these universal tools of communication ensure that everyone can interpret the message of reconciliation. The arts create a middle ground – a fundamental standpoint where we can say "We understand each other." DAAFF hopes that its program continues to help audiences, art centre artists and staff, buyers and collectors, curators and industry stakeholder unite and truly engage with each other.
It has never been more important to find new platforms to celebrate, express, excite and connect with Indigenous art and culture. The Darwin Aboriginal Art Fair grows every year. DAAFF is constantly listening to its art centres, who shape the innovative ways for DAAFF to reach out to Australian audiences that attend the fair and beyond.
This article was first published in the 2017 Art Collector / Darwin Aboriginal Art Fair special edition. Image: Nyarapayi Giles, Warmurrungu, 2016, detail. Acrylic on canvas. courtesy the artist and Tjarlirli Art.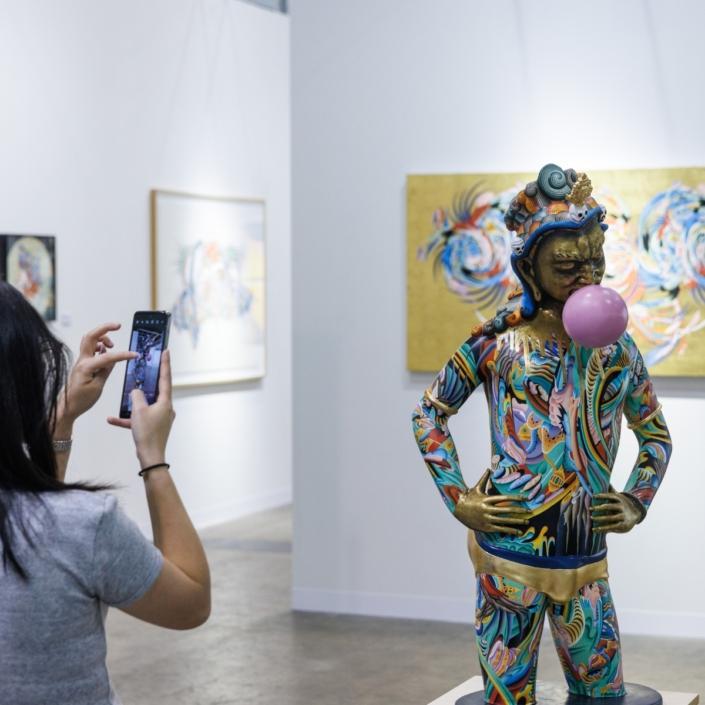 Art fairs for your travel calendar in the next quarter.
https://artcollector.net.au/wp-content/uploads/2023/02/Print_approx_21_x_14_cm-ABHK22__Galleries__Rossi_and_Rossi__Publi_HiRes-resized-1.jpeg
1200
1200
Erin Irwin
https://artcollector.net.au/wp-content/uploads/2021/11/Art-Collector-logos-transparency-WHITE-1080x1080px-2.png
Erin Irwin
2023-02-13 09:58:18
2023-02-13 09:58:18
Art Fair Report: Out in Force