Peggy Griffiths wins inaugural Cultural Adornment and Wearable Art Award
First NIFA winners revealed.
The Darwin Aboriginal Art Fair Foundation (DAAFF) has today announced the winners of its first National Indigenous Fashion Awards (NIFA).
Among the winners was Peggy Griffiths, who was awarded the Cultural Adornment and Wearable Art Award. Griffiths is a Kununurra woman whose Legacy Dress secured her success in the wearable art category for both its creative flair and deep cultural meaning.
"Cultural adornment and wearable art showcases thousands of years of Aboriginal culture, ceremony and song, that has been documented in many forms of creative expression, whether it be on bodies, the sand, bark, or weaving, for example," says Deputy Treaty Commissioner for the Northern Territory and NIFA 2020 judge Ursula Raymond. "If people truly engage with wearable art they can actually further their knowledge about the rich stories behind the piece and what they mean."
As wearable art. Griffiths' Legacy Dress represents the ancient practice of body design and ceremony, with each layer of the dress depicting a different aspect of her history and her Country. Griffiths was also highly praised for her strong leadership and position as a mentor within her community.
The NIFA prizes celebrate the vibrancy and originality of Indigenous designers and artists within the fashion industry, showcasing their unique approaches to interweaving contemporary design and traditional culture. With a combined prize value of $60,000, NIFA is an excellent platform to develop opportunities for Aboriginal and Torres Strait Islander designers, and in turn promoting diversity and innovation within the Australian fashion community.
Broadcast live by NITV and presented by Rachael Hocking, the award's inaugural edition saw six artists, designers and collectives receive recognition for their contribution to the world of fashion.
The winners of the National Indigenous Fashion awards:
Peggy Griffiths, for the Cultural Adornment and Wearable Art Award – co-presented with DAAFF
Kieren Karritpul, for the Textile Design Award – co-presented with RMIT University and Ross Bonthorne
Maara Collective X Bula'bula Arts, for the Community Collaboration Award – co-presented with Northern Territory Government
Ninti One, for the Environmental and Social Contribution Award – co-presented with Northern Land Council
Bede Tungutaalum, for the Special Recognition Award – co-presented with Northern Territory Government
Julie Shaw, for the Fashion Design Award – co-presented with Country Road
For more information on the award and this year's winners, visit the NIFA website here.
Image: Peggy Griffiths models her award-winning Legacy Dress. Courtesy: the artist and DAAFF.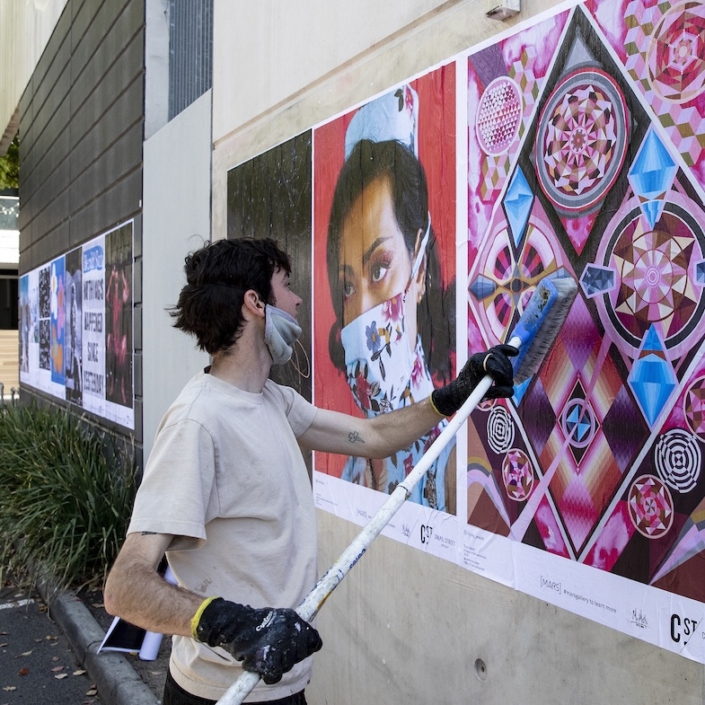 Artists unite in effort to bring vibrancy to locked down city.
https://artcollector.net.au/wp-content/uploads/2021/09/image001-copy-1.jpg
785
785
Charlotte Middleton
https://artcollector.net.au/wp-content/uploads/2021/04/AC_logo_2.png
Charlotte Middleton
2021-09-28 16:34:14
2021-09-28 22:34:13
Public art restores life to Melbourne's Chapel Street Precinct