What's in the Stockroom?
To celebrate 10 years since we started our 'What's in the Stockroom?' newsletter, each week we wander through one of the region's premiere stockrooms to find out what treasures lay inside.
This week we visit Auckland's Fox Jensen McCrory Gallery, with gallery director Sarah McCrory. Pictured with work by Jan Albers.
Jan Albers, mightyhighOnlight, 2018. Bronze, Edition 2 of 5 with 2 APs, 90 x 60 x 25cm.
"Jan's works are exciting and dynamic. I love their unorthodox nature, neither entirely paintings nor sculptures, they occupy a fascinating middle ground."
"'mightyhighOnlight' is bold and vivacious. Like all of Jan's pieces, it's not meant to be viewed from a distance, you want to get close and examine all the cliffs and crevices. This work, in particular, has great energy and strength."
Aida Tomescu, The Torch In My Ear III, 2018. Oil on Belgian linen, 80 x 60 x 6cm.
"Aida's work has taught me so much about how I look at and think about a painting. Her pieces are visceral, their strength of gesture and composition totally arresting. I love the hints of text in 'Torch in My Ear III', that in her efforts to illustrate the idea behind this series Aida had to utilise every tool at her disposal, and when that still wasn't enough she just had to write it down."
"The actual words are irrelevant, it's that feeling."
Aiko Robinson, Like the dew that settles on the pines, 2017. Etching with ganpi chine-collé on washi paper, Edition 8 of 20, image size 24 x 18.3cm, paper size 43.8 x 29.2cm.
"Aiko is a really exciting artist. Her facility is undeniable, and her amalgamation of traditional techniques translated through a contemporary lens results in some truly masterful works. It is easy to get swept away in the detail of her environments, which makes the discovery of the explicit sexuality of her headless figures all the more exhilarating."
Jane Bustin, Tulip, 2019. Cotton bedsheet, beetroot dye, oxides, oil pastel, cotton thread, copper pin, wood, copper & acrylic, 105 x 50cm.
"I love the mixture of materials in Jane's works, and Tulip is a perfect example. The juxtaposition of the sharp, copper and wood panel against the soft fall of the fabric, and the beautiful cascade of pigment that falls down the right side of the panel… there is a wonderful seductive poetry to her work that I find very moving."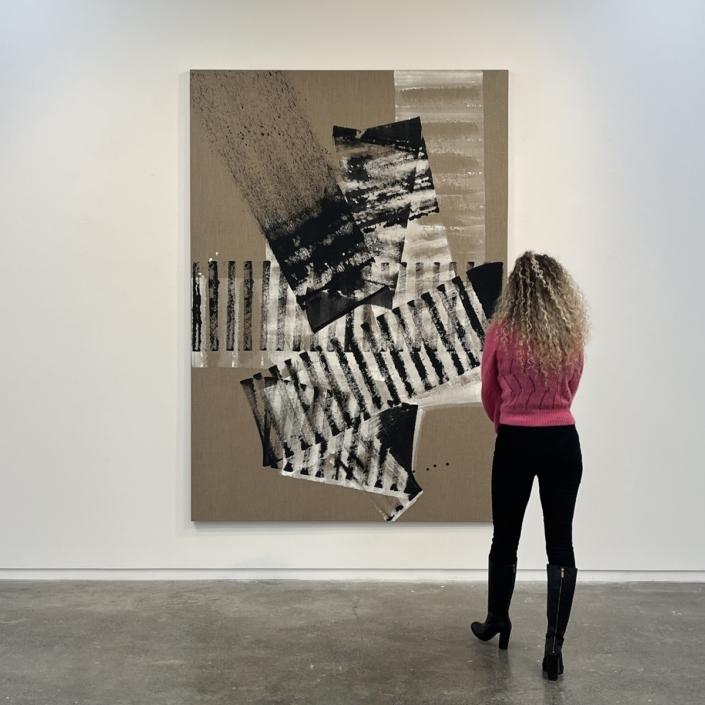 Fox Jensen McCrory presents a group exhibition.
https://artcollector.net.au/wp-content/uploads/2023/05/Shila-Khatami-BW-Mailchimp-Lead-Image-resized.jpg
1200
1200
Erin Irwin
https://artcollector.net.au/wp-content/uploads/2021/11/Art-Collector-logos-transparency-WHITE-1080x1080px-2.png
Erin Irwin
2023-05-30 11:08:55
2023-05-30 11:08:55
Group Exhibition: Snowblind