What's in the Stockroom?
Each week we wander through one of the region's premiere stockrooms to find out what treasures lay inside.
This week we visit Sydney's Olsen Gallery, with gallery founder and director Tim Olsen. A Wawiriya Burton artwork hangs above Tim, a Louise Olsen behind and Michael Cusack artwork to the right.
Amanda Marburg, Fame, 2014. Oil on linen, 125 x 90cm. Courtesy: the artist and Olsen Gallery, Sydney.
I just love this painting! Amanda Marburg's doughy compositions start out as plasticine models before they are rendered in oils. This process carries with it a kind of material intrigue unmistakably Marburg's own.
Matt Bromhead, Hanging Cares VII, 2020. Aluminium, clay, copper, plaster, rope, timber, 59 x 23 x 22cm. Courtesy: the artist and Olsen Gallery, Sydney.
Matt Bromhead's sculptural work is a very recent addition to our gallery stockroom. I greatly admire his deft line-work, a talent one often celebrates in two dimensions only. Bromhead will be one to watch this year and I am looking forward to his solo presentation in October.
Myles Young, Life In The Reeds, 2021. Oil and acrylic on polycotton, 112 x 122cm. Courtesy: the artist and Olsen Gallery, Sydney.
Myles Young offers something particularly new and exciting to a long history of landscape painting in this country. His sell-out March exhibition in our ANNEXE gallery proved that the genre is far from exhausted. In his work, Young renders movements usually imperceptible in fertile colour, representing the landscape as always being in a state of growth and flux.
Marie Hagerty, Bella Lugosi, 2016. Oil and enamel on canvas, 152 x 279cm. Courtesy: the artist and Olsen Gallery, Sydney.
Marie Hagerty has been a key figure in our gallery's stable for decades now and Bella Lugosi is an exceptional example of her rigorous practice. The artist applies her technical proficiency to very compelling ends, conjuring surfaces that are both optically challenging and pleasurable to the eye. The National Gallery's Know My Name exhibition features a fabulous work of Hagerty's from their collection!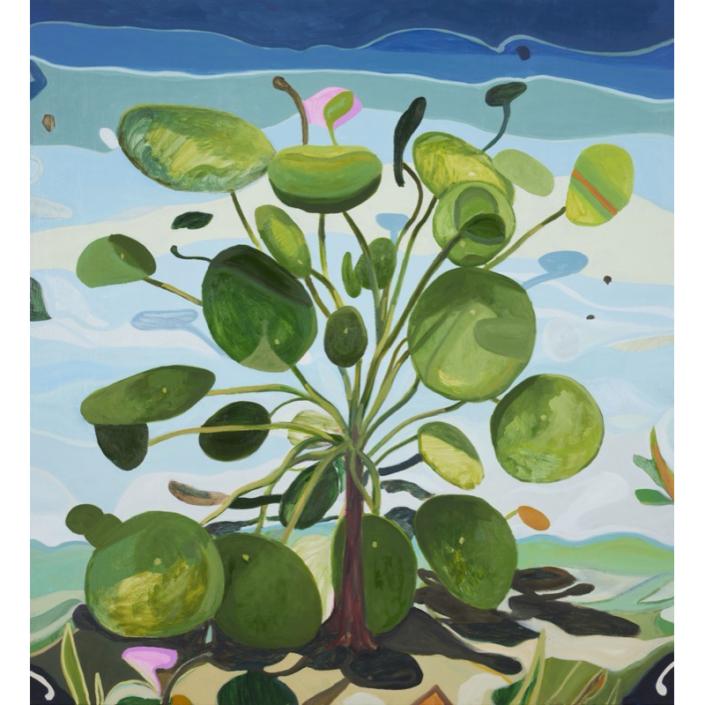 Olsen Gallery presents work by Myles Young
https://artcollector.net.au/wp-content/uploads/2022/09/Dancing-Pilea_oilandacryl_polycotton_122x112cm_2022_Myles_Young-copy-2b8789dd.jpg
800
800
Aarushi Zarthoshtimanesh
https://artcollector.net.au/wp-content/uploads/2021/11/Art-Collector-logos-transparency-WHITE-1080x1080px-2.png
Aarushi Zarthoshtimanesh
2022-09-19 15:16:36
2022-09-19 15:16:36
Myles Young : Waypoints