From The Heart
Five hundred kilometres northeast of Alice Springs, a little known but longstanding Art Centre Artists of Ampilatwatja is fostering creativity through a strong matriarchal lineage.
The Artists of Ampilatwatja are known for filling their paintings with resplendent arrays of colour and detailed dot patterns depicting the flowering plants, wide blue skies, and green plains of their Country. Choosing to paint the outwardly visible characteristics of their landscape, a distinctive feature of their work is an overhead perspective of plants used for Arreth (strong bush medicine). Plants like kwenkart (turkey bush), therrpeyt (native fuchsia) and ntang (edible seeds) have been in use as methods of healing for millennia.
Founded in 1999, the Artists of Ampilatwatja has grown over two decades to become a valued source of creativity, community, and income. Despite servicing a relatively small population located 500km by road from Alice Springs, the Artists of Ampilatwatja consistently produce works of incredible beauty. With painting styles and techniques passed down through generations, many artists have learned their craft through strong matriarchal influences. Among others, senior artists Betty Pula Morton, Leeanne Pula Teece and Lily Morton Akemarr have nurtured a number of new artists currently producing work through the centre, as Artists of Ampilatwatja Art Centre manager Caroline Hunter explains: "A lot of older artists have been long-term members of the Art Centre so it's great to have the grandkids start coming through. Bonita Kemarre Woodman does classic Ampilatwatja landscapes and grew up watching her mother, grandmother, aunty, and cousins paint. Bonita paints in the style of her family. She really paints from the heart in a very distinct style."
Utilising a darker palette for her paintings, emerging artist Maisie Bundey follows in the footsteps of her mother, Polly Ngale. Pinpointed by Hunter as one to watch, Bundey has only recently picked up the brush. "There is a real point of difference to Maisie's painting style. It's loose and fluid with muted, monochromatic tones. She paints the most amazing flowers and animal tracks with these gorgeous pastels and greys." Her work is often based on the landscape surrounding Boundary Bore in the Utopia homelands and includes references to bush plum, bush banana and bush potatoes.
Product development is also a priority at the centre with artists recently concluding a series of two-week workshops developing designs for Batik. The traditional Indonesian wax-resist dyeing technique employs patterns handcrafted with dots and lines, a style lending itself well to depictions of the Ampilatwatja landscape. Revisiting the work created in the mid 1980s by the Utopian Batik art movement, the Ampilatwatja women created a two-metre Batik featuring iconography specific to the Artists of Ampilatwatja. "It was like the 38 years that had lapsed between then and now hadn't really made any difference because they took to it like professionals, it was amazing," Hunter recalls. "We'd like to look at doing something with those quite remarkable pieces."
Reflecting the enduring excellence of their work, in 2022 several Ampilatwatja artists have been selected as finalists in major art awards and had their work acquired by large scale collections. Painting the wildflowers and plants of her Country Irrultja, Kindy Kemarre Ross has had one of her paintings acquired by the Parliament House Art Collection in Canberra. "Kindy has extended family who are painters (her mother and grandmother)," says Hunter. "She has developed her family style but has taken it to another level and made it quite unique and individual. Kindy's work never lasts long before it's sold." Selected by judges Judy Watson, Wayne Tunnicliffe and Dr Mary Knights, artist Michelle Pula Holmes is currently a finalist in the 2022 Hadley's Art Prize. Later in 2022, Michael Reid Southern Highlands will follow up the highly successful Artists of Ampilatwatja 2021 exhibi- tion at Michael Reid Berlin with a group show of new work celebrating bush medicine and the landscape.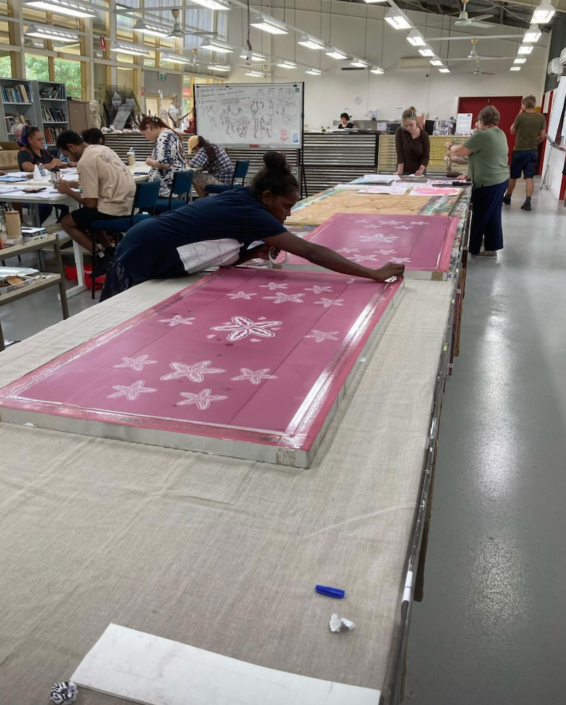 https://artcollector.net.au/wp-content/uploads/2022/01/anette-peter-wei-num.png
996
800
AdrianaBorsey
https://artcollector.net.au/wp-content/uploads/2021/11/Art-Collector-logos-transparency-WHITE-1080x1080px-2.png
AdrianaBorsey
2022-01-28 15:43:42
2022-01-28 15:44:06
Wei' Num Aboriginal and Torres Strait Islander Arts and Crafts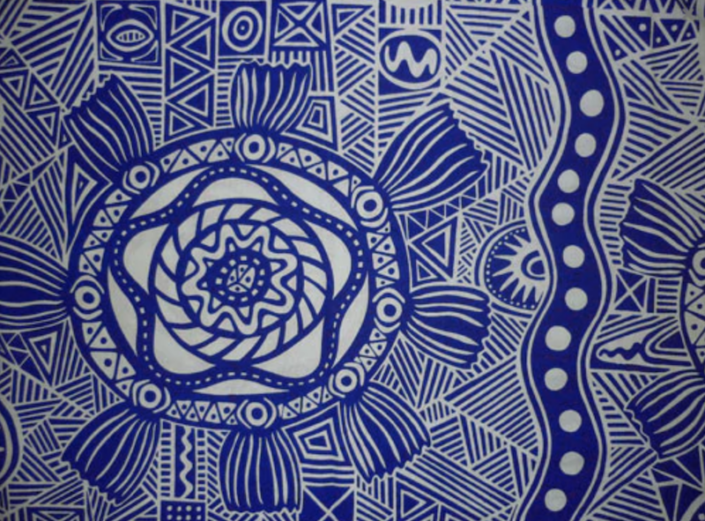 https://artcollector.net.au/wp-content/uploads/2022/01/TIWI.png
591
800
AdrianaBorsey
https://artcollector.net.au/wp-content/uploads/2021/11/Art-Collector-logos-transparency-WHITE-1080x1080px-2.png
AdrianaBorsey
2022-01-28 15:29:53
2022-01-28 15:29:53
Tiwi Designs Aboriginal Corporation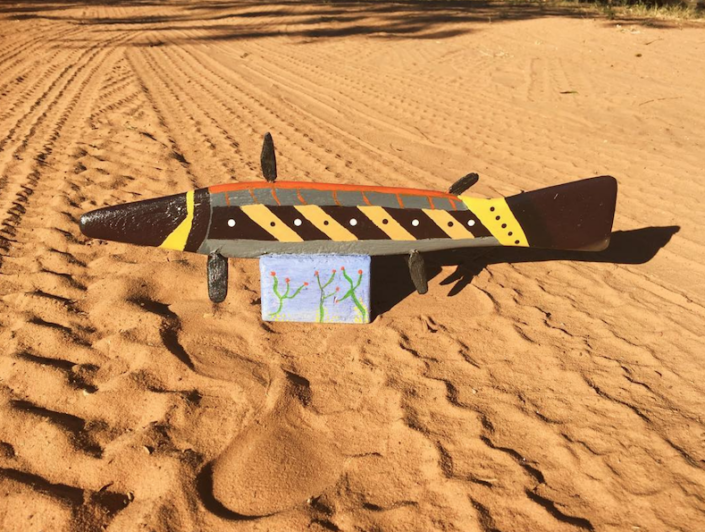 https://artcollector.net.au/wp-content/uploads/2022/01/Minyerri-arts-1-1.png
595
789
AdrianaBorsey
https://artcollector.net.au/wp-content/uploads/2021/11/Art-Collector-logos-transparency-WHITE-1080x1080px-2.png
AdrianaBorsey
2022-01-28 15:12:51
2022-01-28 15:12:51
Minyerri Art & Cultural Centre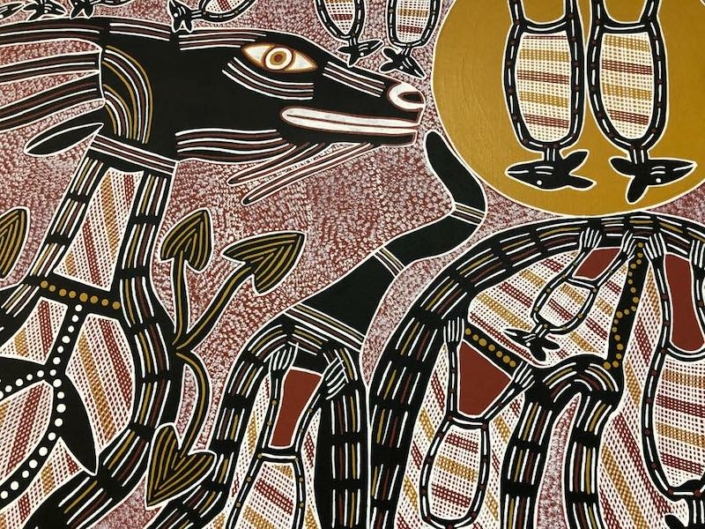 https://artcollector.net.au/wp-content/uploads/2022/01/FB-MIMI.jpeg
600
800
AdrianaBorsey
https://artcollector.net.au/wp-content/uploads/2021/11/Art-Collector-logos-transparency-WHITE-1080x1080px-2.png
AdrianaBorsey
2022-01-28 15:02:31
2022-01-28 15:02:31
Mimi Aboriginal Art and Craft