Blak Douglas wins $50,000 portrait prize
Sydney-based artist takes out the Kilgour Portrait Prize, now exhibiting at Newcastle Art Gallery.
Blak Douglas has been awarded the esteemed Kilgour Portrait Prize, an annual award for figurative and portrait painting, currently on show at Newcastle Art Gallery.
The Kilgour is one of Australia's most lucrative art prizes and includes $50,000 for the winning artist, as well as a $5,000 People's Choice Award.
The 2019 prize was judged by Newcastle Art Gallery director Lauretta Morton, artist and director of the Victorian College of the Arts (VCA) at University of Melbourne Jon Cattapan, and director Campbelltown Arts Centre Michael Dagostino.
Chosen from among 30 finalists including artists Karen Black, Peter Gardiner, Richard Lewer, Michael Lindeman, Robert Malherbe and Tamara Dean, the compelling 1.5 by 1.5-metre portrait of Australian actress and singer Ursula Yovich impressed the panel with its powerful composition and striking style.
"My dear friend Ursula, actress and songstress dynamo, has always been on my list of subjects to paint," says the artist. "This painting is all about her and is a metaphor for the female black voice. I asked Ursula to stand upon a chair for the pose because I saw it as a metaphor for Aboriginal voices to be heard."
Morton notes that the Kilgour Prize encourages Australian artists to pursue – and push the boundaries of – portraiture and figurative painting. She was impressed with the calibre of the 2019 entries: "This year's 30 finalists are perhaps the strongest and most interesting entries we've had in the history of the Kilgour Prize."
The KILGOUR PRIZE 2019 exhibition showcases the 30 finalists at Newcastle Art Gallery from 3 August to 13 October 2019.
Visitors can vote for the People's Choice Award at the Gallery until 5pm Wednesday 18 September 2019. The winner will be announced Monday 23 September 2019.
Image: Blak Douglas, Queen of her own stage (Ms Ursula Yovich), 2019. Synthetic polymer on canvas 150 x 150cm. Courtesy: the artist.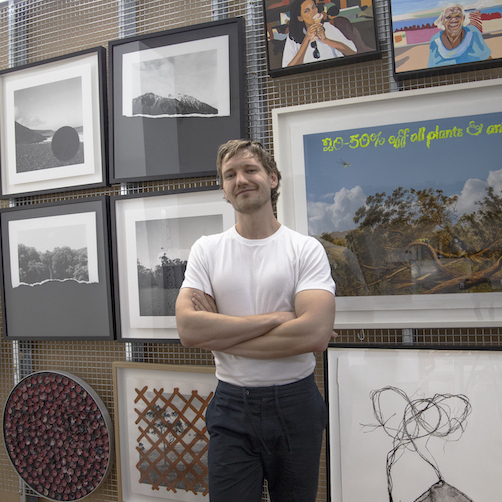 This week we visit Sydney's N.Smith Gallery, with director Nicholas Smith.
https://artcollector.net.au/wp-content/uploads/2021/07/IMG_0840-copy.jpg
502
502
MaddyMatheson
https://artcollector.net.au/wp-content/uploads/2021/04/AC_logo_2.png
MaddyMatheson
2021-07-30 13:01:29
2021-07-30 13:03:02
What's in the Stockroom: N.Smith Gallery