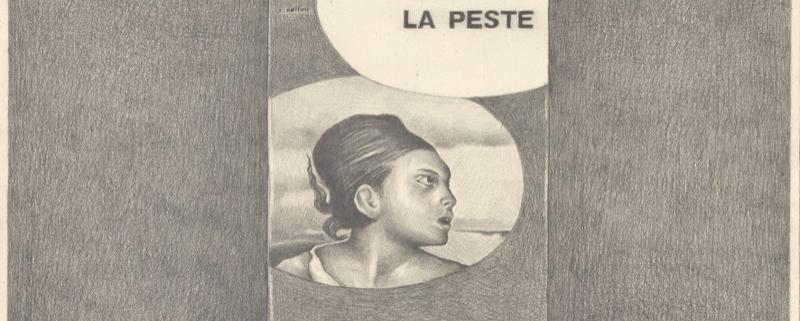 OLSEN ANNEXE presents a solo exhibition featuring the works of Teo Treloar.
Opening Event: Wednesday 30 November, 5 – 7pm.
During the early days of the 2020 Covid-19 pandemic, Albert Camus' 1947 novel The Plague became a global bestseller to the point that Penguin struggled to maintain demand. While Treloar was one such reader who revisited The Plague at this time, his consumer impulse was nuanced around his practice. Like most fans of the French novel first published as La Peste, he didn't buy a new Penguin edition, but instead acquired some 25 copies from secondary online sellers, though ten copies got lost in the mail. Treloar's aim was to get different pre-loved editions representing each country in the world experiencing dire outcomes from the coronavirus.
"I wanted to get second-hand books because they'd passed through the hands of other people. It was this way of connecting to a broader experience."
Treloar set out to illustrate each book cover in a new series as a way of connecting to a collective experience through collecting itself.
Each of his graphite drawings show the book hovering in a dark void, like space junk adrift in the cosmos. Corrimal based Treloar likens this abyss and its repeated use in his work to the novel's absurdist philosophical tone. Against a backdrop of "existential fear" Treloar says "we live in this chaotic existence with a choice to do what you want, do it well and do it with integrity". And that he does, with discipline and focus, if you consider how each work takes approximately three eight-hour days to complete.
– Daniel Mudie Cunningham for Art Collector
Follow this artist
Sign up to receive the latest updates on this artist including exhibitions, VIP previews, landmark events, news and milestones.