Jhana Millers Gallery adds two new artists to its stable
The Wellington gallery picks up Elisabeth Pointon and Caroline McQuarrie.
Words: Rose of Sharon Leake
Jhana Millers has a keen eye for artists whose works investigate the very constructs of our existence. It therefore comes as no surprise that she announces her representation of two New Zealand artists Elisabeth Pointon and Caroline McQuarrie. The artists will join the impressive and ever-growing Wellington gallery stable.
McQuarrie's interdisciplinary practice has long explored personal and familial histories, and the role that the photograph and the hand-crafted textile might play in representing or questioning these narratives. Over the last several years the artist has photographed sites of 1800s mining industries, transforming a documentation of growth, change and trauma into a more personal account of historical and sociological legacies. In her embroidered and textile projects, McQuarrie brings to light lesser-known stories – those of early settler Pākeha women.  More domestic and ephemeral, these histories have now mostly been lost to the annals of history. By resurfacing traces of these women and their experiences, McQuarrie's practice is as much a work of art as it is a deeply important historical record.
Shining a light on more contemporary representations of lived experiences, early-career artist Elisabeth Pointon uses the art of spectacle to draw attention to the language, accessibility and representation of experiences in the workplace and the art world. Known for her aerial banners, lightboxes, and large inflatable works, Pointon riffs on advertising slogans – "Big deal", "Spectacular", "Way to go" – to critique the institutions around her such as the limitations of galleries and curators. As a queer woman of colour, she recognises the need for public institutions to step up to the plate, to include works by minority group artists in major shows in a way that is not tokenistic and insensitive.
Yet Pointon's inclusion in a number of significant institutions, including the Dowse Art Museum in Te Awakairangi, Christchurch Art Gallery Te Puna o Waiwhetū and City Gallery Wellington Te Whare Toi, with a new exhibition coming up with Christopher Ulutupu at Pataka Art + Museum in Porirua in November 2021, shows that her work is cutting through the institutions she so eloquently critiques.
This article was originally published 4 August 2021.
Image: Elisabeth Pointon, Big Deal. Courtesy: the artist and Jhana Millers Gallery, Wellington.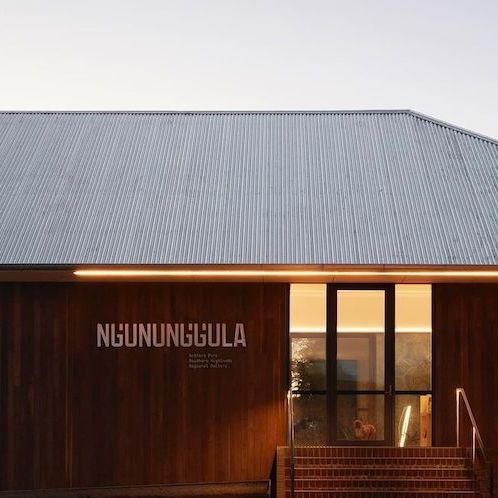 Five years in the making, the long-awaited gallery brings art and culture to the fore.
https://artcollector.net.au/wp-content/uploads/2021/10/244770673_1022960061886814_7683471891284890968_n1.jpg
498
498
MaddyMatheson
https://artcollector.net.au/wp-content/uploads/2021/04/AC_logo_2.png
MaddyMatheson
2021-10-14 15:04:51
2021-10-14 15:04:51
Ngununggula, the Southern Highlands' first regional art gallery, opens with a bang