McClelland announces inaugural Small Sculpture Award
Good things come in small packages.
The McClelland Sculpture Park+Gallery in Victoria has long been known for its commitment to exhibiting ambitious large-scale public sculptures. But this year, it's all about great things coming in smaller packages.
The institution has established a new National Small Sculpture Award as a way of supporting artists in the current moment. "Artists need our support and encouragement at this incredibly demanding time," says gallery director Lisa Byrne. "McClelland Sculpture Park+Gallery is delighted be supporting one of our key stakeholder groups, the sculptors."
Of the 44 finalists, four artists were today announced as the winners of the inaugural award, judged by renowned artists and McClelland trustees Lisa Roet and John Young AM, alongside Geelong Gallery director Jason Smith. Artists James Geurts, Matt Hinkley, Kerrie Poliness and Cyrus Tang each take home a $3000 cash prize.
The finalists were selected from 320 submissions from local and interstate talents. Representing artists at all stages of their careers, they include works by artists Daniel Agdag, Sanné Mestrom, Clare Milledge, Nell, Louise Paramor, Ronnie van Hout and Vipoo Srivilasa, among others.
Byrne says the award sought to encourage artists to consider sculptural concepts suitable for a domestic scale, as opposed to that of a major public environment. All 44 finalist works are available for sale, with all proceeds going to the artists.
"Collectors have a unique opportunity to purchase exceptional domestic sized sculptures through this initiative," Byrne tells Art Collector. "Often, private collectors steer away from sculpture given its scale and the resulting display requirements. These 44 sculptures all within a 50cm longest dimension offer the opportunity to add sculpture to a collection without the extended consideration of displaying larger works.
"Having been shortlisted by arts and cultural professionals provides a strong head start when thinking about acquiring sculpture for a private collection."
Collectors interested in owning one of the works are encouraged to contact that artists' representing gallery, or if the artist in unrepresented, contact the artist direct. Browse the winning works below and download a catalogue with contact details here.
The McClelland Sculpture Park+Gallery Small Sculpture Award 2020 finalists are:
Fiona Abicare, Daniel Agdag, Claire Bridge, Robert Bridgewater, Eugene Carchesio, Aaron Carter, Kris Coad, Ewen Coates, Narinda Cook, Augustine Dall'Ava, Emma Davies, Michael Doolan, Brodie Ellis, Danny Fotopoulos, James Geurts, Matt Hinkley, Odette Ireland, Freya Jobbins, Yvonne Kendall, Madeline Kidd, Alicia King, Michael Le Grand, Lucas Maddock, John Meade, Sanné Mestrom, Clare Milledge, Clive Murray-White, Nell, Louise Paramor, Sassy Park, Mary Lou Pavlovic,  Kenny Pittock, Kerrie Poliness, Steven Rendall, Juan David Rodriguez Sandoval, Paul Selwood, Ema Shin, Matthew Sleeth, Vipoo Srivilasa, Kylie Stillman, Cyrus Tang, Ronnie van Hout, Jan van Schaik, and Narelle White.
Header Image: Cyrus Tang, The Modern World Encyclopaedia Vol 2, 2017. Cremated book ashes, book cover and acrylic case, 40.0 x 40.0 x 45.0cm. For price information please contact ARC ONE Gallery.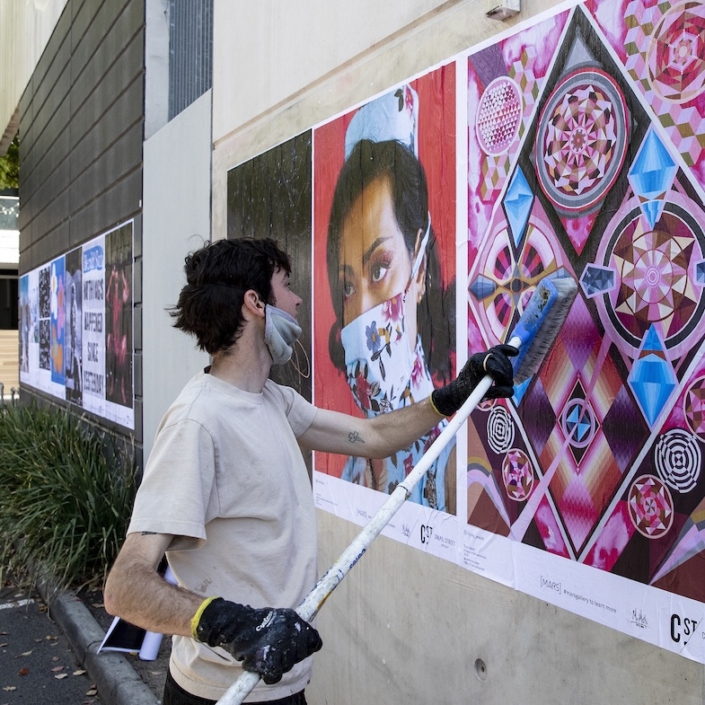 Artists unite in effort to bring vibrancy to locked down city.
https://artcollector.net.au/wp-content/uploads/2021/09/image001-copy-1.jpg
785
785
Charlotte Middleton
https://artcollector.net.au/wp-content/uploads/2021/04/AC_logo_2.png
Charlotte Middleton
2021-09-28 16:34:14
2021-09-28 22:34:13
Public art restores life to Melbourne's Chapel Street Precinct