NATSIAA 2020 Finalists Announced
67 finalists have been selected for Australia's longest running Indigenous art award.
The 2020 Telstra Aboriginal and Torres Strait Islander Art Awards (NATSIAA) has announced its line-up of finalists. Out of the 238 entries submitted by First Nations artists, 67 have been selected (see full list below).
As Australia's longest running prize for Aboriginal and Torres Strait Islander artists, NATSIAA plays an important role in supporting and showcasing the art of emerging and established Indigenous artists. This year features 11 emerging artists who have practiced for less than five years. With finalists from urban areas and remote communities across the nation, NATSIAA uplifts Indigenous voices, and showcases their art on a national and global scale.
"Whatever the style, whatever the medium, there is an extraordinary power and beauty in Indigenous art and given the times we are in, it gives us a chance to be inspired and helps us to see the world differently," says Telstra CEO Andrew Penn.
The artists for this year were selected by Larrakia/Wadaman/Karajarri Curator Tina Baum, Wadjarri/Nhanda/Nyoongar Curator Glenn Iseger-Pilkington and the Museum and Art Gallery of the Northern Territory (MAGNT) Curator of Aboriginal Art and Material Culture Luke Scholes.
"It was incredibly reaffirming to see the unique ways people are telling stories, the ways people are reinventing traditional forms and materials and the generosity of our community in sharing the most personal, and often challenging stories, through their diverse practices," says Baum.
NATSIAA is a celebration of the diversity and richness of contemporary Aboriginal and Torres Strait Islander art practice. More significantly, it is an opportunity to connect and support Indigenous artists and art centres with a national audience. "Staying connected during this time of self-isolation is so important," says Penn. "There is no better way to do so than through the medium of this incredible art."
There will be no public event on the MAGNT lawns due to COVID-19. MAGNT are working with Telstra to try and reimagine the Telstra NATSIAA this year, and ensure that the artwork will still be accessible to a national audience. 
Image: 2019 Telstra NATISAA Awards installation view
2020 NATSIAA Finalists:
Adrian Jangala Robertson
Amala Groom
Angkaliya Curtis
Annette Lormada
Barayuwa Munuŋgurr
Ben Ward
Bessie Daylight
Betty Kuntiwa Pumani and Marina Pumani Brown
Betty Muffler
Billy Yunkurra Atkins
Cassie Leatham
Kent Morris
Cecilia Umbagai
Cynthia Burke
Dallas Smythe
Deborah Wurrkidj
Dhuwarrwarr Marika
Djerrkŋu Yunupiŋu
Don Nakidilinj Namundja
Doreen Jinggarrabarra
Doris Bush Nungarrayi
Dylan Sarra
Garawan Waṉambi
Gary Lee
Ginger Wikilyiri
Gutiŋarra Yunupiŋu
Hubert Pareroultja in collaboration with Mervyn Rubuntja, Vanessa Inkamala.
Illiam Nargoodah
Iluwanti Ken
Jack Green
Jason Lee
Jenna Lee
Jimmy K Thaiday – Torres Strait Islands
Joanne Napangardi Wheeler
John Prince Siddon
Keith Stevens
Lance James
Leah Brady
Leah Umbagai
Mabel Juli
Mark Morris
Marrnyula Munuŋgurr
Mary Dhapalany
Mulkuṉ Wirrpanda
Ngarralja Tommy May
Noŋgirrŋa Marawili
Nyunmiti Burton
Nyurpaya Kaika Burton
Paul Namarinjmak Nabulumo
Peggy Griffiths
Peter Mungkuri and Alec Baker
Raelene Kerinauia Lampuwatu
Rerrkirrwaŋa Munuŋgurr
Robert Fielding
Rosie Tarco King
Ryan Presley
Sammy Lyons
Siena Mayutu Wurmarri Stubbs
Titus Nganjmirra
Sonia Kurarra
Tiger Yaltangki
Timo Hogan
Tjala Women's Collaborative
Wawiriya Burton
Yalanba Waṉambi
Yukultji Napangati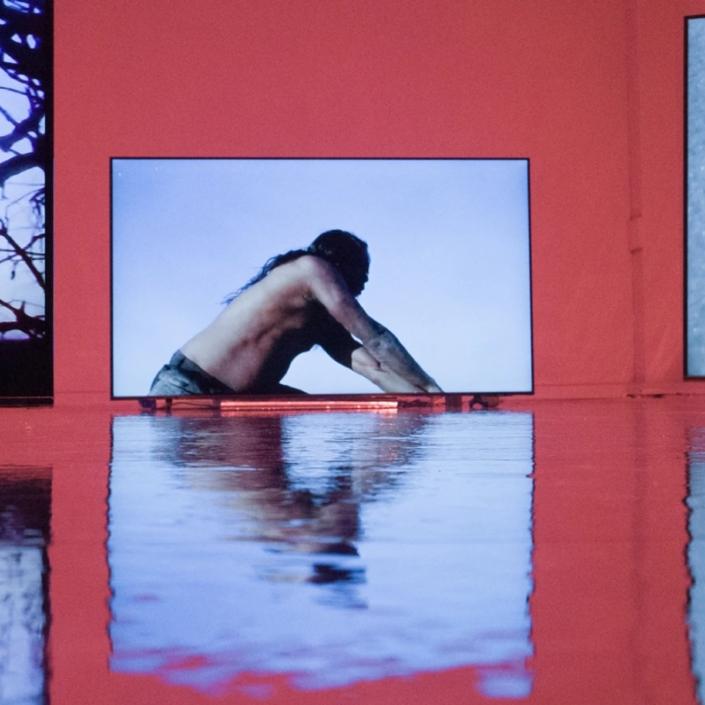 Work by Tim Georgeson is now open to view 24/7 at Passage, Haymarket.
https://artcollector.net.au/wp-content/uploads/2023/03/543947_87f32777442443d9affc213e770139fd_mv2-resized-1.jpeg
1200
1200
Erin Irwin
https://artcollector.net.au/wp-content/uploads/2021/11/Art-Collector-logos-transparency-WHITE-1080x1080px-2.png
Erin Irwin
2023-03-20 10:38:31
2023-03-20 10:42:00
Sydney sees new gallery devoted entirely to installation art