SPRING 1883: Art Luxe
The sixth iteration of Spring 1883 sees 24 handpicked galleries take over the luxurious Establishment Hotel in Sydney.
Spring 1883 Art Fair returns to Sydney this September, bringing with it an exciting energy and change of pace. The Art Fair, which coincides with Sydney Contemporary, takes over the Establishment Hotel for four days, aiming to blur the lines around how audiences interact with the works and their artistic spaces.
This sixth iteration of the fair sees 24 handpicked galleries – from Australia, New Zealand and the USA – each present work in the luxurious CBD hotel suites, seeking to provide an intimate counterpoint to the at times overwhelming atmosphere of larger art fairs.
60 per cent of this year's exhibiting galleries are taking part for the first time. The Renshaws make an exciting return after a 5-year hiatus of their Brisbane-based Ryan Renshaw gallery, showing a solo by Michael Georgetti. This Is No Fantasy present a duo show of work by Alexander Standen and Simon Degroot, while Christchurch's Jonathan Smart Gallery makes its way across the Tasman with work by Sanjay Theodore, Saskia Leek, Robert Hood, Zina Swanson, Kristy Gorman and Judy Darragh.
Charles Nodrum Gallery debuts at the fair with a showcase of the gallery's interest in Abstraction and taste for artists who don't happen to fit the art history cannon but are nonetheless exemplary in their skill and quality. The gallery will present work by George Johnson, Trevor Vickers, Norma Redpath, Clive Murray-White, James Gleeson and Edwin Tanner, among others.
Other newbies include Mercy Pictures from Auckland, Andrew Baker Art Dealer from Brisbane, Moore Contemporary from Perth and The Vivian from Matakana. They'll exhibit alongside Spring veterans including Murray White Room, Neon Parc and Sarah Scout Presents.
SPRING 1883 was established in 2014 by Neon Parc's Geoff Newton, Sarah Scout Presents directors Vikki McInnes and Kate Barber and art advisor Vasili Kaliman. The shift towards a more intimate and authentic experience was driven by what Spring co-founder Kate Barber says was a demand from both galleries and audiences for a more experience-driven version of the art fair format: "SPRING 1883 responds to a more intimate encounter with contemporary art. Both audiences and collectors enjoy discovering challenging and cutting-edge contemporary art behind each new door."
Spring 1883 2019 lineup:
The Renshaws
Mercy Pictures
Arts Project Australia
Success
Tributary Projects
Sarah Scout Presents
Jonathan Smart Gallery
THIS IS NO FANTASY
Andrew Baker Art Dealer
The Vivian
LON Gallery
Charles Nodrum Gallery
Blockprojects
Suite
Funaki
Murray White Room
Moore Contemporary
Neon Parc
Sumer
Kalli Rolfe Contemporary Art
Cement Fondu x Daata Editions
Image: The Sarah Scout Presents suite at Spring1883, Sydney, 2017. Photo: Zan Wimberley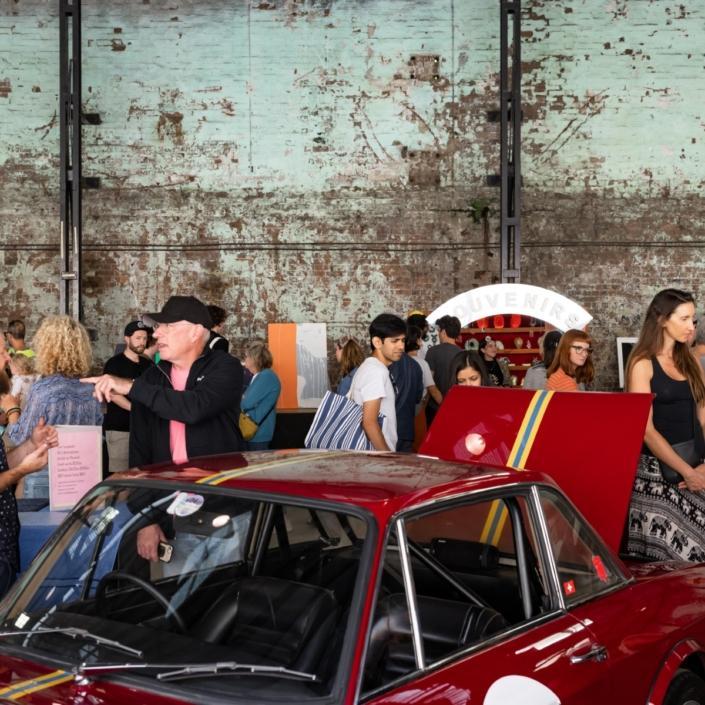 One of a kind event returns to Carriageworks for a second year.
https://artcollector.net.au/wp-content/uploads/2023/03/CWX_CutPolish_010522_credit_JacquieManning-260-1-resized.jpg
1200
1200
Erin Irwin
https://artcollector.net.au/wp-content/uploads/2021/11/Art-Collector-logos-transparency-WHITE-1080x1080px-2.png
Erin Irwin
2023-03-29 05:23:12
2023-03-29 05:23:12
Get revved up for the CUT N POLISH: Artist Car Boot Sale