Telstra NATSIAA 2022 winners announced
The longest running Aboriginal and Torres Strait Islander art awards in the country hands down its 2022 verdict.
Words: Rose of Sharon Leake
Margaret Rarru Garrawurra, Senior Yolŋu artist from Laŋarra, Arnhem Land in the Northern Territory is the 2022 Telstra Art Award $100,000 prize winner with her work Dhomala (pandanus sail) 2022.
Dhomala (pandanus sail), references both the artist's cultural identity, as well as the historical relationships that endure between Yolŋu people, and the people of modern-day Indonesia.
"I was with my sisters when I found out about winning," says the artist. "We were very happy. It makes us proud to get first prize. This is a Makassan dhomala (sail). Yolŋu people were watching Makassan people weaving their dhomala over time … then they started to make them. My father picked up the skill as well. He used to make them, Makassan dhomala. I was watching my father making these dhomala. He was making them, and I was watching. I thought about how he made them, my father, and I started remembering. And now I'm making these."
The 2022 Telstra NATSIAA judging panel, consisting of Myles Russell-Cook (Senior Curator of Indigenous Art at the National Gallery of Victoria) and Dr Joanna Barrkman (Curator, Charles Darwin University Art Collection and Art Gallery) said of the winning work: "Rarru Garrawurra has created a monumental sculpture that is both majestic in scale and exacting in technical virtuosity. Hers is a powerful work which reminds us that Yolŋu long been active and intrepid explorers, participating in international trade since well before the arrival of the Europeans."
Betty Muffler (Indulkana, SA) took out the Telstra General Painting Award for her work Ngangkari Ngura (Healing Country), 2021.
Russell-Cook and Barrkman said of her work: "Ngangkari Ngura is characterised by a subtle build-up of muted and monochromatic designs. This soft colour palette has become the artist's signature and is immediately recognisable. Muffler started painting in her late seventies and was judged best emerging artist at the National Aboriginal and Torres Strait Islander Art Awards in 2017. Receiving the Telstra General Painting Award just five years later, in 2022, acknowledges her meteoric trajectory and deserved rise to fame as an artist."
The late Ms D Yunupiŋu (Yirrkala, NT) was posthumously awarded the Telstra Bark Painting Award for her work Yunupiŋu – The Rock, 2021.
The Telstra Works on Paper Award was awarded to Gary Lee (Garramilla / Darwin, NT) for his oil pastel and pencil on digital print work Nagi, 2022.
The Wandjuk Marika Memorial 3D Award (sponsored by Telstra) was awarded to Bonnie Burangarra and Freda Ali Wayartja (Yilan, NT) for their work An-gujechiya, 2021.
Jimmy John Thaiday's (Erub, Torres Strait, QLD) Beyond the lines, 2022 single channel HD video took out the Telstra Multimedia Award, while the Telstra Emerging Artist Award was awarded to Louise Malarvie (Kununurra, WA) for her earth pigments on canvas work Pamarr Yara, 2022.
 In partnership with Telstra, these awards are the richest in Australia. Artists will share in a total of $190,000 (previously $80,000) with the prize money for the major Telstra Art Award doubling to $100,000. Each of the category awards tripling from $5,000 to $15,000. Funds for acquisitions by MAGNT into the Telstra Collection have also increased by $10,000 to a total of $50,000. 
The winning and finalist NATSIAA works are on show at The Museum and Art Gallery of the Northern Territory from Saturday 6 August 2022 to Sunday 15 January 2023.
This article was posted 5 August 2022.
Image: Margaret Rarru Garrawurra, Dhomala (pandanus sail) 2022, pandanus, kurrajong, bush dyes, 278 x 245cm. Courtesy of the artist and Milingimbi Art and Culture. Image Mark Sherwood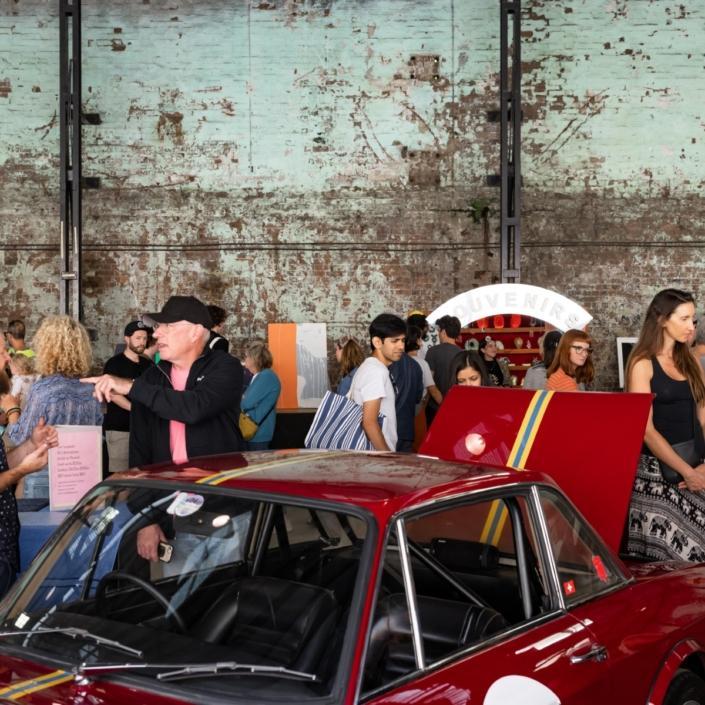 One of a kind event returns to Carriageworks for a second year.
https://artcollector.net.au/wp-content/uploads/2023/03/CWX_CutPolish_010522_credit_JacquieManning-260-1-resized.jpg
1200
1200
Erin Irwin
https://artcollector.net.au/wp-content/uploads/2021/11/Art-Collector-logos-transparency-WHITE-1080x1080px-2.png
Erin Irwin
2023-03-29 05:23:12
2023-03-29 05:23:12
Get revved up for the CUT N POLISH: Artist Car Boot Sale