The Sydney Modern Project opens new doors
The Art Gallery of New South Wales unveils its expanded exhibitions spaces, and Art Collector gets an inside view with deputy director Maud Page.
One of Australia's biggest cultural institutions has completed a multi-million dollar transformation, with the new and improved Art Gallery of New South Wales set to open its doors on the 3rd of December.
With a focus on sustainability and accessibility, the Sydney Modern Project has used a $344 million budget to expand the gallery's premises to an entirely new building and a public garden, featuring site-specific works that showcase the best of Australian and international art. Specially commissioned pieces by Lorraine Connelly-Northey, Karla Dickens, Simryn Gill, Jonathan Jones, Yayoi Kusama, Lee Mingwei, Richard Lewer, Lisa Reihana and Francis Upritchard are woven into the architecture of the site, responding to both the newly renovated historic building and its modern counterparts.
Designed by Pritzker Prize-winning architects SANAA, the project seeks to both expand exhibition spaces and diversify them, with the new building focusing on thematic hangs and innovative art forms. It also aims to honour the Gadigal country it rests on, with the Yiribana gallery acting as the public's first encounter with the expanded site.
Art Collector's Rose of Sharon Leake spoke to AGNSW's deputy director Maud Page ahead of the opening to get a better understanding of what the Sydney Modern Project means for Australia's art world:
In June 2017, the Gallery announced Susan and Isaac Wakil as lead donors to the Sydney Modern Project capital campaign with the gift of $20 million, one of the largest lifetime monetary gifts ever made to an Australian art museum, and the largest monetary gift in the Gallery's 146-year history. Dr Gene Sherman AM and Brian Sherman AM donated a major work by Wiradjuri/Kamilaroi artist Jonathan Jones to the gallery, along with $1.5 million to support the Sydney Modern Project. How much has philanthropy helped the development of the Sydney Modern project?
Our donor community is hugely important to us. Both the Wakils and the Shermans you mention have been and are longstanding supporters of the Art Gallery with a genuine commitment to our community.  The Shermans have donated many artworks across the years and for example Jitish Kallat's Public Notice 2 is in the inaugural hang in the upper Asian lantern galleries. The Art Gallery's Foundation supported all nine of the Sydney Modern Project commissions and individual donors contributed to the other commissions and exhibitions. This is the largest commissioning project in the Gallery's history and we're incredibly proud of it – it says who we are and what is meaningful to us.
The title of the Art Gallery's expansion – the Sydney Modern Project – homes in on its location in Sydney/Gadigal Country. Will the curatorial program focus on Sydney/NSW?
If I can turn the question around to say that our focus is how we are looking at the world from Sydney/NSW, Australia. We actually have always maintained a global (and I would add, contemporary) perspective since our inception 151 years ago and it's about how we nuance the conversation at different points of our history to be relevant and leading in the discussions. This is also visible in our collection exhibitions, so that in the newly opened 20th century gallery hang we show how early modernists travelled to Europe extensively with their works presented alongside their peers. At all times Australian artists are interspersed in conversation. The global perspective also comes from our thematics – big ideas, big narratives that resonate world-over.
How will the art displayed across the expanded campus continue the Art Gallery's contribution to important global conversations across Australia and the wider Asia Pacific region?
We look outward from Sydney/NSW and by extension outward from the Asia Pacific and this means that hangs in the new building reveal Australian artists in new relationships alongside Asian and wider international artists. This is probably most visible through the commissioning program (the largest in our history) where the nine artists are all from the Asia Pacific region. Names that are familiar and less familiar like the extravagant Yayoi Kusama (showing her first public flower in Australia), the visionary Jonathan Jones with a piece of Country linking the two buildings and Lee Mingwei with his generous installation of a Buddha and an offering. The Pacific looms large with a 19 metre screen that can be seen from two floors and for which Lisa Reihana has created a Polyfuturistic journey between us and our nearest neighbours.
The Sydney Modern Project will nearly double the exhibition capacity of the Art Gallery. What is the curatorial direction of the expansion?
We will show our magnificent collection across both buildings, with each making use of their architectural uniqueness. The existing collection hangs are loosely chronological while those in the new building are shaped by thematic consideration. We are driven by narrative, and in the more historical hangs we've worked with vignettes – juxtaposing different artworks together to tell particular stories. Often this is bringing in a female perspective, highlighting a detail that can open a conversation about Australian artists working in other parts of the world. In the new building, for me, it is about resonances. What works are placed alongside each other to sing of new thinking? How do we use space differently now that we have 5.5 metre ceiling heights? Essentially, our curatorial thinking was that the new building be experiential, speculative, responsive, and aligned with contemporary expression.
The new building already has a history: it's standing on the site of the Gadigal People, and its vast underground space was a former WW2 fuel tank. How has the site been honoured and reflected in the new building?
You are totally right to mention this. In thinking about our future, we needed to draw on our past. The Art Gallery stands on Yurong and we know that Aboriginal people gathered on this site for ceremonial and educational purposes. We spent a lot of time thinking about how we would honour the land on which the new building stands. We've got fantastic Aboriginal colleagues across curatorial, public programs and conservation that have been so generous in sharing information and ideas and we're looking forward to revealing them soon!
Will there be major representation of Australia's First Nation artists?
The Art Gallery's collection of Aboriginal and Torres Strait Islander art is internationally renowned and the new building has created a prominent destination for this collection of art. The Yiribana gallery is the first gallery space that visitors encounter in the new building and it will showcase our collection of Indigenous Australian art and culture. But more than that, we have been growing the expanded Art Gallery in consultation with our deeply valued Indigenous Advisory Group. So, every floor across both buildings has now been considered through an Australian First Nations lens. Without enforcing a quota, there were so many conversations within curatorial and these sparked truly exceptional juxtapositions of Indigenous works alongside international and Australian artworks.
How did the gallery select the nine major site-specific commissioned artists, and what can we expect to see in their works?
Through much discussion! Nine artists have been commissioned for the Sydney Modern Project – Lorraine Connelly-Northey, Karla Dickens, Simryn Gill, Jonathan Jones, Yayoi Kusama, Lee Mingwei, Richard Lewer, Lisa Reihana and Francis Upritchard. Each has been variously chosen to respond to our collection, to the lyrical architecture or to simply document the building site. Their works resonate with, and sit within, the strong and continuous Aboriginal history of this place. They variously humour, confront, prod and delight, drawing on a myriad of narratives, from sci-fi to particular histories from this part of the world. A number of them privilege Aboriginal and Pacific histories and knowledge. Asian voices also loom large, as do Australian perspectives. They are as aesthetically varied as they are rigorous, and powerfully herald new art histories to be written from here.
Along with the new build, the project has seen the renovation and reinstalment of the existing gallery building. What did this entail?  
The Art Gallery has undertaken a program of works to our historic building with Australian architects Tonkin Zulaikha Greer. The upgrades have restored original architectural features of the building, provided more space for art and scholarship – especially in our new library spaces (and I'm particularly proud of the new Children's Art Library) – and enhanced the visitor experience and sustainable operations. The 20th-century galleries are part of the transformation of the historic building which includes our refurbished Grand Courts and the Art Gallery's collection of Asian art in the Asian Lantern galleries.
Adrián Villa Rojas was announced as the inaugural commission for The Tank exhibition space. Can you reveal any other major shows slated for exhibition in the new building?
Dreamhome: Stories of Art and Shelter is particularly exciting as we've commissioned artists to create major installations alongside significant acquisitions made purposefully for the new building in the last three years. With such a loaded and pertinent thematic it has all the elements to heighten the senses and  open the mind, bringing artists like Alfredo and Isabel Aquilizan working with children and their dream homes to commenting on the precariousness of our environment through bold works like that of Phyllida Barlow.
To find out more about the opening and any upcoming events, visit the Sydney Modern Project's site here.
This article was posted 3 December 2022.
Image: Sydney Modern makes its mark on the city. Photo: Iwan Baan. Courtesy: AGNSW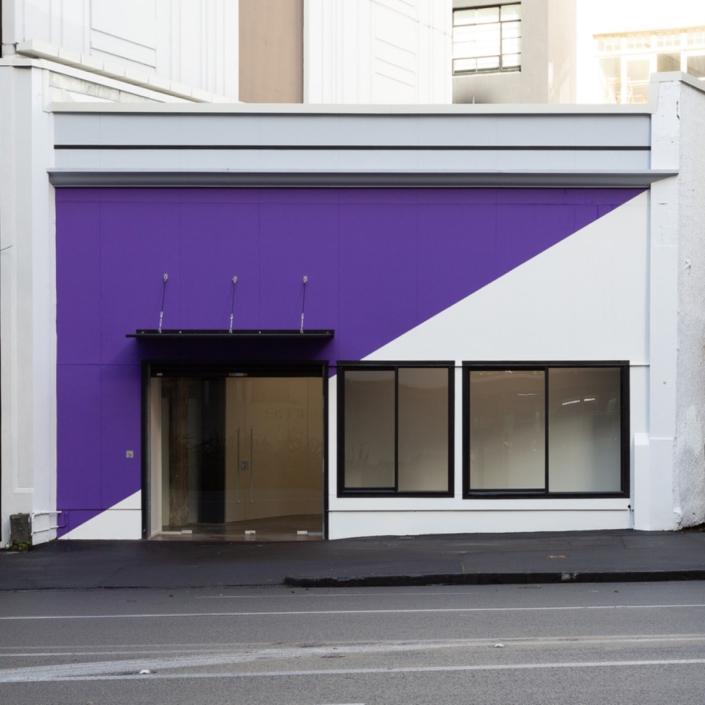 New Zealand-based gallery opens its new space with a bang.
https://artcollector.net.au/wp-content/uploads/2023/05/Jan-van-der-Ploeg-WALL-PAINTING-No.-534-Untitled-2023-Sumer-2-Tamaki-Makaurau.-Photo-Dan-du-Bern.jpeg
1200
1200
Erin Irwin
https://artcollector.net.au/wp-content/uploads/2021/11/Art-Collector-logos-transparency-WHITE-1080x1080px-2.png
Erin Irwin
2023-05-29 10:39:51
2023-05-29 10:39:51
Sumer Comes to Auckland