Weasel Gallery rebranded as Laree Payne Gallery
Staying put in its current digs, the Hamilton gallery embraces a new identity.
Words: Charlotte Middleton
Director Laree Payne has announced a re-brand of Hamilton's Weasel Gallery, marking its transition to the eponymous Laree Payne Gallery with a launch party last Friday.
Opened in the summer of 2018, Weasel Gallery made its home on the ground floor of a heritage 1915 building in central Kirikiriroa, Aotearoa New Zealand. It took its non-sensical name from the nursery rhyme pop goes the weasel, suggesting that the gallery might pop down and pop up elsewhere given the tenuous lease and while the gallery found its feet.
However, as the gallery has grown and developed over the past two and a half years, it has cemented its position both in the space and within Aotearoa's arts milieu. Reflecting its progress thus far as well as an ongoing commitment to supporting artists and their work, the gallery will henceforth operate under Payne's own name.
Payne says the shift speaks to the way the gallery operates – as a commercial gallery, the only one of its kind in the Waikato. "As I bring my own name forward, I am comfortable with a less playful brand (Weasel Gallery) and confident with a quieter look, leaving more room for the artists and their work," says Payne. "It's an exciting time for the gallery and the response to the change has been
overwhelmingly positive."
Coinciding with the launch of its new identity, the gallery also celebrated the opening of its final exhibition for the year last Friday, debuting a fresh new look by Area Design. As its first show as Laree Payne Gallery, the joint exhibition Two Waters: Wairua by artists Maia McDonald and Lottie Consalvo runs until 19 December.
Image: Laree Payne at the gallery entrance. Photo: Mark Hamilton.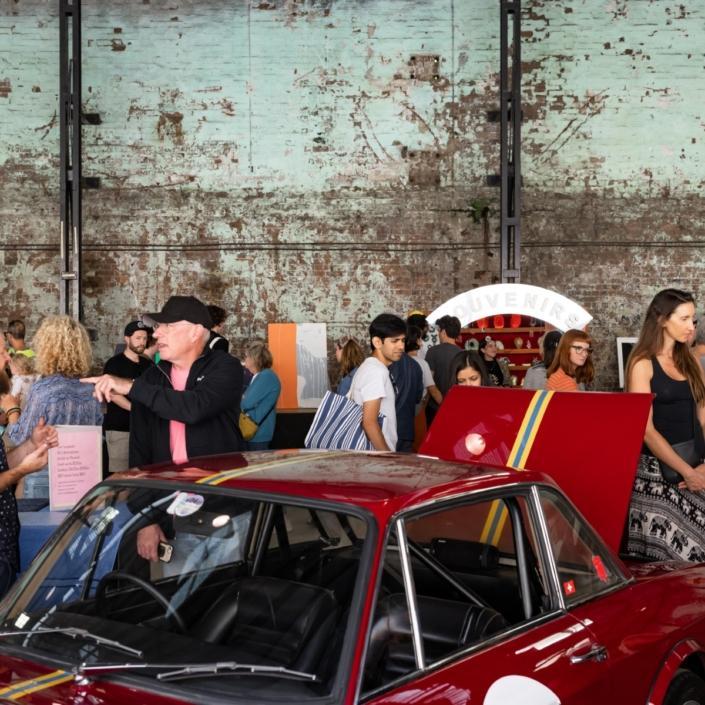 One of a kind event returns to Carriageworks for a second year.
https://artcollector.net.au/wp-content/uploads/2023/03/CWX_CutPolish_010522_credit_JacquieManning-260-1-resized.jpg
1200
1200
Erin Irwin
https://artcollector.net.au/wp-content/uploads/2021/11/Art-Collector-logos-transparency-WHITE-1080x1080px-2.png
Erin Irwin
2023-03-29 05:23:12
2023-03-29 05:23:12
Get revved up for the CUT N POLISH: Artist Car Boot Sale