Sydney settles in the CBD
Sydney gallery Sydney takes up residence in Macquarie Street.
With three years, four spaces and an impressive program of international and local artists under its belt, Sydney's eponymously named gallery is settling into permanent digs in the CBD.
The new space is located in the Deco-cum-Medieval-cum-Gothic BMA House on Macquarie Street – a rare example of an early Sydney skyscraper just a stone's throw away from the Royal Botanic Gardens and Opera House.
"I wanted to take advantage of the unique beauty of this building and city," says artist, curator and founder of Sydney Conor O'Shea. "There is a lot of history here and I thought it would be an interesting idea to present my program within this very idealistic Sydney setting."
Contrary to the name, O'Shea's gallery has a strong international focus. The 2019 program included a knockout show featuring work by the late Australian painter and sculptor Norma Redpath and New Zealand-born, Vienna-based Martyn Reynolds; cartoonish, almost-cute plaster casts from German artist Benjamin Hirte; a hairy moment from Melbourne's Lewis Fidock and Joshua Petherick (with literal hair suspended from the ceiling); and a text-based installation from New Zealand superstar Fiona Connor (care of Fine Arts, Sydney). O'Shea says he is excited about how the forthcoming 2020 program will react with the new environment.
O'Shea's global cross-pollination idea sparked when he moved back to Sydney from Europe in 2015. "I felt something was missing," he says. "This was a real engagement with younger international art in Sydney, which I was exposed to in Europe. I wanted to bring the people I was working with in Berlin to Sydney, and the program grew from this initial idea."
Sydney's new space opens 9 November 2019 with a solo exhibition of drawings by Rob Halverson, an artist and curator living in Portland. Join the gallery for celebratory drinks from 4 to 6pm.
Image: BMA House on Macquarie Street in the Sydney CBD, the new home of Sydney gallery.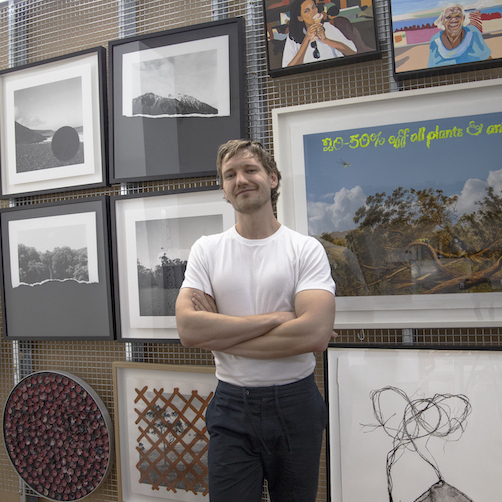 This week we visit Sydney's N.Smith Gallery, with director Nicholas Smith.
https://artcollector.net.au/wp-content/uploads/2021/07/IMG_0840-copy.jpg
502
502
MaddyMatheson
https://artcollector.net.au/wp-content/uploads/2021/04/AC_logo_2.png
MaddyMatheson
2021-07-30 13:01:29
2021-07-30 13:03:02
What's in the Stockroom: N.Smith Gallery