What's in the Stockroom?
We wander through one of the region's premier stockrooms to find out what treasures lay inside.
We visit Sydney's Fox Jensen Gallery with director Andrew Jensen.
Gideon Rubin, Red Bikini, 2021. Oil on linen, 125 x 150cm. Courtesy: the artist and Fox Jensen Gallery, Sydney.
"There is much about Rubin's paintings themselves that carry or rather transmit something crucial about optimism. Amidst the tender introspection and melancholia that accompanies some of his images and the sheer joy and sensuality that radiates from others, Rubin's special capacity is to remind us about longing and desire, about loss and lament – and about hope and what it means to feel."
Erin Lawlor, Seasons (Spring), 2020. Oil on canvas, 190 x 130cm.
"Lawlor's response is not to embellish or subvert painting by bending to fashionable will, especially one that views painting as marginal artifact. For Lawlor, painting itself is an act of resistance both to this voguish inclination but also to more expeditious modes of image making."
Hanns Kunitzberger, MITTE 2021 – PAAR, 2021. Oil on linen, each panel 180 x 65 x 4cm.
"The paintings of Hanns Kunitzberger take an approach to colour that feels rooted in nature and the forces of meteorology. However his colour is not captive to describing these phenomena, rather it marries with a sophisticated and tender gesture to evoke atmospheres that are as much cerebral as visceral, as much metaphysical as physical."
Sofie Muller, Untitled, 2020. Aquarel on alabaster, 29 x 21 x 0.5cm.
"It is Muller's drawings where we witness a more fragile description of the trials and tribulations of human condition. Rendered with smoke and blood, these drawings present the figure with a deep sense of attachment and melancholy."
Todd Hunter, Sleepyhead, 2021. Oil on canvas, 183 x 320cm (two panels).
"The punchy calligraphy of Todd Hunter's gesture can turn fast or slow, the brushstroke can be loaded with pigment yet dissipate abruptly as the bristles discharge their material under his persuasive action."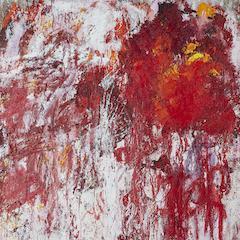 Fox Jensen presents new work by Aida Tomescu.
https://artcollector.net.au/wp-content/uploads/2022/10/The-Ear-in-the-River-AIDA-TOMESCU-FOX-JENSEN-41fb7aef-scaled-2.jpeg
240
240
Aarushi Zarthoshtimanesh
https://artcollector.net.au/wp-content/uploads/2021/11/Art-Collector-logos-transparency-WHITE-1080x1080px-2.png
Aarushi Zarthoshtimanesh
2022-10-13 12:21:04
2022-10-17 16:21:38
Aida Tomescu: The ear in the river and the prayer in the stone