A: Lot 53 Haasts Bluff Comm, Haasts Bluff NT 0872
P: +61 8 8956 8783
E: fineart@ikuntji.com.au
W: ikuntji.com.au
Facebook: IkuntjiArtists
Instagram: @ikuntjiartists
Ikuntji Artists was the first Art Centre founded by women in the Western Desert Art Movement. It was first established in 1992, after a series of workshops with Melbourne artist Marina Strocchi, under the influence of the then community president, the late Esther Jugadai.
After starting out printing T-shirts, the artists began producing acrylic paintings on linen and handmade paper. These quickly gained the attention of the national and international art worlds, earning the Art Centre an impressive reputation for fine art. The focus changed from a women's centre to an Art Centre in 2005. Today Ikuntji Artists is famous for bold colour choices, decisive brush strokes and a long legacy of internationally renowned artists.
The most direct route to the Art Centre is from Alice Springs via Larapinta Drive and Glen Helen Resort. The road is 4WD-recommended. Day visitors are welcome by appointment.
Public spaces in communities do not require a permit, however, travelling on Aboriginal Land may. Please see the Central Land Council website for further information.
Current artists:
Anne Dixon
Albury Tjangala Dixon
Anmanari Nolan
Alice Nampitjinpa Dixon
Ann Lane Nee Dixon
Eunice Napanangka Jack
Joseph Lane
Joseph Zimran
Keturah Zimran
Margy Williams-Cooper
Eileen Aynama Napaltjarri
Sam Tjapanangka George
Leonie Kumutu
Daphne Marks
Francis Marshall
Herman Whiskey
Lisa Multa
Patricia Multa
Margaret Brown Nangala
Sonia Jugadai
Benisa Marks
Susie Lane
Roseranna Larry
Virgilia Multa
Maisie Ward
Mitjili Napurulla
Image: Eunice Napanangka Jack, Kuruyultu, 2018. Acrylic on Belgian linen, 121.5 x 137cm.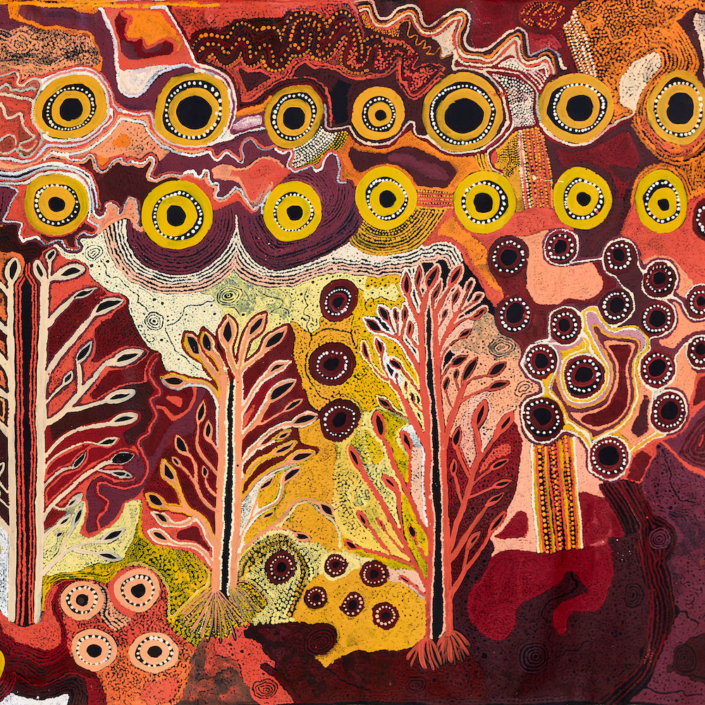 https://artcollector.net.au/wp-content/uploads/2019/07/feature-Tjungu-Palya.jpg
1000
1000
Annie Tonkin
/wp-content/uploads/2019/02/Art-Collector-Magazine-Online.jpg
Annie Tonkin
2019-07-18 10:55:11
2019-07-24 11:07:09
Tjungu Palya
https://artcollector.net.au/wp-content/uploads/2019/07/Ninuku-Arts-Josephine-Mick-David-Miller-Ruth-Fatt-Sammy-Miller.jpg
800
800
Camilla Wagstaff
/wp-content/uploads/2019/02/Art-Collector-Magazine-Online.jpg
Camilla Wagstaff
2019-07-17 10:58:28
2019-07-24 11:06:24
Ninuku Arts
https://artcollector.net.au/wp-content/uploads/2019/07/Jeanie-Napangardi-Lewis-Mina-Mina-Jukurrpa-Mina-Mina-Dreaming-–-Ngalyipi.-107-x-91cm..jpg
1000
1000
Annie Tonkin
/wp-content/uploads/2019/02/Art-Collector-Magazine-Online.jpg
Annie Tonkin
2019-07-12 10:27:07
2019-07-24 11:07:23
Warlukurlangu Artists Aboriginal Corporation
https://artcollector.net.au/wp-content/uploads/2019/07/feature-Julieanne-Ngwarraye-Morton-My-Country-and-Bush-Medicine-Plants-2019-Acrylic-on-Linen-91-x-91-cm-Ampilatwatja-22.jpg
1000
1000
Annie Tonkin
/wp-content/uploads/2019/02/Art-Collector-Magazine-Online.jpg
Annie Tonkin
2019-07-10 16:55:16
2019-07-24 10:58:43
Artists of Ampilatwatja