A: Mimili Community, APY Lands, SA
P: +61 8 8956 2984
E: info@mimilimaku.com
W: mimilimaku.com
Facebook: mimilimaku
Instagram: @mimili_maku_arts
Mimili Maku Arts is a contemporary art studio located on the Anangu Pitjantjatjara Yankunytjatjara (APY) lands, in the remote North-West of South Australia. The studio offers support to artists across a range of disciplines including painting, photography and sculpture.
Artists like Robert Fielding (winner NATSIAA 2015 and 2017) continually push the boundaries of remote Aboriginal art and encourage  younger artists to explore new forms of artistic expression. While embracing contemporary practices, Mimili artists rely on a base of strong cultural integrity that has been handed down through many generations. The Art Centre's name refers to the local Maku (witchetty grub) Tjukurpa, which is ever present in the paintings of senior artists like Betty Kuntiwa Pumani (winner NATSIAA 2015 and 2016, winner Wynne Prize 2017), Ngupulya Pumani (finalist NATSIAA 2015, finalist Wynne Prize 2017) and Tuppy Goodwin (finalist NATSIAA 2018). Owned and led by a strong board of Anangu directors, Mimili Maku Arts continues to be the cultural heartbeat of community. In a time of transition from one generation to the next, Mimili Maku holds the words of its founder and director Kunmanara (Mumu Mike) Williams strong: "At Mimili Maku Arts we work together: The old men and women side by side with their children and grandchildren. This is Anangu way."
Mimili artists have been exhibited in institutions nationally and internationally, and are highly sought after by collectors. The Art Centre hosts visits by curators and collectors on appointment only, subject to successful application for an APY Land Permit.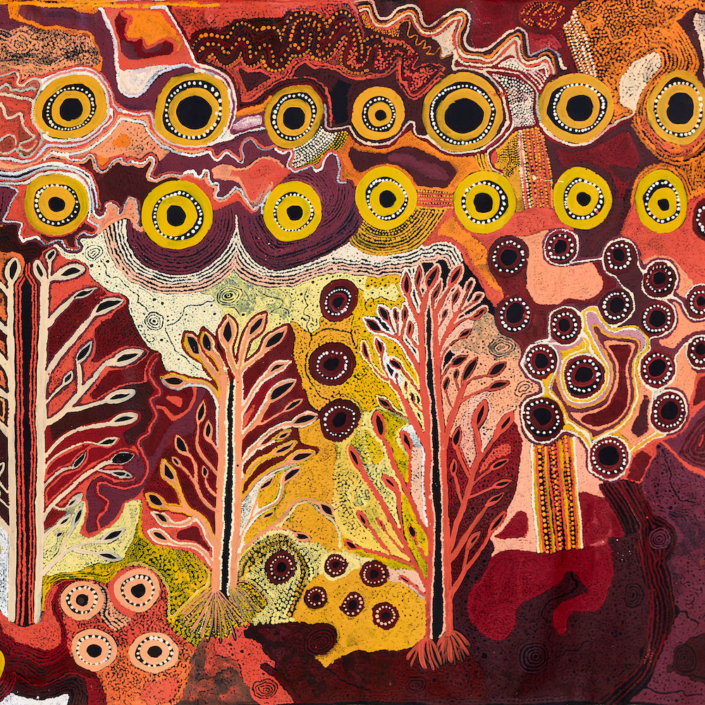 https://artcollector.net.au/wp-content/uploads/2019/07/feature-Tjungu-Palya.jpg
1000
1000
Annie Tonkin
/wp-content/uploads/2019/02/Art-Collector-Magazine-Online.jpg
Annie Tonkin
2019-07-18 10:55:11
2019-07-24 11:07:09
Tjungu Palya
https://artcollector.net.au/wp-content/uploads/2019/07/Ninuku-Arts-Josephine-Mick-David-Miller-Ruth-Fatt-Sammy-Miller.jpg
800
800
Camilla Wagstaff
/wp-content/uploads/2019/02/Art-Collector-Magazine-Online.jpg
Camilla Wagstaff
2019-07-17 10:58:28
2019-07-24 11:06:24
Ninuku Arts
https://artcollector.net.au/wp-content/uploads/2019/07/Jeanie-Napangardi-Lewis-Mina-Mina-Jukurrpa-Mina-Mina-Dreaming-–-Ngalyipi.-107-x-91cm..jpg
1000
1000
Annie Tonkin
/wp-content/uploads/2019/02/Art-Collector-Magazine-Online.jpg
Annie Tonkin
2019-07-12 10:27:07
2019-07-24 11:07:23
Warlukurlangu Artists Aboriginal Corporation
https://artcollector.net.au/wp-content/uploads/2019/07/feature-Julieanne-Ngwarraye-Morton-My-Country-and-Bush-Medicine-Plants-2019-Acrylic-on-Linen-91-x-91-cm-Ampilatwatja-22.jpg
1000
1000
Annie Tonkin
/wp-content/uploads/2019/02/Art-Collector-Magazine-Online.jpg
Annie Tonkin
2019-07-10 16:55:16
2019-07-24 10:58:43
Artists of Ampilatwatja