A: PMB 78 Ampilatwatja, NT
P: +61 4 3742 6549
E: artists@ampilatwatja.com
W: ampilatwatja.com
Facebook: Artists of Ampilatwatja
Instagram: @artists_of_ampilatwatja
The Artists of Ampilatwatja community was established in 1999 near Alice Springs in the Northern Territory. The work produced by the artists is recognisably distinct from other Aboriginal artistic communities, due to the application of fine dots and the often bright and figurative depiction of the land.
Recent Art Centre highlights include being selected for the 2019 National Aboriginal and Torres Strait Islander Art Awards in the 3D category, the revival of Batik printing on silk after 30 years and being selected for the prestigious Hadley Art Prize in Hobart.
Artists of Ampilatwatja is open Monday to Friday 9am to 6pm or by appointment. Visitors are requested to contact the Art Centre prior to visiting to assure staff are available.
Image: Julieanne Ngwarraye Morton, My Country and Bush Medicine Plants, 2019. Acrylic on linen 91 x 91cm.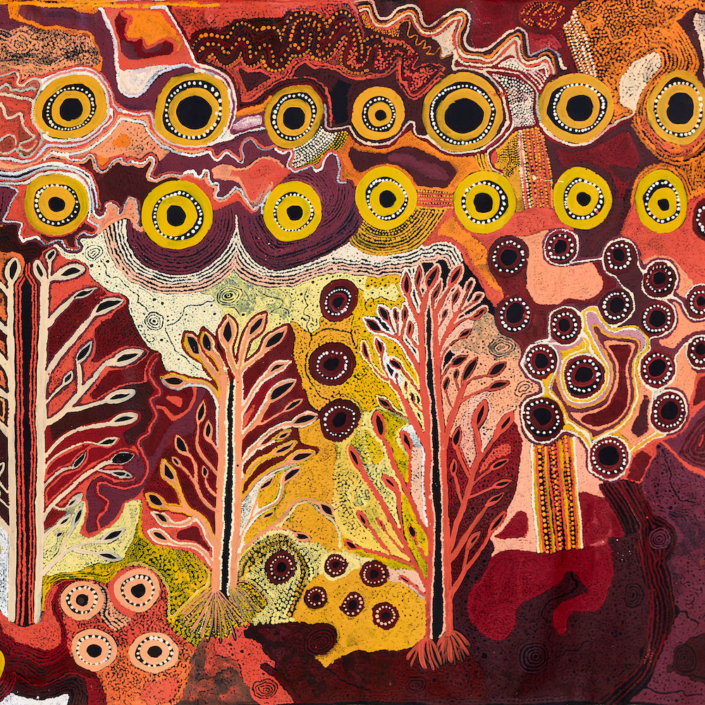 https://artcollector.net.au/wp-content/uploads/2019/07/feature-Tjungu-Palya.jpg
1000
1000
Annie Tonkin
/wp-content/uploads/2019/02/Art-Collector-Magazine-Online.jpg
Annie Tonkin
2019-07-18 10:55:11
2019-07-24 11:07:09
Tjungu Palya
https://artcollector.net.au/wp-content/uploads/2019/07/Ninuku-Arts-Josephine-Mick-David-Miller-Ruth-Fatt-Sammy-Miller.jpg
800
800
Camilla Wagstaff
/wp-content/uploads/2019/02/Art-Collector-Magazine-Online.jpg
Camilla Wagstaff
2019-07-17 10:58:28
2019-07-24 11:06:24
Ninuku Arts
https://artcollector.net.au/wp-content/uploads/2019/07/Jeanie-Napangardi-Lewis-Mina-Mina-Jukurrpa-Mina-Mina-Dreaming-–-Ngalyipi.-107-x-91cm..jpg
1000
1000
Annie Tonkin
/wp-content/uploads/2019/02/Art-Collector-Magazine-Online.jpg
Annie Tonkin
2019-07-12 10:27:07
2019-07-24 11:07:23
Warlukurlangu Artists Aboriginal Corporation
https://artcollector.net.au/wp-content/uploads/2019/07/feature-Julieanne-Ngwarraye-Morton-My-Country-and-Bush-Medicine-Plants-2019-Acrylic-on-Linen-91-x-91-cm-Ampilatwatja-22.jpg
1000
1000
Annie Tonkin
/wp-content/uploads/2019/02/Art-Collector-Magazine-Online.jpg
Annie Tonkin
2019-07-10 16:55:16
2019-07-24 10:58:43
Artists of Ampilatwatja