Bana Yirriji Art and Cultural Centre
A: 736 Douglas Street, Wujal Wujal, QLD
P: +61 4 4814 2265
E: vikki@wujal.qld.gov.au
W: wujalwujalartcentre.com.au
Facebook: Bana Yirriji Art and Cultural Centre
Bana Yirriji Art and Cultural Centre is located on the banks of the Bloomfield River, just below the Wujal Wujal waterfall. The Art Centre represents artists from three traditional clan groups: Kuku Nyungkul, Kuku Yalanji and Jalunji. In its gallery, collectors can view and buy locally made artworks, jewellery, textiles, prints, paintings and a selection of crafts.
The Bana Yirriji artists' inspiration comes from traditional stories and the land that surrounds them. The area is rich in rainforests, waterfalls, mountains, rivers and the sea.
Bana Yirriji Art Centre is a four-hour drive from Cairns, QLD and about one hour drive south of Cooktown, QLD.
Image: Local community ladies Lenick Yougie, Shakaya Hooker, Kanisha Nandy, Dolly Sykes, Shanna Olbar wearing silk kaftans made by the artists. Photo: Shannon Brett.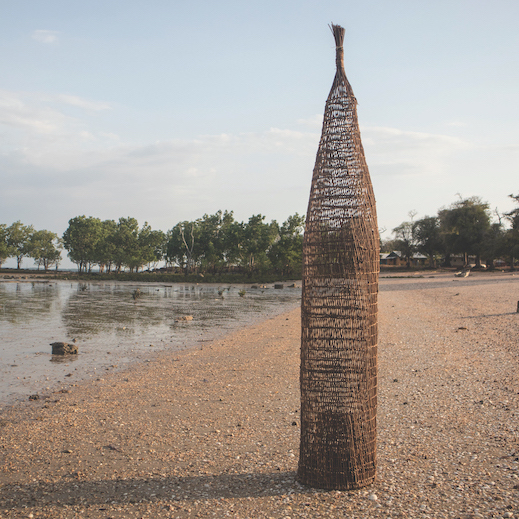 https://artcollector.net.au/wp-content/uploads/2021/04/Bonnie-Burangarra-Angidjatjiya-fish-trap-milarr-jungle-vine-167-x-27-x-27-cm-20-1.jpg
519
519
MaddyMatheson
/wp-content/uploads/2019/02/Art-Collector-Magazine-Online.jpg
MaddyMatheson
2021-04-09 11:33:02
2021-04-09 11:33:02
Milingimbi Art and Culture
https://artcollector.net.au/wp-content/uploads/2019/07/feature-Local-community-ladies-2.jpg
1000
1000
Annie Tonkin
/wp-content/uploads/2019/02/Art-Collector-Magazine-Online.jpg
Annie Tonkin
2019-07-10 16:51:01
2019-07-24 11:14:35
Bana Yirriji Art and Cultural Centre
https://artcollector.net.au/wp-content/uploads/2019/06/Pormpuraaw-Art-Culture-Centre-SBS-prawn.jpg
1000
1000
Camilla Wagstaff
/wp-content/uploads/2019/02/Art-Collector-Magazine-Online.jpg
Camilla Wagstaff
2019-06-12 14:57:51
2019-07-24 11:16:26
Pormpuraaw Art & Culture Centre
https://artcollector.net.au/wp-content/uploads/2019/06/Dogs.gif
800
800
Camilla Wagstaff
/wp-content/uploads/2019/02/Art-Collector-Magazine-Online.jpg
Camilla Wagstaff
2019-06-12 11:18:05
2019-08-06 10:38:42
Wik and Kugu Arts Centre