Yarrenyty Arltere Artists
A: 16 Fogarty Street, Ciccone, Alice Springs, NT
PO Box 8070, Alice Springs, NT
P: +61 8 8951 4232
E: yalc.art@tangentyere.org.au
W: yarrenytyarltereartists.com.au
Facebook: YAArtists
Instagram: @yarrenyty__arltere
Yarrenyty Arltere Artists (YAA) is a not-for-profit, Indigenous-owned and managed arts enterprise. It is part of the Yarrenyty Arltere Learning Centre (YALC); an intergenerational program that began in 2000 as a response to the chronic social distress faced by families. It is a small, dynamic Art Centre situated in the Yarrenyty Arltere Town Camp adjacent to the Desert Park in Alice Springs.
YAA is a place people come to work, share stories, plan for the future and create extraordinary and innovative art. Through the work in soft sculpture, textiles, etchings and films the artists have created an enterprise that provides both social and economic outcomes for them and their families. YAA is one of the hubs of Tangentyere Artists.
Image: Sally M Nangala Mulda, Three Town Camp Stories, 2019. Acrylic on linen, 66 x 152.5cm.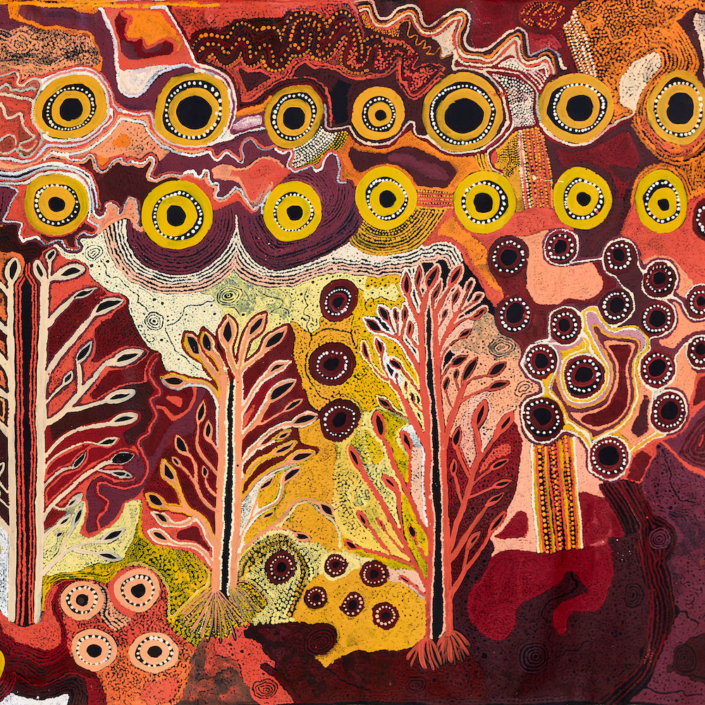 https://artcollector.net.au/wp-content/uploads/2019/07/feature-Tjungu-Palya.jpg
1000
1000
Annie Tonkin
/wp-content/uploads/2019/02/Art-Collector-Magazine-Online.jpg
Annie Tonkin
2019-07-18 10:55:11
2019-07-24 11:07:09
Tjungu Palya
https://artcollector.net.au/wp-content/uploads/2019/07/Ninuku-Arts-Josephine-Mick-David-Miller-Ruth-Fatt-Sammy-Miller.jpg
800
800
Camilla Wagstaff
/wp-content/uploads/2019/02/Art-Collector-Magazine-Online.jpg
Camilla Wagstaff
2019-07-17 10:58:28
2019-07-24 11:06:24
Ninuku Arts
https://artcollector.net.au/wp-content/uploads/2019/07/Jeanie-Napangardi-Lewis-Mina-Mina-Jukurrpa-Mina-Mina-Dreaming-–-Ngalyipi.-107-x-91cm..jpg
1000
1000
Annie Tonkin
/wp-content/uploads/2019/02/Art-Collector-Magazine-Online.jpg
Annie Tonkin
2019-07-12 10:27:07
2019-07-24 11:07:23
Warlukurlangu Artists Aboriginal Corporation
https://artcollector.net.au/wp-content/uploads/2019/07/feature-Julieanne-Ngwarraye-Morton-My-Country-and-Bush-Medicine-Plants-2019-Acrylic-on-Linen-91-x-91-cm-Ampilatwatja-22.jpg
1000
1000
Annie Tonkin
/wp-content/uploads/2019/02/Art-Collector-Magazine-Online.jpg
Annie Tonkin
2019-07-10 16:55:16
2019-07-24 10:58:43
Artists of Ampilatwatja