Gab Titui Cultural Centre
A: Cnr Victoria Pde and Blackall St, Thursday Island, QLD
P: +61 7 4069 0888
E: info@gabtitui.gov.au
Facebook: GabTituiCulturalCentre
Gab Titui Cultural Centre is a keeping place for traditional and contemporary Torres Strait culture, art and historical artefacts. Located on Thursday Island in the Torres Strait (approximately 1.5 hours north-west of Cairns by air), the Centre's purpose is to strengthen cultural identity by preserving and maintaining Ailan culture for future generations.
The name, Gab Titui, was recommended by the late Ephraim Bani, a renowned cultural advisor for the region. Gab is interpreted as journey in the Eastern Island Group Language and Titui is interpreted as stars in the Western Island Group Language. Together, the name translates to Journey of the Stars.
The Centre houses two galleries; the Ephraim Bani Gallery safely accommodates and displays historical artefacts as part of an annual cultural maintenance program and the Wabunaw Geth Gallery exhibits a changing program of contemporary and visiting works.
To encourage the practice of cultural traditions, the Cultural Centre hosts a public programs of art storytelling, weaving and beading workshops every month. Community members and visitors are invited to participate, learn and practice cultural skills whilst reflecting on traditional art and histories of the region.
The Centre's Gallery Shop provides an outlet for Aboriginal and Torres Strait Islander artists to sell their art and craftwork. All purchases made from Gab Titui directly support Indigenous artists and their communities.
The Centre is operated by the Torres Strait Regional Authority (TSRA) guided by its Board of Indigenous members representing 20 communities in the Torres Strait and Northern Peninsula Area region. Private tours can be arranged prior to arrival. Phone orders are also welcome and the Centre can post items nationally and internationally.
Image: George Nona, Bu a Warup au Wakai, 2018. Wooden Carving. 73 x 56 x 85cm. Photo: George Serras.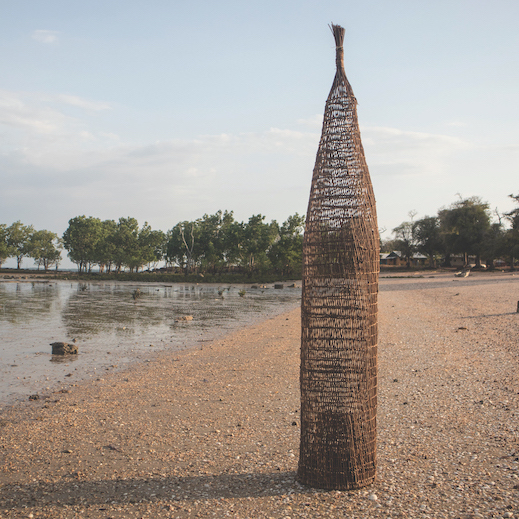 https://artcollector.net.au/wp-content/uploads/2021/04/Bonnie-Burangarra-Angidjatjiya-fish-trap-milarr-jungle-vine-167-x-27-x-27-cm-20-1.jpg
519
519
MaddyMatheson
/wp-content/uploads/2019/02/Art-Collector-Magazine-Online.jpg
MaddyMatheson
2021-04-09 11:33:02
2021-04-09 11:33:02
Milingimbi Art and Culture
https://artcollector.net.au/wp-content/uploads/2019/07/feature-Local-community-ladies-2.jpg
1000
1000
Annie Tonkin
/wp-content/uploads/2019/02/Art-Collector-Magazine-Online.jpg
Annie Tonkin
2019-07-10 16:51:01
2019-07-24 11:14:35
Bana Yirriji Art and Cultural Centre
https://artcollector.net.au/wp-content/uploads/2019/06/Pormpuraaw-Art-Culture-Centre-SBS-prawn.jpg
1000
1000
Camilla Wagstaff
/wp-content/uploads/2019/02/Art-Collector-Magazine-Online.jpg
Camilla Wagstaff
2019-06-12 14:57:51
2019-07-24 11:16:26
Pormpuraaw Art & Culture Centre
https://artcollector.net.au/wp-content/uploads/2019/06/Dogs.gif
800
800
Camilla Wagstaff
/wp-content/uploads/2019/02/Art-Collector-Magazine-Online.jpg
Camilla Wagstaff
2019-06-12 11:18:05
2019-08-06 10:38:42
Wik and Kugu Arts Centre