A: 39 Kang Kang Rd, Aurukun, QLD
P: +61 7 4060 6843
M: +61 437 605 105
E: arts@aurukun.qld.gov.au
Facebook: AurukunShireCouncil
Facebook: Wik and Kugu Arts
Instagram: @wikandkuguartcentre
Wik and Kugu Arts Centre began as an independent arts initiative in the 1990s and was officially established in 2001 to service artists from the five Aurukun clan groups, Apalech, Puch, Sara, Wanam, and Winchanam. Perched on the eastern edge of the Gulf of Carpentaria in remote Far North Queensland, the Art Centre comprises a men's art studio and workshop, a women's art studio – named after eminent artist Akay Koo' Oila – and a gallery space.
The Centre is renowned for the exquisite wooden sculptures produced in the men's workshop, which represent an extension of traditional cultural practices related to animal totems. In addition to the carved sculptures, the men produce bold ochre and charcoal works referencing traditional body painting designs, and more contemporary prints. The women produce acrylic paintings mixed with ochre, and are well known for their Aurukun-specific Feather Flowers and God's Eyes.
Wik and Kugu is enterprised by Aurukun Shire Council. If you can't make it to Aurukun in person, you can call Art Centre manager Sabine Hoeng and organise a call via FaceTime, WhatsApp or Skype, for a private tour and viewing of the works at close range. Wik and Kugu opening hours are from 8am to 4pm and by appointment.
Male artists include:
Roderick Yunkaporta
Garry Namponan
Keith Wikmunea
David Marpoondin
Bruce Bell
Alair Pambegan
Lex Namponan
Leigh Namponan
Bevan Namponan
Vernon Marbendinar
Nathan Ampeybegan
Wesley Ampeybegan
Steve Yunkaporta
Bevan Namponan
Leo Namponan
Rufus Namponan
Female artists include:
Francisca Walmbeng
Maria Eundatawaekin
Vikkie Yunkaporta
Jennifer Woolla
Sheryl Pamulkan
Barbara Ampeybegan
Marina Pootchemunka
Katherine Ngalametta
Kaylene Wikmunea
Rachel Pamtoonda
Janet Koogotema
Akay Koo'oila
Gorgina Kepple
Geraldin Wolmby
Hazel pootchemunka
Jean Walmbeng
Noelen Arkwookerum
Nita Yunkaporta
Flora Woolla
Image: 'Ku (Camp Dogs) from the men's workshop.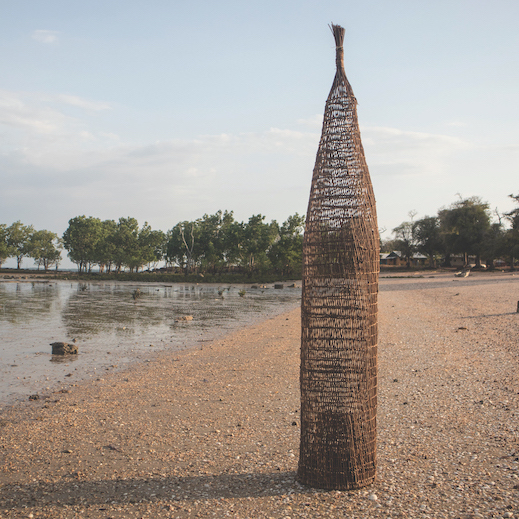 https://artcollector.net.au/wp-content/uploads/2021/04/Bonnie-Burangarra-Angidjatjiya-fish-trap-milarr-jungle-vine-167-x-27-x-27-cm-20-1.jpg
519
519
MaddyMatheson
/wp-content/uploads/2019/02/Art-Collector-Magazine-Online.jpg
MaddyMatheson
2021-04-09 11:33:02
2021-04-09 11:33:02
Milingimbi Art and Culture
https://artcollector.net.au/wp-content/uploads/2019/07/feature-Local-community-ladies-2.jpg
1000
1000
Annie Tonkin
/wp-content/uploads/2019/02/Art-Collector-Magazine-Online.jpg
Annie Tonkin
2019-07-10 16:51:01
2019-07-24 11:14:35
Bana Yirriji Art and Cultural Centre
https://artcollector.net.au/wp-content/uploads/2019/06/Pormpuraaw-Art-Culture-Centre-SBS-prawn.jpg
1000
1000
Camilla Wagstaff
/wp-content/uploads/2019/02/Art-Collector-Magazine-Online.jpg
Camilla Wagstaff
2019-06-12 14:57:51
2019-07-24 11:16:26
Pormpuraaw Art & Culture Centre
https://artcollector.net.au/wp-content/uploads/2019/06/Dogs.gif
800
800
Camilla Wagstaff
/wp-content/uploads/2019/02/Art-Collector-Magazine-Online.jpg
Camilla Wagstaff
2019-06-12 11:18:05
2019-08-06 10:38:42
Wik and Kugu Arts Centre