A: Lot 171, Kaltjarinja St, Hermannsburg, NT
P: + 61 8 8956 7414
E: art@hermannsburgpotters.com.au
W: hermannsburgpotters.com.au
Facebook: hermannsburgpottersaboriginalcorporation
Instagram: @hermannsburgpotters
The Hermannsburg Potters are a dedicated group of Western Aranda artists creating vibrant handmade ceramic pots that encompass collective and individually lived histories in their distinct Country. The Hermannsburg artists continue a 30-year legacy, sculpting and painting their visual histories and contemporary settings, speaking to their cultural beliefs, traditions and values.
Each artist works with a high level of skill in both hand-building pottery and watercolour-style landscape painting. These dynamic skills allow the artworks to evolve into individual depictions of the artist's love for the local wildlife, memories of Country, community and traditions, as well as their contemporary setting.
The vibrant and unique forms are made from terracotta clay working with hand coil-pinch technique and finally painted with ceramic underglaze. The senior artists work with a style of painting reminiscent of Albert Namatjira, whose legacy continues to inspire the local community and its artists. This playful combination of mediums creates distinct work which had been widely exhibited and collected in Australia and overseas.
The pottery continues today with four longstanding, founding members who are currently mentoring over 12 emerging local artists to continue their good work at the Art Centre. The Hermannsburg Potters support the local artists and their families, supporting the growing local economy of Hermannsburg.
Current artists:
Judith Pungkarta Inkamala
Hayley Panangka Coulthatd
Rahel Kngwarria Ungwanaka
Dawn Ngala Wheeler
Rona Panangka Rubuntja
Anita Mbitjana Ratara
Beth Mbitjana Inakamala
Delrose Armstrong
Andrea Rontji
Lawrence Jakamarra Inkamala
Sonia Davis
Claire Pereroultja
Karen Wheeler
Stephanie Ngala Ratara
Caroline Forbes
Rosanne Panangka Coulthard
Regina Lankin
Image: Anita Mbitjana Ratara, Judith Pungkarta Inkamala, Hayley Panangka Coulthard, Andrea Pungkarta Rontji, Rona Panangka Rubuntja, Rahel Kngwarria Ungwanaka near Wallace Rockhole NT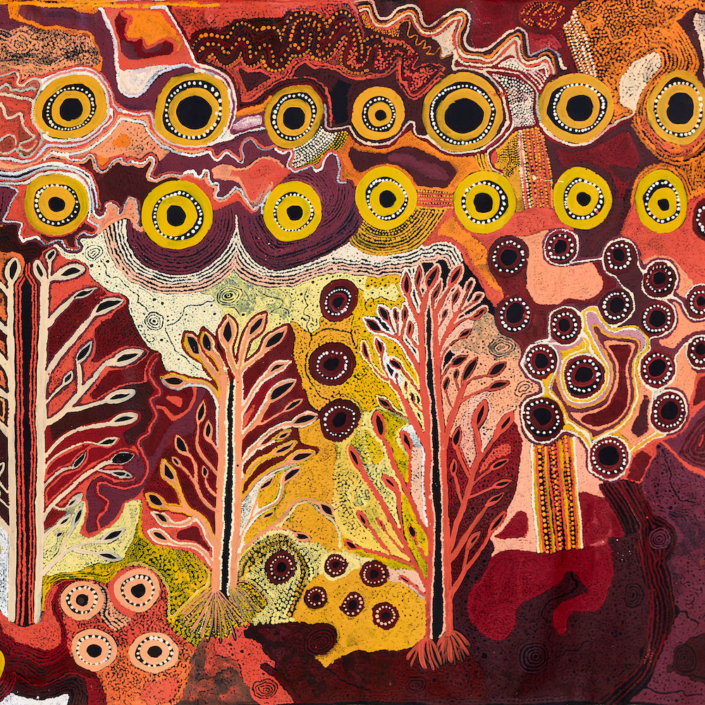 https://artcollector.net.au/wp-content/uploads/2019/07/feature-Tjungu-Palya.jpg
1000
1000
Annie Tonkin
/wp-content/uploads/2019/02/Art-Collector-Magazine-Online.jpg
Annie Tonkin
2019-07-18 10:55:11
2019-07-24 11:07:09
Tjungu Palya
https://artcollector.net.au/wp-content/uploads/2019/07/Ninuku-Arts-Josephine-Mick-David-Miller-Ruth-Fatt-Sammy-Miller.jpg
800
800
Camilla Wagstaff
/wp-content/uploads/2019/02/Art-Collector-Magazine-Online.jpg
Camilla Wagstaff
2019-07-17 10:58:28
2019-07-24 11:06:24
Ninuku Arts
https://artcollector.net.au/wp-content/uploads/2019/07/Jeanie-Napangardi-Lewis-Mina-Mina-Jukurrpa-Mina-Mina-Dreaming-–-Ngalyipi.-107-x-91cm..jpg
1000
1000
Annie Tonkin
/wp-content/uploads/2019/02/Art-Collector-Magazine-Online.jpg
Annie Tonkin
2019-07-12 10:27:07
2019-07-24 11:07:23
Warlukurlangu Artists Aboriginal Corporation
https://artcollector.net.au/wp-content/uploads/2019/07/feature-Julieanne-Ngwarraye-Morton-My-Country-and-Bush-Medicine-Plants-2019-Acrylic-on-Linen-91-x-91-cm-Ampilatwatja-22.jpg
1000
1000
Annie Tonkin
/wp-content/uploads/2019/02/Art-Collector-Magazine-Online.jpg
Annie Tonkin
2019-07-10 16:55:16
2019-07-24 10:58:43
Artists of Ampilatwatja