A: PMB 47 Via Alice Springs, NT
P: +61 8 8954 8054
E: manger@ninukuarts.com.au
W: ninukuarts.com.au
Instagram: @ninuku_arts
Ninuku Arts is an Indigenous-owned and governed Art Centre supporting Pitjantjatjara and Ngaanyatjarra speaking artists from Pipalyatjara, Kalka, and Irruntyju communites. Located in the Tomkinson ranges on the tri-state border of South Australia, Western Australia, and Northern Territory, the studio is one of the smallest and most remote in the Anangu Pitjantjatjara Yankunytjatjara (APY) Lands.
Working inside of the first community-built mudbrick building in Kalka, artists specialise in a range of styles from fine dot to abstract brushwork, painting stories of ancestral Tjukurpa and ngurra (home/Country) as well as those of everyday life in the bush. Ninuku artists are known for their bold and energetic colour palates, bolstering many formative artists to the central desert movement including Harry Tjtutjuna, Sandy Brumby, Nyankula Watson, and Jimmy Donegan over its 15-year history.
In 2018 Ninuku artists began an original glass painting project with the JamFactory in Adelaide, South Australia. Painters learned the traditional Grahl Swedish enameling technique to hand render stories and walka (designs) in a new way into hot-blown glass vessels and sculpture. The first collection will launch at the Tarnanthi Festival in October 2019 at JamFactory.
Current artists
Jimmy Donegan
Ruth Fatt
Josephine Watajara Mick
David Miller
Judy Miller
Samuel Miller
Molly Namptijin Miller
Thomas Yamungara Murray
Jennifer Mintaya Ward
Monica Puntjina Watson
Nyanu Watson
Rita Watson
Carol Young
Nyayti Stanley Young
Image: Josephine Mick, David Miller, Ruth Fatt, Sammy Miller, Aralya, 2018. Acrylic on Belgian linen, 183 x 244cm. Courtesy: Ninuku Arts.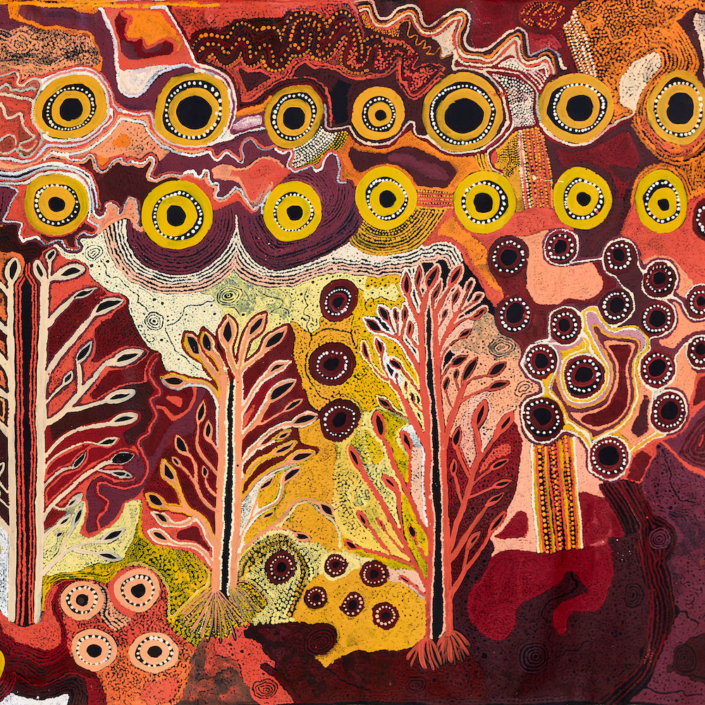 https://artcollector.net.au/wp-content/uploads/2019/07/feature-Tjungu-Palya.jpg
1000
1000
Annie Tonkin
/wp-content/uploads/2019/02/Art-Collector-Magazine-Online.jpg
Annie Tonkin
2019-07-18 10:55:11
2019-07-24 11:07:09
Tjungu Palya
https://artcollector.net.au/wp-content/uploads/2019/07/Ninuku-Arts-Josephine-Mick-David-Miller-Ruth-Fatt-Sammy-Miller.jpg
800
800
Camilla Wagstaff
/wp-content/uploads/2019/02/Art-Collector-Magazine-Online.jpg
Camilla Wagstaff
2019-07-17 10:58:28
2019-07-24 11:06:24
Ninuku Arts
https://artcollector.net.au/wp-content/uploads/2019/07/Jeanie-Napangardi-Lewis-Mina-Mina-Jukurrpa-Mina-Mina-Dreaming-–-Ngalyipi.-107-x-91cm..jpg
1000
1000
Annie Tonkin
/wp-content/uploads/2019/02/Art-Collector-Magazine-Online.jpg
Annie Tonkin
2019-07-12 10:27:07
2019-07-24 11:07:23
Warlukurlangu Artists Aboriginal Corporation
https://artcollector.net.au/wp-content/uploads/2019/07/feature-Julieanne-Ngwarraye-Morton-My-Country-and-Bush-Medicine-Plants-2019-Acrylic-on-Linen-91-x-91-cm-Ampilatwatja-22.jpg
1000
1000
Annie Tonkin
/wp-content/uploads/2019/02/Art-Collector-Magazine-Online.jpg
Annie Tonkin
2019-07-10 16:55:16
2019-07-24 10:58:43
Artists of Ampilatwatja