A: 16 Fogarty Street, Ciccone, Alice Springs, NT
PO Box 8070, Alice Springs, NT
P: +61 8 8951 4232
E: arts@tangentyere.org.au
W: tangentyereartists.org.au
Facebook: tangentyere.artists
Instagram: @tangentyereartists
Established in 2005, Tangentyere Artists operates as a not-for-profit enterprise. Tangentyere Artists is a hub for art activities across the Town Camps (the name describing 18 Alice Springs Aboriginal housing associations), including the internationally renowned Yarrenyty Arltere Artists, located at Larapinta Town Camp.
Town Camp artists communicate through their art stories about their families, identity and everyday lives. Their art practice aims to highlight the everyday experience of Aboriginal people in Central Australia and share their stories. Tangentyere is an Arrernte word that means coming together, working together.
Tangentyere Artists operates a studio, gallery space, and outreach program. It supports Indigenous artists visiting town from remote communities and offers artists an open environment to create artworks and share artistic skills. Tangentyere Artists is committed to innovative, sustainable, fine art outcomes for Town Camp Artists.
Image: Grace Robinya, Four Stockman, Women, Bush Tucker & Dogs, Laramba, 2019. Acrylic on linen, 45.7 x 35.7cm.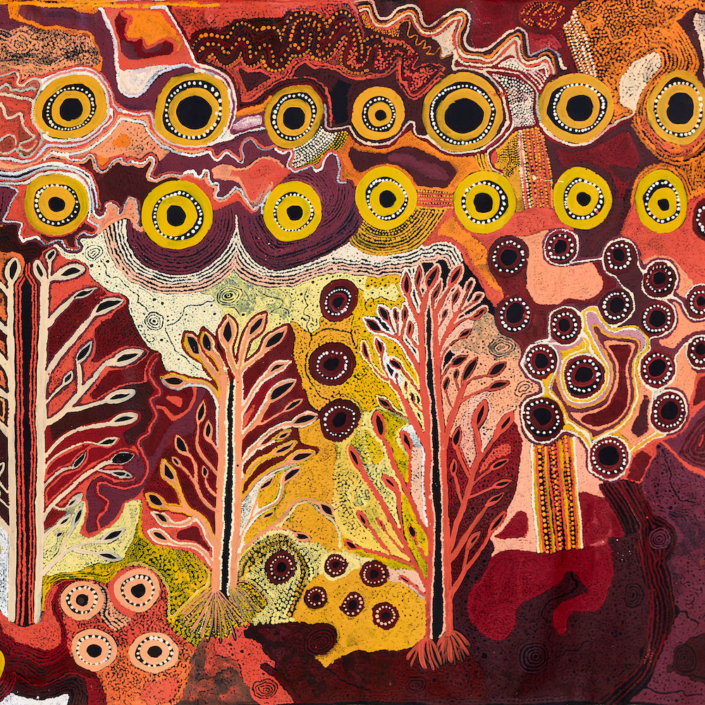 https://artcollector.net.au/wp-content/uploads/2019/07/feature-Tjungu-Palya.jpg
1000
1000
Annie Tonkin
/wp-content/uploads/2019/02/Art-Collector-Magazine-Online.jpg
Annie Tonkin
2019-07-18 10:55:11
2019-07-24 11:07:09
Tjungu Palya
https://artcollector.net.au/wp-content/uploads/2019/07/Ninuku-Arts-Josephine-Mick-David-Miller-Ruth-Fatt-Sammy-Miller.jpg
800
800
Camilla Wagstaff
/wp-content/uploads/2019/02/Art-Collector-Magazine-Online.jpg
Camilla Wagstaff
2019-07-17 10:58:28
2019-07-24 11:06:24
Ninuku Arts
https://artcollector.net.au/wp-content/uploads/2019/07/Jeanie-Napangardi-Lewis-Mina-Mina-Jukurrpa-Mina-Mina-Dreaming-–-Ngalyipi.-107-x-91cm..jpg
1000
1000
Annie Tonkin
/wp-content/uploads/2019/02/Art-Collector-Magazine-Online.jpg
Annie Tonkin
2019-07-12 10:27:07
2019-07-24 11:07:23
Warlukurlangu Artists Aboriginal Corporation
https://artcollector.net.au/wp-content/uploads/2019/07/feature-Julieanne-Ngwarraye-Morton-My-Country-and-Bush-Medicine-Plants-2019-Acrylic-on-Linen-91-x-91-cm-Ampilatwatja-22.jpg
1000
1000
Annie Tonkin
/wp-content/uploads/2019/02/Art-Collector-Magazine-Online.jpg
Annie Tonkin
2019-07-10 16:55:16
2019-07-24 10:58:43
Artists of Ampilatwatja