A: Amata Community, PMB 261 via Alice Springs, SA
P: +61 8 8956 2899
E: info@tjalaarts.com.au
W: tjalaarts.com.au
Facebook: tjala.arts
Instagram: @tjalaarts
Tjala Arts is located in Amata community, in far north-west South Australia on the Anangu Pitjantjatjara Yankunytjatjara (APY) Lands. The professional art making studio celebrates and maintains Anangu culture across three generations. An Aboriginal owned and managed corporation established in 1997, the Art Centre boasts an exciting exhibition program supporting established, mid-career and emerging artists.
Tjala Arts has launched the careers of artists including Wawiriya Burton, Mick Wikilyiri, Sylvia Ken, Barbara Moore, Nyunmiti Burton and the five Ken Sisters – Yaritji Young, Tjungkara Ken, Freda Brady, Sandra Ken and Maringka Tunkin. Known for their vibrant use of colour and energetic mark making, works by Tjala artists have been acquired by many high profile collectors across Australia and abroad. They are held in numerous public institutions including the National Gallery of Australia, The Art Gallery of New South Wales, The National Gallery of Victoria and The Art Gallery of South Australia.
Tjala Artists embrace a variety of mediums including painting, works on paper, punu (wood work), tjanpi (fibre weaving) and new media. They are renowned for their artistic excellence and innovative projects, including the Kulata Tjuta project which begun in Amata in 2010 and has now spread across the APY Lands to all seven Art Centres.
Recent achievements from the Tjala studio include Sylvia Ken winning the prestigious Wynne Prize at the AGNSW in 2019 and Wawiriya Burton winning the Robert's Family Prize part of the Wynne Prize in 2018. Emerging artists Rhonda Dick and Anwar Young won the overall prize at the 34th NATSIAAs in 2017 for their multimedia collaborative with fellow Tjala artist Frank Young and the Ken Sister's won the Wynne prize with their collaborative painting Tjala Tjukurpa in 2016.
Tjala Arts is at the heart of Amata Community and has created widespread financial gain for families in the community and across surrounding homelands. It is a place that honours culture and promotes and supports the highest level of ethical practice in the production and sale of Indigenous art.
Image: Ken Sisters and their mother Paniny Mick, Amata community, 2017.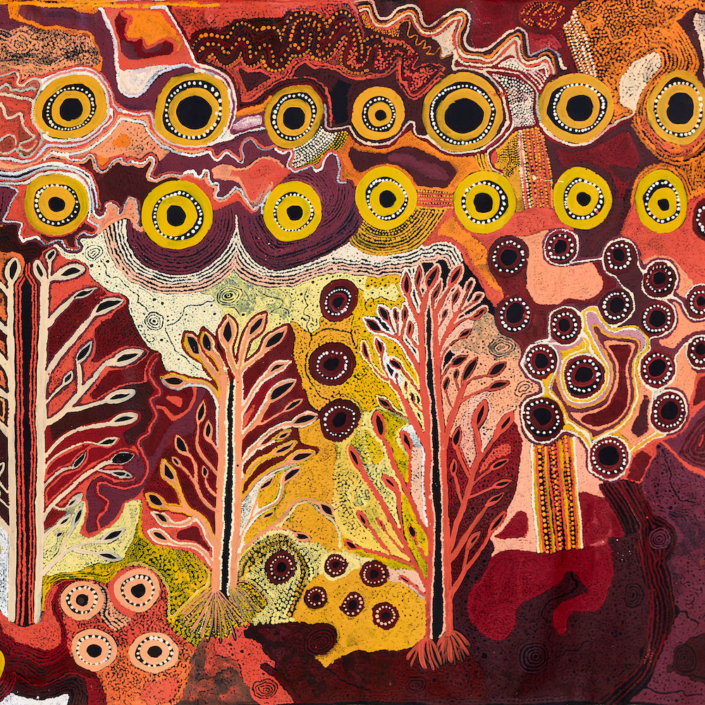 https://artcollector.net.au/wp-content/uploads/2019/07/feature-Tjungu-Palya.jpg
1000
1000
Annie Tonkin
/wp-content/uploads/2019/02/Art-Collector-Magazine-Online.jpg
Annie Tonkin
2019-07-18 10:55:11
2019-07-24 11:07:09
Tjungu Palya
https://artcollector.net.au/wp-content/uploads/2019/07/Ninuku-Arts-Josephine-Mick-David-Miller-Ruth-Fatt-Sammy-Miller.jpg
800
800
Camilla Wagstaff
/wp-content/uploads/2019/02/Art-Collector-Magazine-Online.jpg
Camilla Wagstaff
2019-07-17 10:58:28
2019-07-24 11:06:24
Ninuku Arts
https://artcollector.net.au/wp-content/uploads/2019/07/Jeanie-Napangardi-Lewis-Mina-Mina-Jukurrpa-Mina-Mina-Dreaming-–-Ngalyipi.-107-x-91cm..jpg
1000
1000
Annie Tonkin
/wp-content/uploads/2019/02/Art-Collector-Magazine-Online.jpg
Annie Tonkin
2019-07-12 10:27:07
2019-07-24 11:07:23
Warlukurlangu Artists Aboriginal Corporation
https://artcollector.net.au/wp-content/uploads/2019/07/feature-Julieanne-Ngwarraye-Morton-My-Country-and-Bush-Medicine-Plants-2019-Acrylic-on-Linen-91-x-91-cm-Ampilatwatja-22.jpg
1000
1000
Annie Tonkin
/wp-content/uploads/2019/02/Art-Collector-Magazine-Online.jpg
Annie Tonkin
2019-07-10 16:55:16
2019-07-24 10:58:43
Artists of Ampilatwatja